Hot Tub Circulation Pump Troubleshooting
Circulation pumps used in spas and hot tubs, also called Circ Pumps or Hush Pumps, are low-flow pumps that constantly circulate the water (24/7) very slowly, to continuously filter, heat and chemically treat the water. Common spa/hot tub circulation pumps are made by Aqua-Flo, Grundfos, Laing and Waterway.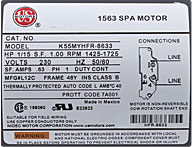 Not all spas have a circulation pump however. Many spas use a 2-speed therapy pump, with low speed used for constant circulation, and high speed used for turning the jets on high. The way to tell if a spa pump is a Circ Pump, and not a Therapy Pump, is by the Amps listed on the motor label. Anything under 1.5 Amps would be a Circ pump. Therapy or Jet pumps have much higher Amp usage, and you would see at least 6 Amps listed on the motor label.
Circulation pumps tend to last 5-10 years, although your mileage may vary. I've seen them last only a few years, and I've seen them last 20 years, and I wish I knew the secret to a long life, but it seems random. One thing for sure however, is that at some point in the life of a spa or hot tub, a circulation pump will develop problems.
Here's how to troubleshoot a circulation pump on a spa or hot tub, to determine if the circ pump needs repair or replacement.
CIRCULATION PUMP IS DEAD
If there is no action at all from the circulation pump, your topside control panel should be giving you an error code, perhaps a FLO or OH. Check that power is on, and the breaker or GFCI test button are not tripped. Check that all valves are in the open position. For slice valves, the handle should be Up, and for ball valves, the handle should be parallel to the pipe. Follow the circ pump plumbing, and look for any possible kinks in the hose. Pull out the cartridge filter, to see if flow improves and the circulation pump is doing better.
CIRCULATION PUMP IS MAKING NOISES
One of the best things about a hot tub circulation pump is quiet operation; they make almost no noise. Gurgling, humming or grinding noises on a spa circulation pump are good indicators of a problem. It could be Air, Scale or a Clogged Impeller. Maybe a dirty spa filter. Or, it could be the bearings in the motor going bad.
AIR IN THE LINES: If you have just drained the spa, you may have an air lock on the circ pump. Some circ pumps have an air bleeder knob, or you can loosen the union nut to release the air. Open the lock nut slightly until you hear air hissing, then tighten up again as water begins to leak. You can also pull out the spa filter and insert a garden hose into the hole, sealing around the hose with a clean cloth or sponge, to force air out of the lines.
SCALE DEPOSITS: Calcium or lime deposits can built up and create noise that makes a 'hush pump', not so quiet. The impeller housing or the wet end cover plate of a circ pump can be removed to inspect the impeller. Be sure to cut off power first, and close valves on each side of the pump. If there are no valves, you can use a hard clamp on soft hoses, or plug a 3/4" line with wine corks. Inspect the hoses (pipes) and the impeller surfaces for any deposits. They can be removed with a stiff brush, or a chemical like CLR.
CLOGGED IMPELLER: Circulation pumps usually pull water from the skimmer/cartridge filter, and it's not uncommon that bits of debris, or even parts of the filter itself get sucked into the pump, clogging the impeller. Open up the circulation pump as described above to check this possibility. Other possible clogs include downstream obstructions, in an ozone injection manifold, or specifically the Mazzei injector, or if a return fitting or drain cover is used, where the water returns to the spa, it could be clogged on the inside.
BAD BEARINGS: Inside of a normally quiet circulation motor are two bearings that ensure smooth rotation of the rotor within the stator. When these bearings age, they begin to shriek and squeal, or grind loudly. A test to confirm is to disconnect the plumbing and turn it on very briefly, to see if it still makes funny noises. At this point, you either need to replace the bearings, replace the motor, or replace the entire circ pump.
CIRCULATION PUMP IS BARELY PUMPING
Spa circulation pumps don't wear out and pump less water over time, they either work or they don't. If you feel low volume of water coming out of your heater return, the first thing to do is to remove the spa filter and see if the flow improves. If after cleaning the spa filter, the problem reoccurs, replace the spa filter.
Secondary causes of extra low flow on a low flow hot tub circulation pump include the items mentioned above; either there is air in the line, or something is blocking flow before the pump on the suction side, or after the pump on the pressure side.
If you decide to replace your hot tub circulation pump, the job of actually replacing a circ pump seems to be less trouble for most people than ordering the correct replacement circ pump for your particular hot tub. In my next post, I'll cover Replacing a Hot Tub Circulation Pump, or how to select the correct make and model of circ pump, and install it yourself.
Leslie's makes every effort to provide accurate recommendations based upon current ANSI/APSP/ICC-5 2011 (R2022) standards, but codes and regulations change, and Leslie's assumes no liability for any omissions or errors in this article or the outcome of any project. You must always exercise reasonable caution, carefully read the label on all products, follow all product directions, follow any current codes and regulations that may apply, and consult with a licensed professional if in doubt about any procedures. Leslie's assumes no legal responsibility for your reliance or interpretation of the data contained herein, and makes no representations or warranties of any kind concerning the quality, safety, or suitability of the information, whether express or implied, including, without limitation, any implied warranties of merchantability or fitness for a particular purpose.