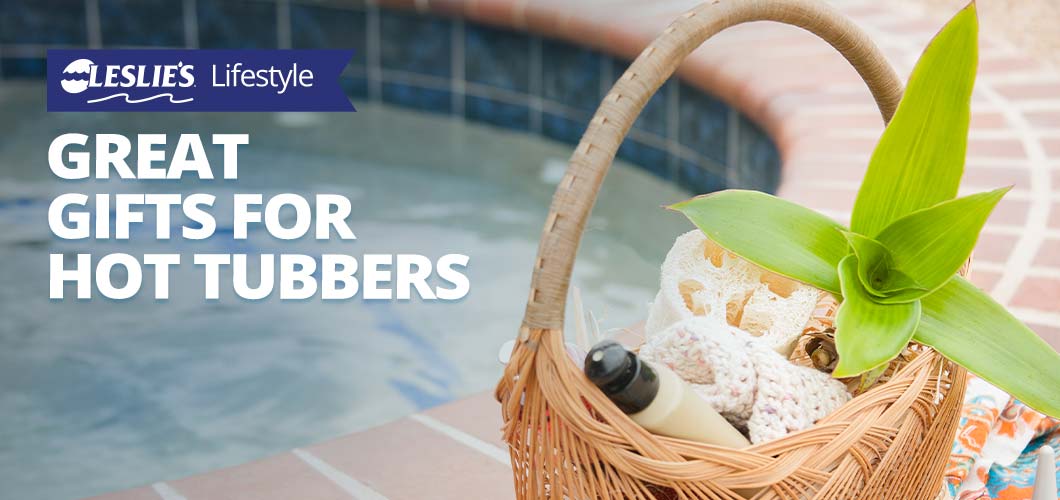 Great Gifts for Hot Tubbers
Looking for hot tub gift ideas? Shopping for friends and family can be hard! It's important to consider both their wants and needs when purchasing a gift. However, it can sometimes be difficult to find something unique that can be used and appreciated. Some of the best gifts are those that help make the person's day-to-day life easier or more comfortable.
If you're looking to buy gifts for your favorite hot tub or spa enthusiast, you're in luck! This blog is full of great gift ideas for all your favorite spa and hot tub owners. We've pulled out all the stops in this new list of gift ideas. From fun and unique spa accessories to helpful maintenance kits and packages, your gift is sure to be a big hit!
Spa-Side Patio Heater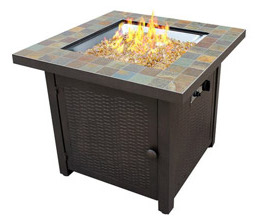 When the weather outside turns cool at night, having a free-standing propane patio heater sitting next to the tub is sooooo nice. Once only affordable for high-end restaurant patios, prices for full-size patio heaters have dropped to levels that everyone can now afford. From tabletop heaters, to tall propane heaters, to ground-level wood fire pits, there are countless options available to fit any budget and outdoor aesthetic. If you choose a propane heater instead of a traditional wood burning fire pit, the adjustable flame allows you dial in the amount of heat output. You'll find everything you're looking for in our diverse selection of patio heaters and fire pits.
Cantilevered Umbrella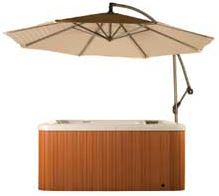 For spas and hot tubs out in the open, a cantilevered umbrella is great for providing shade and protection from the elements. Shade not only keeps the user comfortable, it also protects the spa cover and spa cabinet from UV rays. Even so, the most common reason to use an umbrella over a spa is to block light rain and snow while using the hot tub. Sure, a soft rain or gently falling snow can be nice while in a spa, but too much of a good thing can spoil your soak. What once cost thousands of dollars a decade ago is now quite affordable. Our 9' diameter hot tub umbrellas make great gifts, and they're available in a wide variety of colors.
Spa Aromatherapy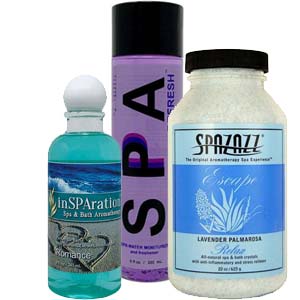 When you settle in for a nice, warm bath inside your home, you might use essential oils, bath bombs, or other aromatic products with Epsom salts to enhance your soak. Well, did you know that they make similar products formulated specifically for spas and hot tubs? It's true — they do!
Spa aromatherapy can help set just about any mood you want. It can be used to help boost energy, increase relaxation, relieve muscle stiffness and joint soreness, decrease anxiety, or even help you breathe more easily. Aromatherapy products are available in both liquid and crystal forms for ease of use. Whether you like sweet floral and tropical aromas, or you need something a little more soothing like minty eucalyptus, you can find all kinds of aromatherapy products online or in store. There are even products like Nature2 Cense, which functions as both a non-chlorine oxidizing shock and aromatherapy all in one.
Maintenance & Cleaning Accessories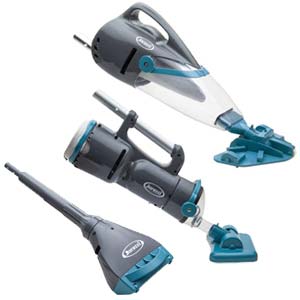 Let's face it. The maintenance is the only unappealing thing about owning a hot tub or portable spa. Between the water balancing and the weekly cleaning, it can sometimes seem like a daunting chore to keep up with it all. With the gift of a few hot tub maintenance supplies or cleaning accessories, you can help make weekly spa care tasks go a lot more smoothly.
For example, take a look at the Jacuzzi Professional Grade Spa Vacuum. The large 10.5-inch tapered vacuum head allows you to quickly remove debris that settles into the seats and floor of the spa. The cordless battery-powered unit easily picks up both large leaves and fine debris, and stores it inside the sizeable onboard storage canister. A task that would ordinarily take 10–20 minutes with a manual cleaner only takes 30–60 seconds with the Jacuzzi JPV300. If you're looking for something a little more compact, the Jacuzzi JPV100 or JPV200 are other high-quality pro-grade spa vacuums to consider. You can find these and many other cleaning tools in our Spa Vacuums and Cleaning Wands category.
Underwater Light Show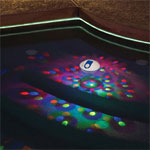 This product is one of the more fun gifts on the list! It's a floating LED lamp that creates a "disco ball" effect with a splash of psychedelic colors. It's actually made for pools, but in the small space of a hot tub or spa, the effect is much more dramatic. The Underwater Light Show has seven color-changing light show modes with auto shut-off to conserve battery power. This model runs on three AA batteries, which are included. We also carry a Bluetooth Floating Speaker & Light Show. This unit is rechargeable, and connects to any Bluetooth device. Enjoy playing music through the waterproof speaker while watching one of the vibrant pre-programmed light shows inside your hot tub.
Digital Test Strip Reader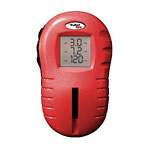 For the colorblind or hue challenged, estimated to affect nearly 5% of the population, a digital spa or hot tub test strip reader is the perfect gift! But even if you can easily discern between the different shades, using a digital test strip reader will still help improve water testing accuracy. This handy tool makes it easier to test the hot tub water more often and more precisely. Test results appear on the digital screen in just 15 seconds, along with low/high indicators. It also stores the previous nine test results for quick reference of water balance trends. The AquaCheck TruTest Digital Strip Reader comes with 25 test strips to get you started.
Hot Tub Chemicals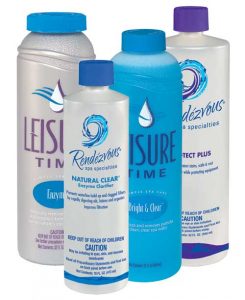 Now here's one class of hot tub gifts that you'll never have to worry about, "Do they already have this item?" Because even if they do, they'll soon need more hot tub chemicals, anyway! From the basics like sanitizers and water balancers, to more specialized products like enzymes and Spa Anti-Foam, you can't go wrong with a few essential hot tub water treatments. Many hot tubs use bromine instead of chlorine in their hot tub, or they use spa minerals paired with their preferred sanitizer. A couple popular, low-maintenance options for keeping the water healthy are the FROG @ease or FROG Serene floating sanitizer systems. If the person you're shopping for hasn't tried either of them yet, this gift will help get them started. Once they see how easy these FROG systems are to use, they'll be thanking you for the rest of the year!
Hot Tub Gift Basket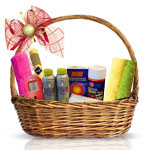 Since we're already talking about chemicals and accessories, one of the best gifts for a new hot tub owner is to send them a basket filled with essential spa goodies. It's really easy to put together, too! Just find a basket and some decorative cellophane or colored paper shreds at your local hobby and craft store. Roll up a few colorful towels, then add some useful spa accessories inside the basket. Some suggested items include a cute character thermometer, spa test strips, aromatherapy crystals, and small spa cleaning supplies can all fit nicely in a basket. Or, for an easier alternative, you can also purchase a pre-packaged spa care kit, which includes many of the chemicals needed to properly care for a spa or hot tub.
Handmade Hot Tub Sign
Amusing and whimsical, custom hot tub signs are perfect for just about any setting. Collect the most common hot tub sayings, such as "what happens in the tub stays in the tub," "swimsuits optional," or you can opt for tamer messaging about rest and relaxation. Whimsical or customized signs are always well received, because handmade gifts hold a lot more sentimental value than most other purchased gifts. If you're feeling crafty, try gifting a hand-painted custom spa sign to your friends and family members with hot tubs.
Leslie's makes every effort to provide accurate recommendations based upon current ANSI/APSP/ICC-5 2011 (R2022) standards, but codes and regulations change, and Leslie's assumes no liability for any omissions or errors in this article or the outcome of any project. You must always exercise reasonable caution, carefully read the label on all products, follow all product directions, follow any current codes and regulations that may apply, and consult with a licensed professional if in doubt about any procedures. Leslie's assumes no legal responsibility for your reliance or interpretation of the data contained herein, and makes no representations or warranties of any kind concerning the quality, safety, or suitability of the information, whether express or implied, including, without limitation, any implied warranties of merchantability or fitness for a particular purpose.