Why Fiberglass?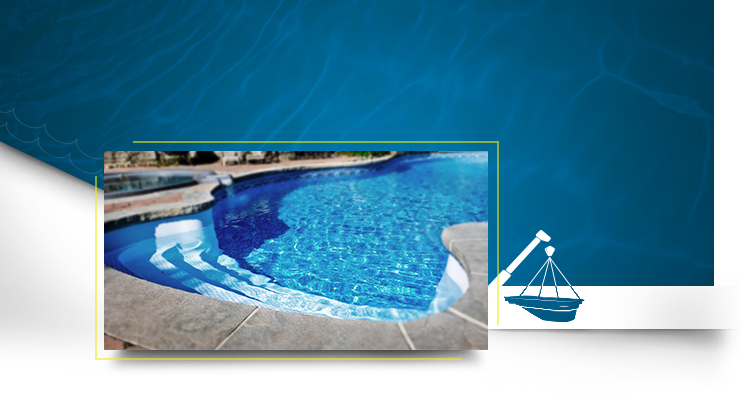 What makes fiberglass pools so appealing?
Low maintenance, easy installation, stronger material, more cost effective, the new age. Strong words to describe this phenomenon. Yet, it is all true. Fiberglass pools are on the rise and becoming the popular choice of homeowners. So why buy a fiberglass pool? Let us take a dive (no pun intended) into this topic.
Low maintenance
Wouldn't it be nice to have a pool with very little maintenance, 17x's stronger than concrete, 12" of give in the event of earth vibrations or earthquakes and does not erode or deteriorate? If you do, then a fiberglass pool is for you.
Fiberglass pools are stronger than a concrete pool. They are made with smooth walls and edges, eliminating the risk of scrapes and injury from a rough surface. The initial cost of a fiberglass pool is a little costly up front, but reduced chemicals and equipment will save you money over the long term. Fiberglass pools are non-porous. This reduces the chance of algae and bacteria in your pools. The absence of bacteria and algae in a pool means less chemical use and cleaning tools to maintain the pool, saving you money (average yearly spending approximately ($800-$1000).
Technology
With the technology the industry has, fiberglass pools can take on many shapes, textures and colors. In fact, the multitude of colors mixed with resin produce a final product that's more interesting and complex than a concrete pool. This can make an ordinary backyard into an aesthetically pleasing backyard. You can also customize your pool with a spa, water features, sitting areas, fountains, in-floor cleaning systems and LED lighting. Fiberglass pools are produced in controlled environments, allowing the manufacturer to make high quality products for the consumer. There are however limitations on how wide the pool can be made for transportation purposes. Normally, fiberglass pools will have a maximum width of 16 feet.
Easy installation
Did I mention easy installation? First I would recommend having a representative come out to your home to work directly with you. This will help you sort out the best option for you and your space. Use this visit to discuss how you'd like to use your pool and your needs. Soon after, the contractor will inspect the site in which the pool will be placed. The site needs to be a leveled area, preferably close to the access points of your home.
Digging the location
Once measurements have been made and the site inspected, the digging will begin. The hole will be dug about 3" deeper than the original measurements. This will be in preparation of the sand back-fill which creates a level foundation for the pool and ensures proper settling. Once done, your pool will arrive and carefully placed into the pre-dug hole.
Run the plumbing
Once properly placed, the pool plumbing is ran. Your pool will come with 2 to 4 holes already pre-drilled, but additional holes can be added for optional automatic pool cleaners or LED lighting. Even if you are not sure if you will want additional features, you can have holes cut for options you may want to add in the future. The entire installation is quick and only takes about 3-4 days.
Future of fiberglass pools
As technology advances, the installation of fiberglass pool will become more and more appealing to homeowners. However, Easy, cheap maintenance, quick installation without headache, and recent improvements make owning a fiberglass pool a very good option for anyone looking to build a pool in the near future.
Leslie's makes every effort to provide accurate recommendations based upon current ANSI/APSP/ICC-5 2011 (R2022) standards, but codes and regulations change, and Leslie's assumes no liability for any omissions or errors in this article or the outcome of any project. You must always exercise reasonable caution, carefully read the label on all products, follow all product directions, follow any current codes and regulations that may apply, and consult with a licensed professional if in doubt about any procedures. Leslie's assumes no legal responsibility for your reliance or interpretation of the data contained herein, and makes no representations or warranties of any kind concerning the quality, safety, or suitability of the information, whether express or implied, including, without limitation, any implied warranties of merchantability or fitness for a particular purpose.