5 Ways to Improve Hot Tub Appeal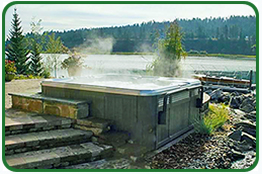 Spas and hot tubs need decor surrounding them - plants, wood, stone, tile, etc. Natural elements work best to complement the hot, bubbling water.
Wrapping your spa in decking really expands the area, making the it a part of a larger, cohesive design. Spas and hot tubs need some exterior design elements for privacy and to create a tranquil vibe.
Here are a few ideas for taking a plain 'ol above ground spa and giving it a makeover. A little construction work, paired with the addition of plants, stone elements and furniture, will help create a more inviting and interesting outdoor spa environment.
Decking
An important design consideration is that the area around the spa needs to be well draining and clean. Spa users need to be able to walk barefoot around the spa, so puddles and muddy spots are a big no-no. A non-skid surface is preferred, since it will get wet frequently.
Wrapping decking around a spa or hot tub is one of the best ways to improve the appearance of the spa area. By building a deck around the hot tub, you can also create the appearance of an inground spa and make it easier to get into and out of the water. There's also the option of incorporating steps. Check out some of these fabulous hot tub deck ideas!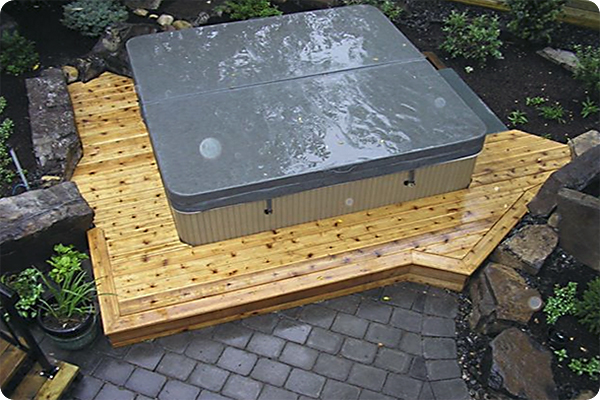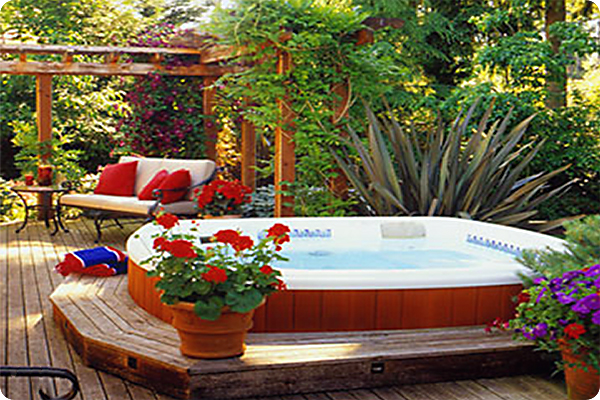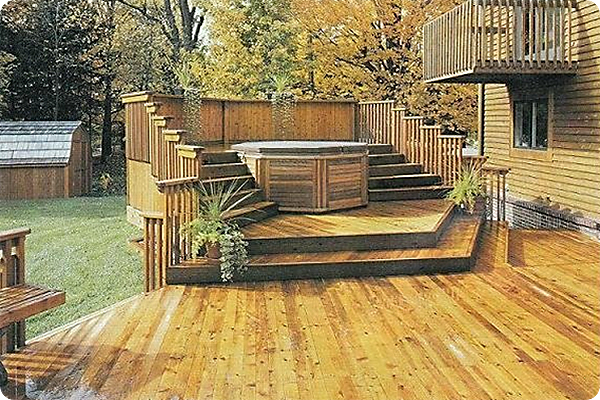 Rocks
With placement of natural stone (or faux stone) around the spa, you can create a rustic mountain spring setting. Wrap two or three sides in soil, rock and gravel (leaving room to access the spa pack). Just like building the spa into your deck, this is another good way to make an above ground spa blend into its surroundings. Use thick plastic sheeting if you're planning to put dirt or rocks up against the spa skirt.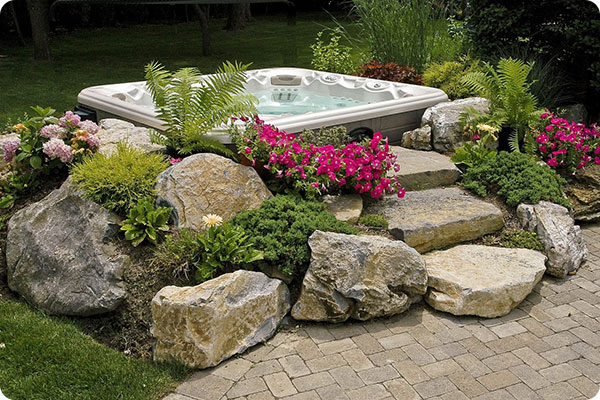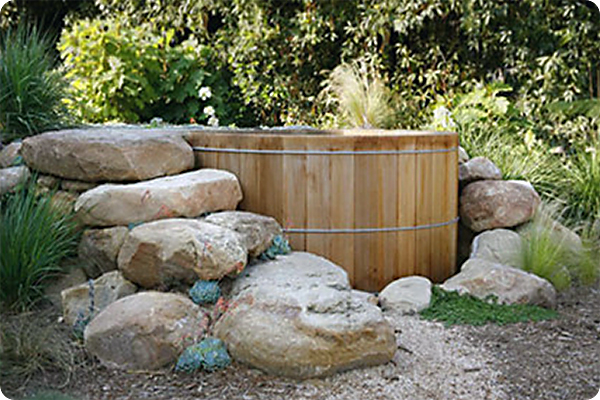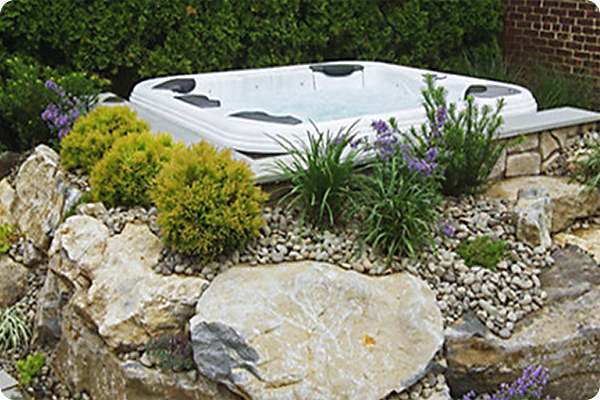 Plants
If some of the ideas so far seem a little daunting, consider a simpler alternative. Add planters around the spa at varied levels. If your spa sits on a large patio without close earth, large and small planters can be placed on the sides of the spa to soften the view, provide privacy and add natural elements.
Tropical plants are great around southern spas. Northern spas can use hearty evergreen bushes, seasonal flowers or blooming plants. Use cacti and succulents for southwestern spas. Volcanic rock or river stone makes a nice ground cover for pathways.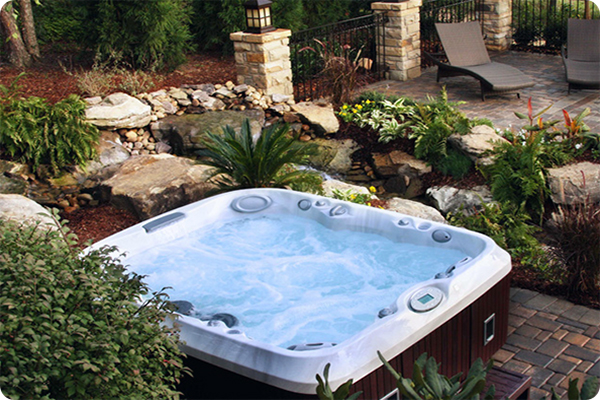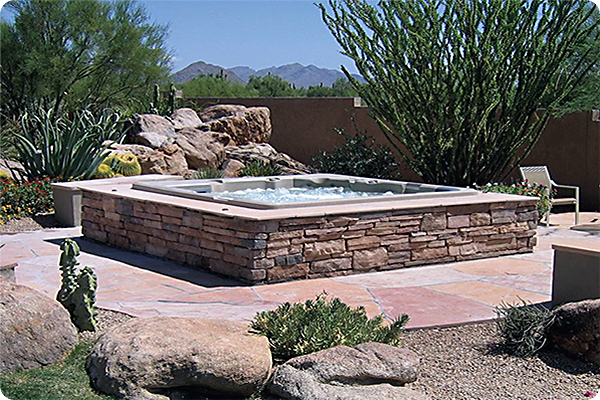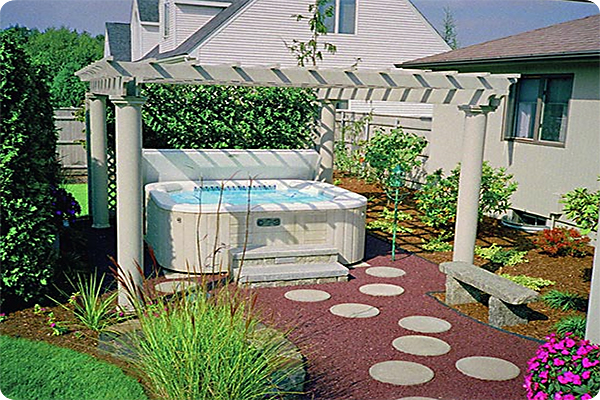 Furniture and Surrounds
Patio furniture or hot tub surrounds are a quick and easy way to frame your spa and improve its visual impact. Tables, ornamental furniture and benches are also convenient spaces to set plants, candles or towels. A counter and stool arrangement makes a nice place for family to dine and socialize with people in the spa.
Steps are necessary for above ground hot tubs that are completely freestanding. Wrapping steps around the spa and integrating them with barrier walls or external seating is a seamless way to make the spa more accessible.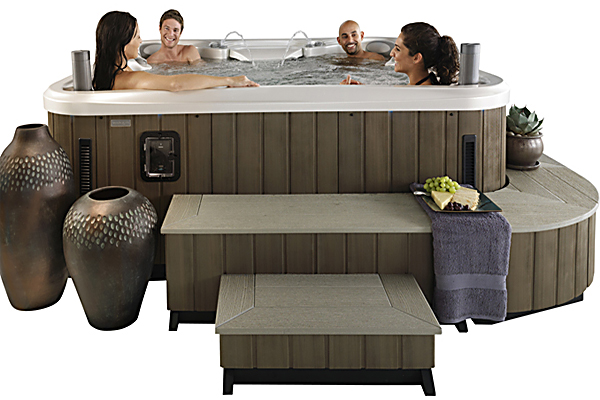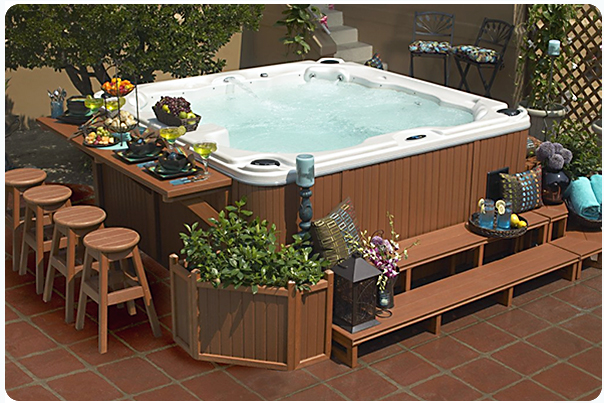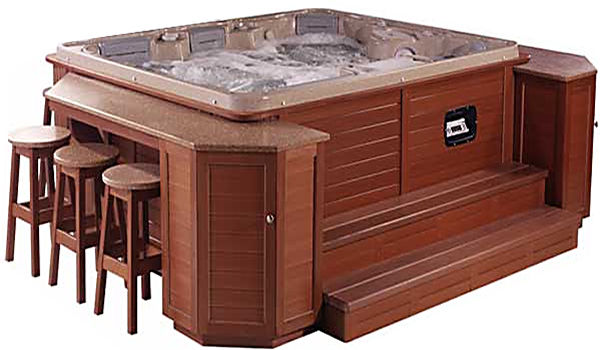 Gazebos and Pergolas
A pergola or gazebo is perfect for updating the setting of your spa or hot tub. They provide shelter from sun and rain not just for you, but for your spa and spa cover as well. They also allow you to easily hang overhead lighting, speakers, privacy curtains or hanging plants. Pergolas are also great for climbing plants.
Gazebos and pergolas can be custom built to any shape or size. There are also many pre-fab kits you can buy and build. Drape with curtains for a cabana look and feel, or create a unique look with a roof made of bamboo or thatch.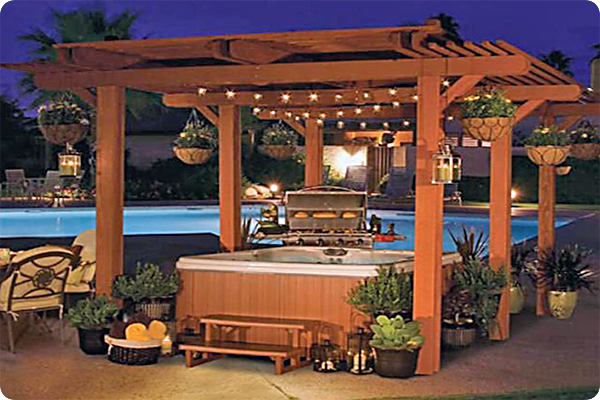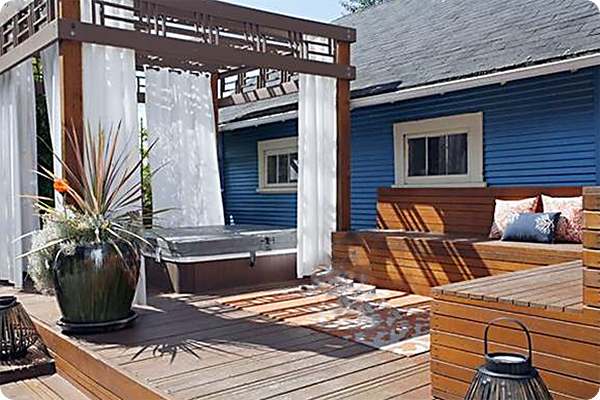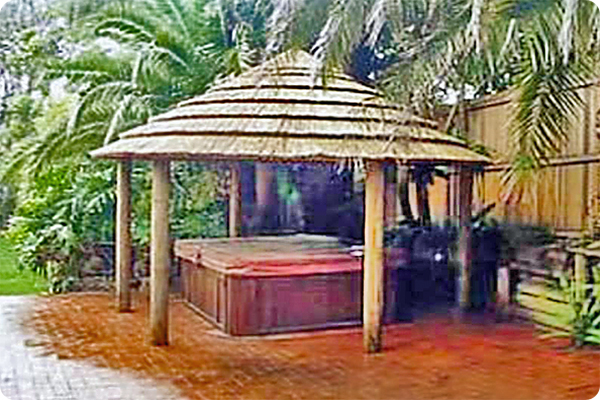 Leslie's makes every effort to provide accurate recommendations based upon current ANSI/APSP/ICC-5 2011 (R2022) standards, but codes and regulations change, and Leslie's assumes no liability for any omissions or errors in this article or the outcome of any project. You must always exercise reasonable caution, carefully read the label on all products, follow all product directions, follow any current codes and regulations that may apply, and consult with a licensed professional if in doubt about any procedures. Leslie's assumes no legal responsibility for your reliance or interpretation of the data contained herein, and makes no representations or warranties of any kind concerning the quality, safety, or suitability of the information, whether express or implied, including, without limitation, any implied warranties of merchantability or fitness for a particular purpose.