Deck it Out - Hot Tub and Spa Decks
Are you tired of the same old backyard? I am - after looking at all of these beautiful pictures of spas and hot tubs wrapped in wood, built by creative and crafty homeowners (and their contractors).
If your spa (like mine), is just sitting on the back porch, on a boring slab of concrete, here's some inspirational photos of spas sunken into wood decks, with thanks (and image credit) to Decks.com and Houzz.com.
Further down, I have some details on spa deck construction, or considerations when designing a spa or hot tub wood deck.
1. Simple & clean spa deck design provides privacy and space for entertaining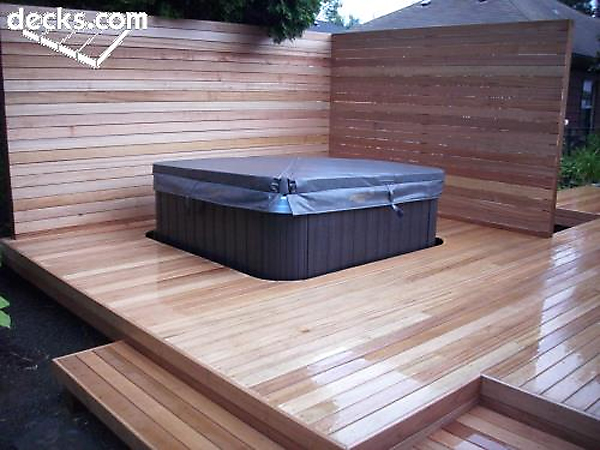 2. Multi-level deck design with down lights to illuminate steps without blocking stars.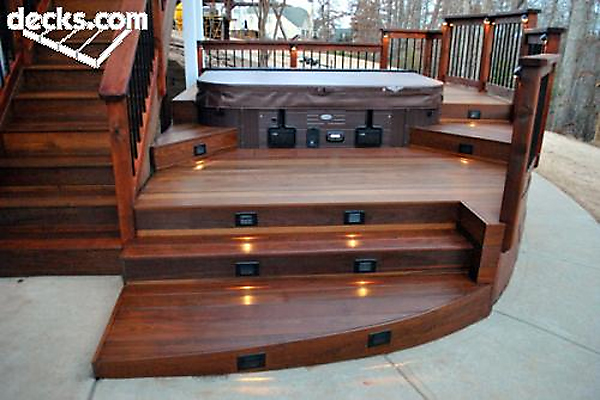 3. Cantilevered deck sections and faux rock spa skirt and privacy wall.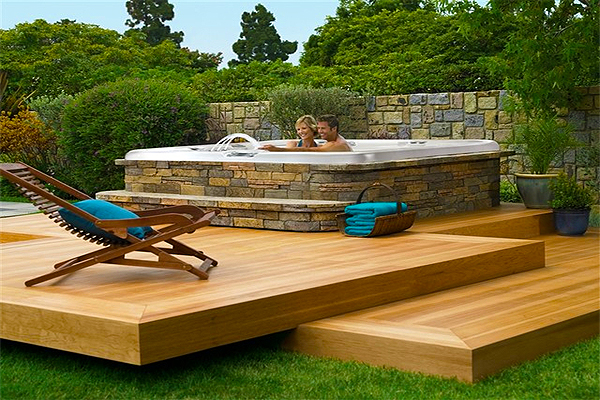 4. Hot Springs spa wrap around deck design gives plenty of room for drinks and towels.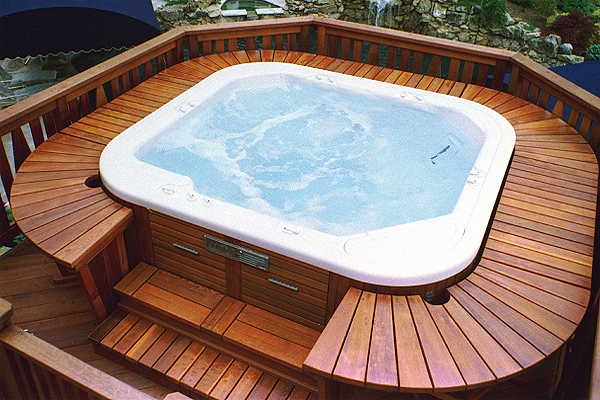 5. This old house got a facelift in the front and back, integrated spa into the back stairs.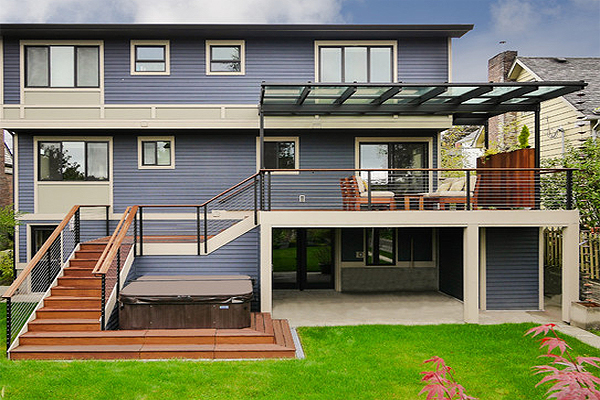 6. Curved composite planks match the circular acrylic hot tub, set below Wisteria blooms.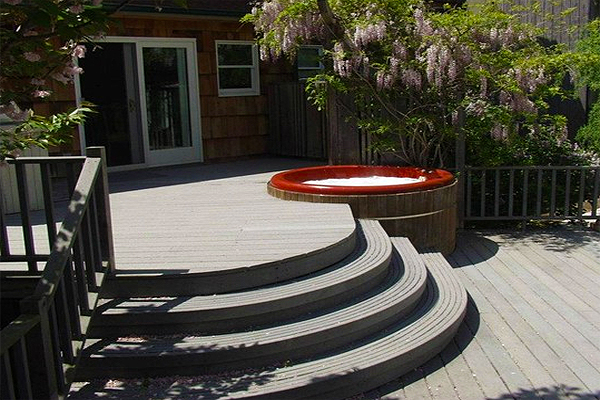 7. Ultra modern home with deck wrapped hot tub with lots of access to equipment.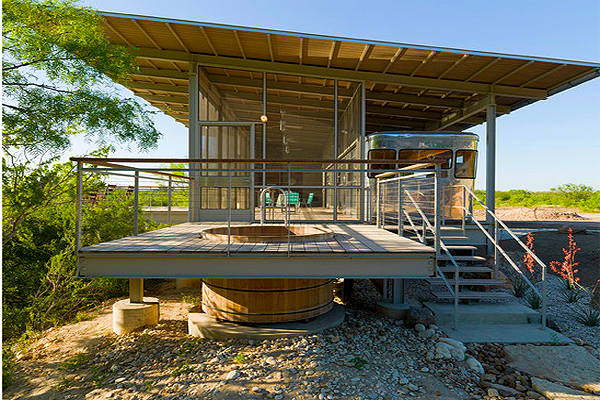 8. Horizontal privacy wall contrasts perfectly with the stained decking around this spa.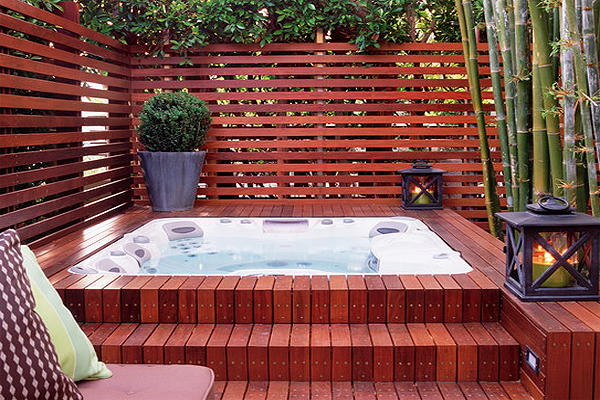 9. Spa tucked nicely on the edge of the patio, integrates well with custom wall and steps.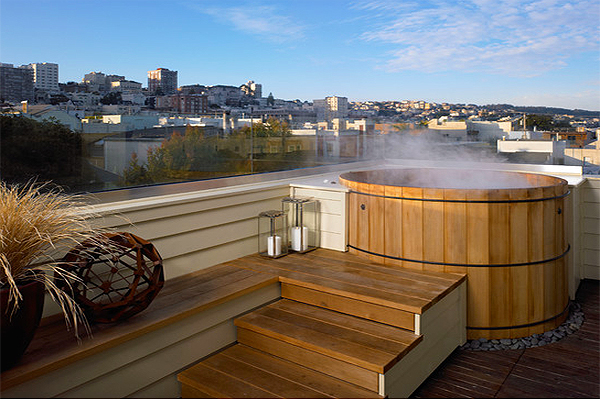 10. Spa appears to float in air, steps on left side lead down to spa equipment access.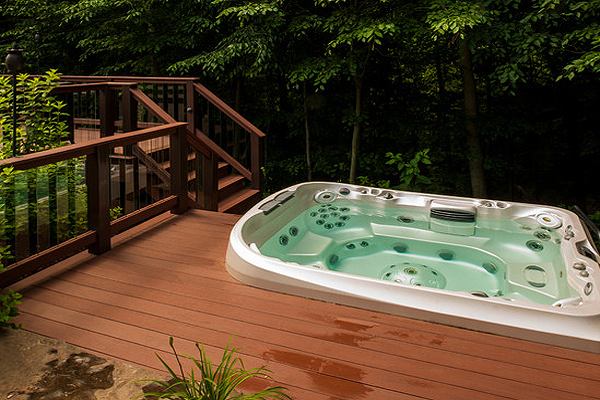 11. Luxuriously finished teak wood for large gatherings with a grand view.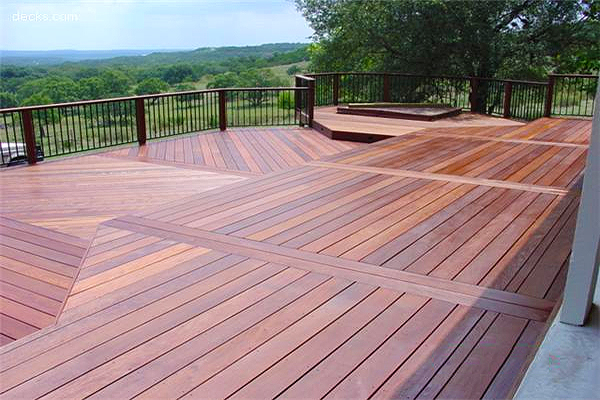 12. Positioning the spa at a jaunty angle in relation to the house creates better visual flow.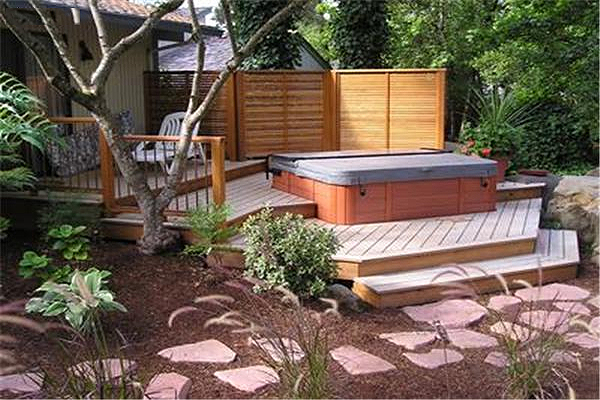 13. Need more circular shapes in your life? Perfect contrast to a square house and backyard.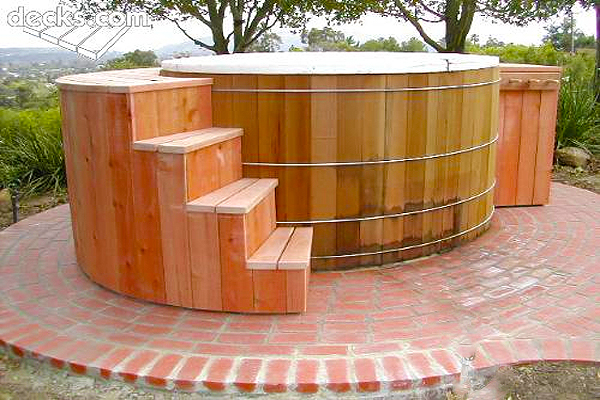 14. Another example of asymmetrical spa placement, in relation to the house; adds more angles.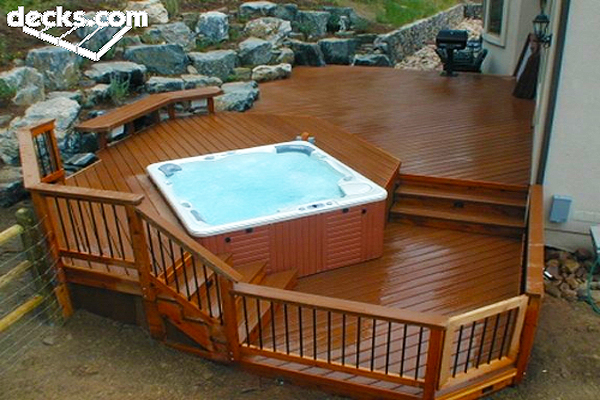 15. Pergola! Corner posts can tie-off long drapery; top is great for Clematis or Wisteria vines.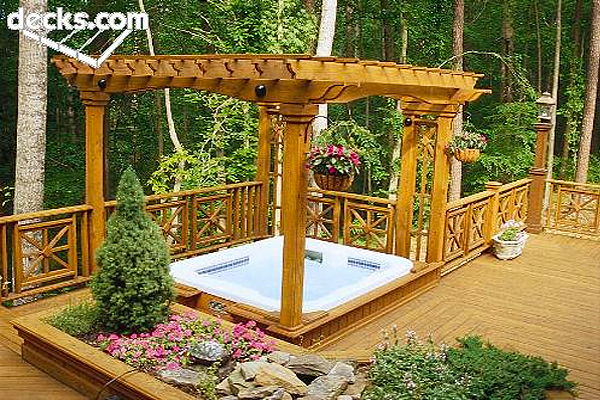 16. This looks like a dream. Safety fence rails are important for raised decks (and cliffs!).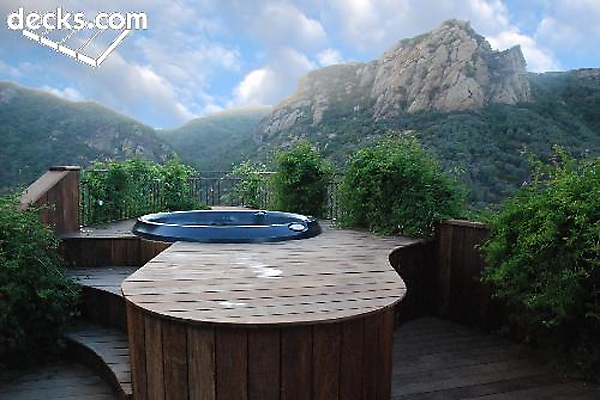 17. Wood and stone play nicely together in this spa deck and privacy wall.
18. A Hot Springs spa deck planner idea, with two wood topped islands, wrapped in faux stone.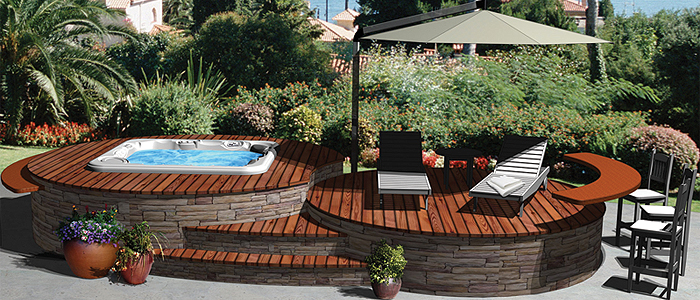 Spa Deck Materials
When building a wood deck, there are usually several options of wood, from basic pressure treated yellow pine, to insect resistant redwood and cedar, to imported hardwoods like Ipe or Balau. Composite deck materials mimic the look of real wood, but can outlast real wood, without the need for future sanding and staining.
Spa Insulation
Another important consideration when building a spa in a deck is the insulation around the tub. When sinking a spa shell into a deck without a spa cabinet, some insulation should be planned for, to save on heating costs. When a wood hot tub is sunk into the deck, a heavy insulated pad can be wrapped around the tub, below deck level.
Spa Deck Structural Design
A full size spa is heavy (nearly 1000 lbs), and a spa full of water can weigh 5x more! When placing a spa in a deck, the spa itself must be resting on a 4" slab of reinforced concrete, or other suitable base that can handle at least 100 lbs per square foot. Want to install a spa on the upstairs deck? Better call a structural engineer, and get out the checkbook - strong underpinnings are needed for any elevated spa or hot tub.
Spa Privacy
Your location may not need much privacy, but if you have close-by neighbors like I do, a slatted or lattice wall can keep out prying eyes. A low wall can be incorporated into the deck surrounding the wall, as many of the pictures above show. Draperies, fabric shades and plants can also be used to add privacy to your outdoor spa or hot tub.
Spa Safety
Every spa installation demands safety considerations. Fencing or rails around raised decking is important, but even more important is a way to block access to the spa, with fences and gates, and with locking spa covers.