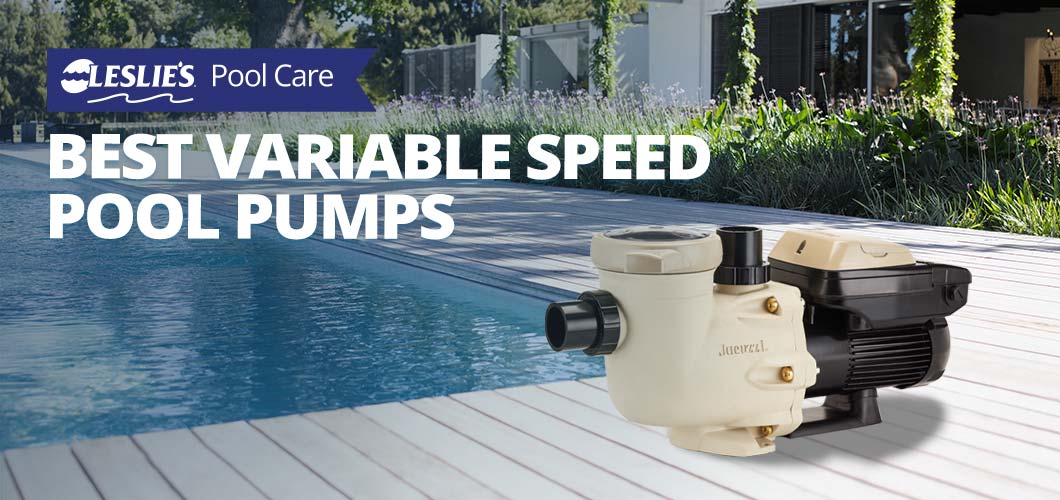 Best Variable Speed Pool Pumps for 2023
Variable speed pool pumps are all the rage these days. In the same way that most major automobile manufacturers have some version of an eco-friendly electric vehicle in their 2023 lineup, virtually all pool equipment manufacturers now offer energy efficient variable speed pool pumps.
Considering the major energy- and money-saving benefits that variable speed (VS) pumps offer, it's no wonder why so many pool owners are upgrading their single speed pumps in favor of efficiency.
As of July 19, 2021, when new efficiency regulations went into effect, single speed pumps greater than 1.0 Total Horsepower (THP) are no longer produced. Instead, they've been replaced by variable speed technology. Manufacturers stopped producing pumps that didn't meet the minimum efficiency standards, and now most pumps available for inground swimming pools are variable speed pumps.
Understanding Variable Speed Pool Pump Specifications
When choosing a new variable speed pump, it's important to understand the key factors involved so you know you're choosing the right model for your swimming pool.
BONUS TIP: Contrary to popular belief, horsepower isn't actually the first thing you should consider when selecting a pump. Things like flow rate, turnover rate, and the scope of work for the pump all play a role in determining how much horsepower you'll actually need. Before you get started in your pool pump search, take a look at our blog post: Pool Pump Sizing 101.
Pump Size and Total Horsepower
Variable speed pumps for residential inground swimming pools are available in many sizes and varying horsepower — from 1.4 THP to 3.0 THP. Most variable speed pumps are rated for total horsepower (THP)Smaller pumps with less horsepower will work for smaller pools (15K-25K gallons) and/or with 1.5" plumbing. Larger, more powerful pumps are better suited to bigger pools with greater water flow demands — including pools with extra water features, solar heating, lots of turns in the plumbing lines, equipment far from the pool, or a connected hot tub, for example.
Voltage
Most inground pools are wired for 230V, and the new pump must be hard-wired to your circuit breaker. On the other hand, most above ground pools — and even some small inground pools — are wired for 115V. Most variable speed pumps will accept either 115V or 230V, but some models only accept 230V. Just make sure the pump you choose also matches the voltage your pool is wired for.
Timer and Speed Settings
The next thing to consider relates to the number of possible custom programming settings you can create with different speeds and lengths of time. Many variable speed pumps have 4 or 8 pre-set programs with one button selection, but you can always override these and select your own speed or even program your own timed speed settings.
Union Connections and Pipe Sizing
The most common pool plumbing sizes are 1.5" or 2". Some pumps will accept both pipe sizes, some will only accept one, and some are sized for larger plumbing setups with 2.5" pipe. Larger pipe size is best when maximizing energy efficiency, as 1.5" pipe often has flow limitations and greater resistance. Best practices include leaving at least 12" of straight pipe before the pump, and using sweep elbows instead of hard 90° elbows.
Weighted Energy Factor
The weighted energy factor (WEF) is a new designation for variable speed pool pumps that are Energy Star® rated. In a way, you can think of this number similar to the MPG fuel efficiency in a car or the SEER rating for an air conditioner. The higher the WEF number, the greater the pump's energy efficiency. WEF provides a method to compare the energy consumption of variable speed pool pumps.
Warranty Coverage
If manufacturer warranties are important to you, you'll find them listed here as another comparison point. Remember, you must register the pump purchase with the manufacturer for the warranty to be in effect. In most cases, the manufacturer also requires installation by a pool professional.
BONUS TIP: Did you know that Leslie's Pool Perks members are eligible for FREE extended warranties on certain pool pumps? It's true! Simply by joining our loyalty rewards program, you can get up to a 5-year warranty on our exclusive line of Jacuzzi® variable speed pumps. Once you add in the 5% Pool Perks rewards earned from your new pool pump purchase, it really does pay to shop with Leslie's! Not a member yet? Membership is FREE, and you'll get an extra $5 in rewards just for signing up.
Movable Control Panel
Some models of variable speed pool pumps allow you to rotate the control panel to an orientation most convenient for viewing. Some also allow you to remove the panel from the pump and mount it on a nearby wall for an even more convenient eye-level view. Certain pump models require a separate purchase of a wall-mounting kit, if you choose to go that route.
Purchase Price
There is a wide range of pricing for variable speed pumps — something to fit most everyone's budget. The higher-priced, more powerful pumps for larger pools may come with additional features, such as freeze protection or SVRS (safety vacuum release system), which shuts off the pump if a suction blockage is detected.
| | | | | | | | | | |
| --- | --- | --- | --- | --- | --- | --- | --- | --- | --- |
| | Make / Model | Total Horsepower | Voltage | Settings | Union Size | WEF | Warranty | Movable Control Panel | Price* |
| | Hayward Super Pump VS | 1.65 | 230V | 8 | 1.5" | 9.3 | 1 YEAR | YES | $1,249.00 |
| | Hayward TriStar VS | 1.85 | 115V/230V | 8 | 2" x 2.5" | 12.9/8.3 | 1 YEAR | YES | $1,469.00 |
| | Hayward MaxFlo VS | 1.65 | 230V | 8 | 1.5" x 2" | 10.7 | 1 YEAR | YES | $1,449.99 |
| | Jacuzzi JVS165S | 1.65 | 115V/230V | 8 | 1.5" x 2" | 10.3 | 2 YEARS | YES | $1,299.99 |
| | Jacuzzi JVS185S | 1.85 | 115V/230V | 8 | 2" x 2.5" | 12.9 | 2 YEARS | YES | $1,599.99 |
| | Jacuzzi JVS270S | 2.7 | 115V/230V | 8 | 2" x 2.5" | 7.2 | 2 YEARS | YES | $1,999.99 |
| | Pentair SuperFlo VS | 1.65 | 115V/230V | 4 | 1.5" x 2" | 9.0 | 1 YEAR | NO | $1,269.00 |
| | Pentair Intelliflo VS/SVRS | 3.95 | 230V | 8 | 2" | 6.9 | 2 YEARS | YES | In Store |
Which Variable Speed Pool Pumps are the Best?
The good news is, there are many high quality variable speed pool pumps available online or in-store. In the end, the best variable speed pump will be different for each pool. The most important part of choosing a new variable speed pump is to match the pump's flow rate to the filter flow rate, which you will find on the product label or in the manufacturer's specifications. If you install a VS pump that is too large for your filter and pipe size to accommodate, performance will be reduced, and you may inadvertently damage your pool equipment.
---
Check out our full selection of variable speed pool pumps to find which pool pump is best for you and your pool. If you're currently using a single speed pump, our energy savings calculator will help you discover how much money you'll save each year by upgrading to variable speed technology.
For more information or questions about variable speed pumps, or for installation services, call or stop by your local Leslie's.
* Prices are subject to change without notice. In the event the price listed in this post does not match the price listed online or in our physical Leslie's stores, the price listed online or in the store should be considered accurate.
Leslie's makes every effort to provide accurate recommendations based upon current ANSI/APSP/ICC-5 2011 (R2022) standards, but codes and regulations change, and Leslie's assumes no liability for any omissions or errors in this article or the outcome of any project. You must always exercise reasonable caution, carefully read the label on all products, follow all product directions, follow any current codes and regulations that may apply, and consult with a licensed professional if in doubt about any procedures. Leslie's assumes no legal responsibility for your reliance or interpretation of the data contained herein, and makes no representations or warranties of any kind concerning the quality, safety, or suitability of the information, whether express or implied, including, without limitation, any implied warranties of merchantability or fitness for a particular purpose.