It's Cold Outside! Winter Hot Tub Tips
For many spa or hot tub owners, winter is the perfect time to enjoy a hot soak in your outdoor tub. In warmer places like Southern California, the winter temperatures rarely dip below 50°, which hardly qualifies as cold for the rest of the country.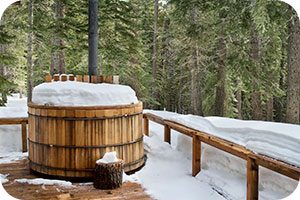 If you live in colder climates, where 50° would be considered a winter heat wave, you can still safely (and sanely) enjoy your hot tub. The air is crisper and the stars seem brighter during the winter months. Even if there's snow on the ground, this is the perfect time of year to enjoy your hot tub with family and friends.
To help you enjoy the warmth of your hot tub all winter long, we've put together a list of handy tips to enjoy your hot tub in winter!
1. Wear a Hat
For women (or men) with long hair, wearing a hat helps to keep your hair dry. This helps to regulate your body temperature while using the hot tub and keeps you from catching a chill. Not only is a hat important for keeping your hair dry, but as much as 70% of your body heat can be lost through the top of your head. Break out your favorite ball cap, knitted beanie or fluffy double mackinaw to keep your noggin warm and dry.
2. Use Facial Moisturizer
Skin cream or hand lotion will protect your face from bitter winter winds, which can quickly dry the skin. A layer of moisturizer (or even suncreen) helps to keep the moisture locked in your skin. It also forms a barrier over your pores, which reduces the absorption of spa chemicals that may be released at the surface of the water.
3. Wear Sandals or Slippers
Most outdoor spas are at least 10 steps away from the door. And unless you have a red carpet runway from your doorway to the spa, you'll need something to help you make that mad dash. Slippers or sandals will help keep your spa clean and keep your tootsies warm and dry as you make the trek. Surfaces around a spa can be slippery in freezing temperatures, so wearing something on your feet can also help to keep you from becoming another slip-and-fall statistic.
4. Warm Towels
One of the most popular spa accessories is a towel warmer, which is a favorite for many cold-weather spa owners. It's a small box or electric towel rack that will keep 2-5 towels nice and toasty and ready for use. Don't have a towel warmer? No problem! Just pop some towels in the dryer beforehand, and store them in a small insulated box or cooler just inside the door to the house. You can also use a deck storage cube, and place a few microwaveable heating pads inside along with your towels.
5. Cool Umbrellas
If you have a patio umbrella near the spa, have it ready to pop open in the event of rain or snow. If you wear a hat, you may not need to use an umbrella. But if not, it's nice to have a large umbrella or small parasol to keep winter weather from raining on your parade. Hold on tight in high winds, and if a rare winter thunderstorm develops, it's best to head indoors.
6. Hot Drinks
In warmer outside temperatures, nothing is as refreshing as a cool beverage to help regulate body temperature. During the winter, however, warm beverages are best. Mix up a batch of hot chocolate, and pour it into an insulated coffee carafe to keep it warm. Thermal mugs with lids are perfect for the cocoa, but be careful to not spill any in the tub!
7. Spa Covers
The colder the weather is outside, the faster your spa will lose heat. Spas without an effective cover will have trouble maintaining the heat during freezing temperatures, and they may not recover fast enough after losing ten degrees while the cover is off. If your cover is struggling to keep the heat in, it may be time to consider buying a new spa cover, and perhaps also investing in a floating spa blanket.
Don't let the cold weather temperatures drive you indoors! Enjoy your spa or hot tub all year round. Just remember to limit your soaks to 20 minutes and sty properly hydrated.
Leslie's makes every effort to provide accurate recommendations based upon current ANSI/APSP/ICC-5 2011 (R2022) standards, but codes and regulations change, and Leslie's assumes no liability for any omissions or errors in this article or the outcome of any project. You must always exercise reasonable caution, carefully read the label on all products, follow all product directions, follow any current codes and regulations that may apply, and consult with a licensed professional if in doubt about any procedures. Leslie's assumes no legal responsibility for your reliance or interpretation of the data contained herein, and makes no representations or warranties of any kind concerning the quality, safety, or suitability of the information, whether express or implied, including, without limitation, any implied warranties of merchantability or fitness for a particular purpose.