Acrylic Spas vs. Rotomolded Spas
In the old frontier days, all hot tubs were made of wood, then came fiberglass, and then Acrylic became the spa shell of choice. Acrylic spas are injection molded or blow molded into the spa shell, which is backed with many layers and set into a wood or composite material cabinet.
In the late 90's, a few small manufacturers like Strong, Freeflow and DreamMaker began to produce spas with a radical new concept - rotational molding. Building a spa out of a single polymer plastic shell, reduces the cost and time of spa construction tremendously.
At first, major spa manufacturers poo-pooed the idea that John Q. Public wants to soak in a gray or brown plastic tub, but as sales and demand for the much less expensive hot tubs increased, they began to take notice.
Nowadays, most major players like Watkins, Cal Spas, Baja and Coleman are offering "Entry Level" rotomolded hot tubs, but still feature Acrylic models to offer a "Trade-up" product in their line of acrylic hot tubs. Sort of like a car dealer that sells both Chevrolet and Cadillac models.
ROTOMOLDED SPAS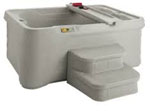 PROS: First of all, rotomold spas are 30-50% less expensive than similar sizes of acrylic spas. They are many rotomold models that are 'plug and play', and don't require an electrician, just fill with water and plug it in. Finally, rotomolded hot tubs are extremely durable, and most have a lifetime spa shell warranty.
CONS: The appearance of the spa internal surface is not as beautiful as the lustrous colors and shine of acrylic hot tubs. The plug and play models don't withstand very cold temperatures, and don't have many jets, and often can't run the spa heater at the same time as the spa jet pump.
ACRYLIC SPAS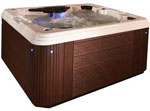 PROS: That deep lustrous shine is a definite plus, you just can't get that with a rotomolded tub. Wood panel cabinets are another nice feature of acrylic tubs. Acrylic hot tubs are often more full featured, with many standard options, dozens of fancy jets, and large pumps, filters and heaters.
CONS: First of all, acrylic spas can cost $8-12K, or more, nearly twice the cost of rotomolded tubs. They are much heavier, bulkier and harder to move around easily. Most acrylic models require a full 230V electrical service, which usually involves an electrician.
Leslie's makes every effort to provide accurate recommendations based upon current ANSI/APSP/ICC-5 2011 (R2022) standards, but codes and regulations change, and Leslie's assumes no liability for any omissions or errors in this article or the outcome of any project. You must always exercise reasonable caution, carefully read the label on all products, follow all product directions, follow any current codes and regulations that may apply, and consult with a licensed professional if in doubt about any procedures. Leslie's assumes no legal responsibility for your reliance or interpretation of the data contained herein, and makes no representations or warranties of any kind concerning the quality, safety, or suitability of the information, whether express or implied, including, without limitation, any implied warranties of merchantability or fitness for a particular purpose.