8 Top Hot Tub Light Problems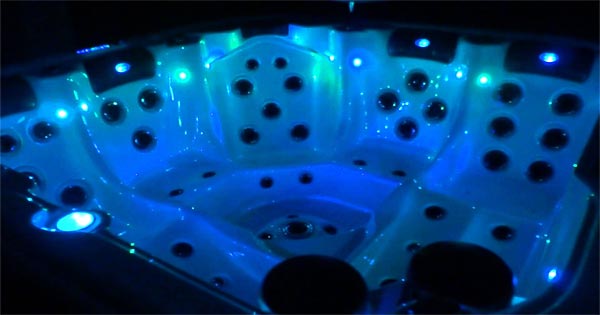 Troubleshooting spa lights is just like any other lighting - the problem lies where the power dies.
Spa lighting on new spas presents a bit more challenge with more lights to maintain, since many spas now come with sets of lights, internal and external, not just a single bulb in the foot basin.
Yet, the process for troubleshooting modern spa lights is the same as for traditional hot tub lights. Let's go through it step by step - here's a list of things to check when your spa light is not working.
Spa Light Switch Not Working
If you have an older tub that uses Air Switches to turn the light on and off, the first thing to check is the switch itself. An air switch is operated by a white button on the top of the spa shell that when pushed, sends a pulse of air to activate the switch. Check that the button functions up and down properly, and that the air hose is connected on both ends. You can blow air through the hose with your mouth to test the air switch operation. Modern spa lights are turned on by pressing the air button on the topside control panel, and usually has an indicator that displays when the light is on (or when it thinks it's on).
Spa Light Fuse is Blown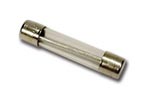 Many spa packs use a small fuse to protect the lamp and bulb (and spa users), should the voltage rise above safe limits. The typical type of spa light fuse is the tube type - metal ends with a glass center, so you can view the wire inside. If the wire looks ruptured or the glass is discolored or looks like it heated up, replace the fuse with the same type and amperage. You can check a spa light fuse with a multi-meter. Set it to Ohms or resistance and place your probes on each end of the fuse. A good fuse will show '0' resistance, and anything higher than '1' means a bad fuse. The fuse is usually located inside the spa pack, possibly next to other fuses. Check your spa pack owner's manual for exact location, it may not be labeled. Make sure power is OFF before opening up your spa pack, and use care when poking around in there.
Spa Light Relay is Stuck
Some spa light systems use relays to control or direct the power to the light. If you push the light button and can hear a small noise, then you do have relays. Many times these are attached to the circuit board, and often look like small ice cubes. Hearing the relay click does not mean that it's good or bad, but they can get stuck, become corroded or otherwise fail. Again remember the mantra - the problem lies where the power dies. You can test with a multi-meter, the power coming into spa relays, but it's often easier to remove the light lamp and check for power at the light, during or just after turning the light on. Most spa light relays are located just before the pool light lamp, or last in line before power reaches the bulb.
Spa Light Transformer Problems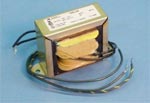 Most spa lights are 12V, although some are 24V, and to provide the light bulb with the right voltage, many spas use a small transformer to reduce the incoming voltage to the correct low voltage amount. A transformer is a small magnet, wrapped in a primary and secondary coil, to create an electromagnet. Transformers are fairly easy to recognize and are about 1.5" square, with wire leads attached. You can measure the power coming into the transformer, and measure power coming out of the transformer, with a multi-meter. The voltage coming out should match what the label states (12V or 24V), and if it's more than 10% higher or lower, you may need a new spa transformer. Be sure that the wires are not shorted or corroded, and are making good contact.
Spa Light Bulb Failure
Spa light bulbs don't last forever, and this may be the first thing to check. Even LED spa light bulbs will fail, despite some claims that they last nearly forever, they usually burn out within ten years. What usually happens is a failure of 1 or 2 of the LED's which shorts out the entire bulb. If you're handy with a soldering gun, you may be able to bypass the burnt out diodes, but most people just replace the entire bulb, most are fairly inexpensive, but there are a few specialty spa led light bulbs that can cost hundreds of dollars. Spa lights may not always be visibly bad, or you may not be able to tell a bad led by looking at it. You can check a spa light bulb with a multi-meter. Set it to Ohms or resistance and place your probes on the light contacts. A good bulb will show '0' resistance, and anything higher than '1' is shorted out, or a bad bulb.
Spa Light Lamp Corrosion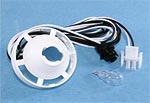 Being that spa lights are typically underwater, corrosion from moisture can affect the contacts made between the lamp and the bulb. Often times, it can be cleaned up with a toothbrush or rag to quickly fix the problem. Other times the spa light lamp will fail if corrosion damages the contacts or the light shell too much. For most spa lights however, the lamp well stays rather dry, and corrosion won't be noticed. Just give the spa lamp a good inspection, to be sure the contacts for the wire and the bulb are solid and intact. Replacing the entire hot tub light kit with new wires and connectors if often the fix.
Spa Light Wire Shorted
The spa light lamp has a wire connected to it, which can short out by being nicked, or chewed on by rodents or insects, or from being crimped for too long in one position. It's a very thin wire, and it doesn't take much to stop the flow of power to the light bulb. Even when these thin wires look good, they could be worth a second look. In some cases, you can find the short, and by wiggling it you will notice the light coming on/off in the spa. Don't splice with butt end connectors, replace the spa light kit, very cheap and a better long term solution. The light wire connectors and connection can also be the problem, to inspect them, disconnect the wire connectors and clean with a toothbrush and look for any signs of damage.
Spa Control Board Issue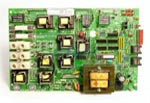 Finally, the main PCB or printed circuit board could be preventing the light from coming on. As mentioned earlier, it could be the light relay on the board, or the fuse - or it could be any other partial board failure (capacitor, resistor) preventing the light from coming on, even though the control panel may tell you it's on. In my experience, a problem on the circuit board is the cause of light failure only in a small percentage of cases. If you have gone through all the other spa light troubleshooting steps above, with no success, it could mean that the main spa circuit board is where the power dies, and hence where the problem lies.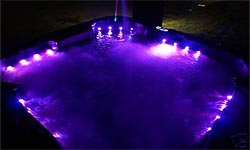 >>>> ONCE UPON A TIME... spas and hot tubs were easier to work on, like the mechanical automobiles of an earlier generation. The latest models of spas brag about their "29 points of light" and this alone makes troubleshooting hot tub lights more difficult, in addition to the controlled electrical aspects. You need not be an electrical wizard to find a spa light problem however, just remember to take it step by step and rule out all possible issues - and if we can help you out in any way, let us know!
Leslie's makes every effort to provide accurate recommendations based upon current ANSI/APSP/ICC-5 2011 (R2022) standards, but codes and regulations change, and Leslie's assumes no liability for any omissions or errors in this article or the outcome of any project. You must always exercise reasonable caution, carefully read the label on all products, follow all product directions, follow any current codes and regulations that may apply, and consult with a licensed professional if in doubt about any procedures. Leslie's assumes no legal responsibility for your reliance or interpretation of the data contained herein, and makes no representations or warranties of any kind concerning the quality, safety, or suitability of the information, whether express or implied, including, without limitation, any implied warranties of merchantability or fitness for a particular purpose.