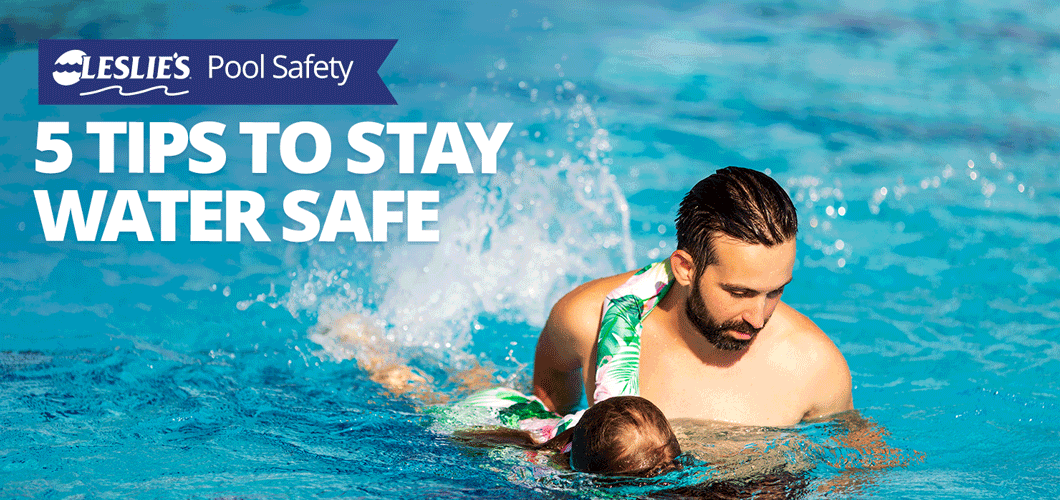 5 Tips to Stay Water Safe
May is National Water Safety Month, and according to experts, water safety has never been more important. Children are out of school, and many Americans are spending more time in their backyard pools.
A backyard pool provides fun, exercise and a chance to get outdoors. But the combination of parents distracted with work at home and kids with time on their hands could be dangerous. National Water Safety Month is the ideal opportunity to remind people that they need to be extra vigilant around the pool – or any body of water."

Tracy Dick, Leslie's Pool Supplies Vice President of Communications
Leslie's has partnered with Dr. Tom Griffiths and Rachel Griffiths of the Aquatic Safety Research Group to provide tips on how to stay water safe this season.
Water Safety Tips
1. Designate a "Water Watcher"
That's someone whose sole responsibility is watching the kids in the water without distractions, such as cell phones or socializing with others. "This is so important when parents are juggling work responsibilities at home while the kids are out of school. Just being nearby isn't enough — it takes just seconds for a tragedy to occur," says Dr. Griffiths.
2. Be Ready to Save a Life
Have equipment on hand, such as a safety throw rope or lifesaving ring, a cell phone to call for help, life jackets and a first aid kit in case accidents occur. Adults should also learn CPR, and be able to react quickly in case of an emergency.
3. Safety First Around Water
Be proactive, using multiple safety devices around the pool. "Provide layers of protection, which means several proactive prevention devices or strategies in and around your pool so that if one fails, another will come into play," says Dr. Griffiths. "Those measures can include a fenced enclosure with a self-closing, self-latching gate; pool alarms; safety covers; and U.S. Coast Guard-approved life jackets for weak or non-swimmers. Pool toys and floats are not water safety devices."
4. Learn to Swim
Make sure every family member knows how to swim. "Learning to swim should be a priority for every family, and it's never too early to start," says Dr. Griffiths. "Swimming is an important life skill that plays a key role in preventing drowning."
5. Don't Go Alone
For safety reasons, make sure kids know the pool (or any body of water) is strictly off limits without adult supervision. "Kids will push boundaries. They might say, I'll just stand on the top step or go in up to my knees, but then they are all the way in the water, and that's when accidents happen," says Rachel Griffiths.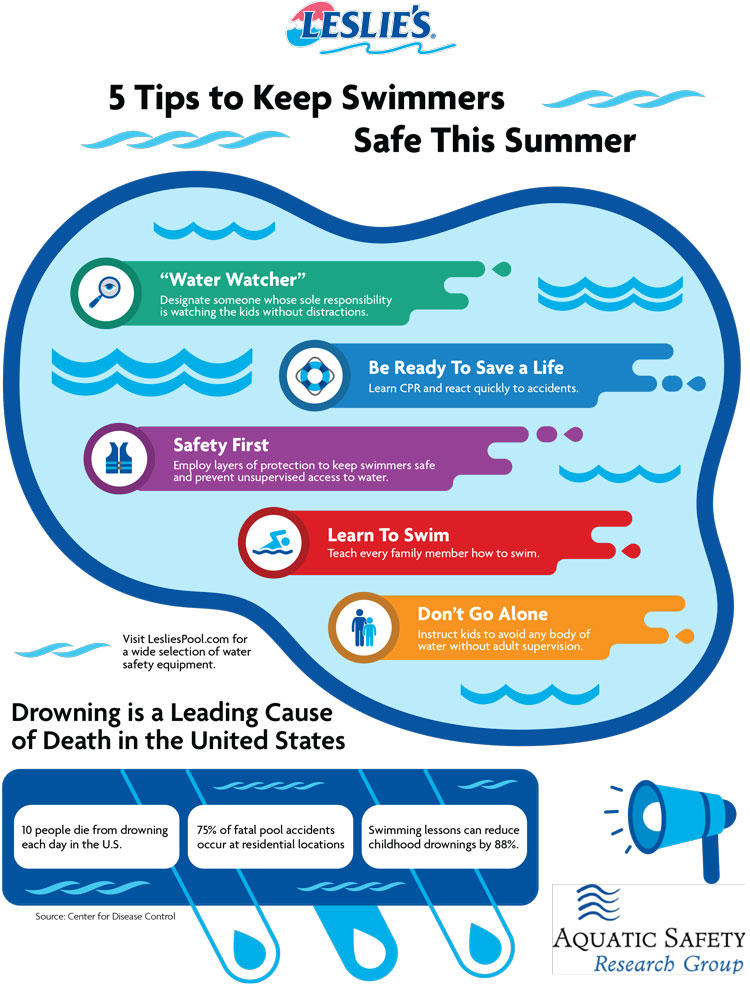 If you have any additional questions, call or stop by your local Leslie's store.
Leslie's makes every effort to provide accurate recommendations based upon current ANSI/APSP/ICC-5 2011 (R2022) standards, but codes and regulations change, and Leslie's assumes no liability for any omissions or errors in this article or the outcome of any project. You must always exercise reasonable caution, carefully read the label on all products, follow all product directions, follow any current codes and regulations that may apply, and consult with a licensed professional if in doubt about any procedures. Leslie's assumes no legal responsibility for your reliance or interpretation of the data contained herein, and makes no representations or warranties of any kind concerning the quality, safety, or suitability of the information, whether express or implied, including, without limitation, any implied warranties of merchantability or fitness for a particular purpose.