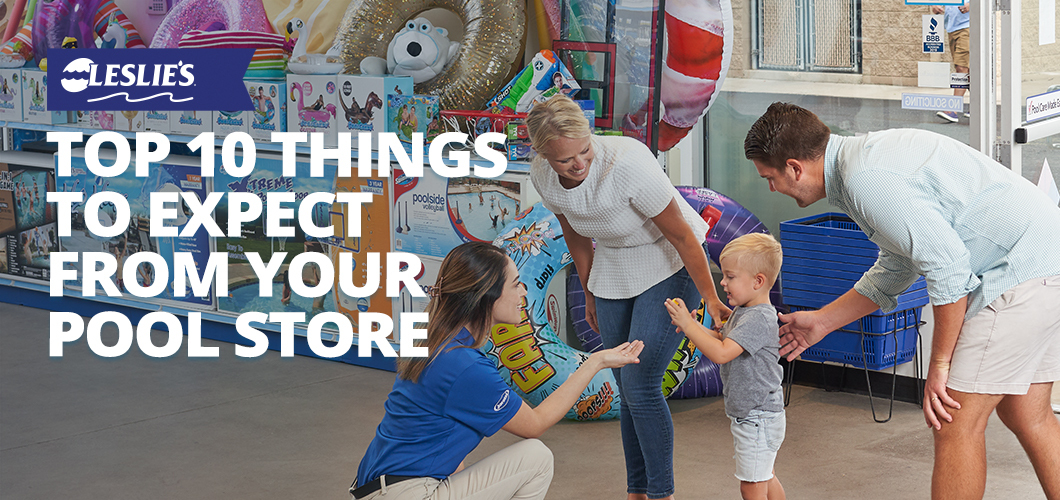 10 Things to Expect From Your Pool Store
While there are standard ways to keep your pool clean and water balanced, you should expect a lot more than one-size-fits-some answers from your pool supply store. So what should you look for? Here are 10 questions to ask when you're searching for your go-to place for pool supplies.
1. Do they offer custom pool care plans and expertise?
No two pools are the same. Any number of things can affect the health of your pool. This includes the time of year, swimming frequency, weather patterns, and even the plants that surround it. Your pool care store should take time to get to know you and your pool so they can recommend the most effective pool care tips and products.
2. Will they test your water for free?
A water test should be the first step in any custom pool care plan. But not every pool store offers professional water testing as a complimentary service – Leslie's does. We start off with a 100% free AccuBlue® water test that precisely measures the complete chemistry of your pool. After the test, you'll receive a customized printout with recommendations based on your pool's test results. Routine professional water testing helps you maintain optimum water balance, and quickly identifies potential issues that might otherwise go undetected until it's too late. If your pool store doesn't offer free water testing with state-of-the-art testing equipment, you need to find a new pool store.
3. Do they offer in-store repairs?
The best pool care stores have certified technicians who can inspect your pool cleaner or equipment and make any necessary repairs. Leslie's offers in-store inspections with free labor on pool equipment repairs—you only pay for parts.
4. Will they extend your warranty?
Many manufacturers offer a short warranty on their products. By offering extended warranties of up to five years, Leslie's gives you additional peace of mind on major equipment purchases. The Leslie's Equipment Protection Plan is available to all Leslie's Pool Perks members, and covers select equipment.
5. Will they match competitors' prices?
If the price is the only thing keeping you from becoming a loyal customer of a pool store, ask if they're willing to price-match their competitors' in-store pricing. If they value your business, they will! Leslie's will gladly match local competitors' in-store pricing for pool and spa products.
6. Do they have a loyalty program?
Pool care is an ongoing, year-round project, and you should be rewarded for all your hard work! At Leslie's, Pool Perks members earn one point for every dollar spent. For every 20 points, you'll earn $1 in Pool Perks rewards. That's 5% in rewards you earn on every Leslie's purchase! Our loyal Pool Perks members also receive other great benefits, including free shipping*, extended product warranties, and exclusive access to special offers and promotions. It's free to sign up for a Leslie's Pool Perks account, and new members earn 100 points just for signing up – that's $5 in rewards!
7. Do they have a mobile app that's actually useful?
Like any good pool care plan, a pool care mobile app should be tailored to you and your pool. With the Leslie's App, there's so much you can do. Start out by signing in with your Pool Perks account, and set up your customized pool profile. Then, you can track both at-home and in-store water tests, get water treatment plans precisely tailored for your pool, view transaction history, access your Pool Perks balance, shop products, AND find exclusive member deals. You'll also find helpful pool maintenance tips, and you can set up helpful reminders to keep your pool healthy. If you ever have questions, help is just a tap away.
8. Do they offer any other pool services?
A good pool care store will help you with all aspects of pool care, not just sell you chlorine. Leslie's has everything you need for your pool, whether in-store, online, or at home. Leslie's Certified Technicians perform many at-home services, including product installation, equipment repairs, filter cleaning, pool closing/opening, acid washing, tile cleaning, and so much more. Although we don't offer weekly maintenance and cleaning services, we can refer you to one of our Preferred Pool Service Partners to handle your routine pool care needs. Leslie's is your one stop shop for all products and services related to pool and spa care.
9. Are their service employees reliable?
If a pool store provides at-home installation and repair services, you would hope they're using trained and reliable professionals to get the job done, right? Leslie's takes care of this by using very our own services support team. We also employ a fleet of full-time Leslie's Certified Technicians to get the job done right, rather than hiring inexperienced third party contractors.
10. Is their shopping experience flexible?
There are perks to shopping online, but there are also benefits to shopping at physical store locations. The most customer-oriented stores allow you to do both. With Leslie's, you have the freedom to shop online with free shipping for Pool Perks members, or you can swing by the store to pick up your pool essentials. If you prefer shopping online, but can't wait for the shipment to arrive, take advantage of our shop online / pick up in store experience.
---
As you can see, Leslie's offers what no other pool store can. Between our numerous free in-store services, robust Pool Perks program, flexible online or in-store shopping experiences, top quality products, and the numerous other benefits we offer to our customers, it's easy to see why we're the nation's premier pool and spa supply store and service center. Stop by your local Leslie's today, and give us the opportunity to show you why we're the best in the business.
*Free ground shipping is offered to all Pool Perks members. Some exclusions and freight charges may apply.
Leslie's makes every effort to provide accurate recommendations based upon current ANSI/APSP/ICC-5 2011 (R2022) standards, but codes and regulations change, and Leslie's assumes no liability for any omissions or errors in this article or the outcome of any project. You must always exercise reasonable caution, carefully read the label on all products, follow all product directions, follow any current codes and regulations that may apply, and consult with a licensed professional if in doubt about any procedures. Leslie's assumes no legal responsibility for your reliance or interpretation of the data contained herein, and makes no representations or warranties of any kind concerning the quality, safety, or suitability of the information, whether express or implied, including, without limitation, any implied warranties of merchantability or fitness for a particular purpose.