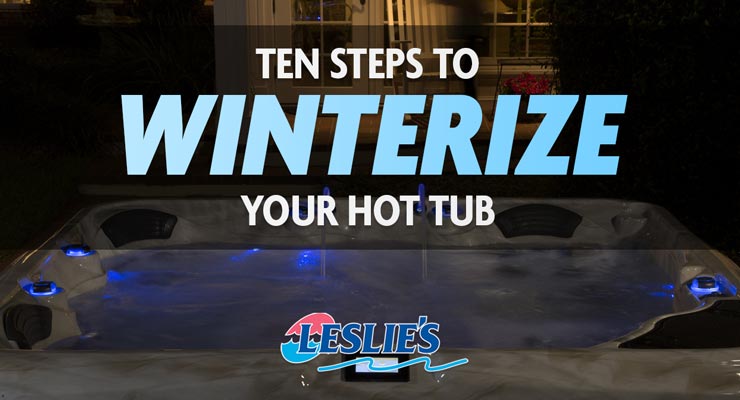 10 Steps to Winterize Your Hot Tub
We certainly hope you can keep your hot tub open year-round. After all, what's better than a dip in your spa on a cold winter evening? Not much! But if you do choose to close your hot tub for the winter, be sure to follow these ten steps to winterize your hot tub properly. Doing so will help avoid broken plumbing from freezing water, and make for an easy opening next year.
1. Turn Off The GFCI Circuit Breaker
Before draining or servicing your hot tub, it is critical that you shut off power at the breaker.
2. Remove Your Hot Tub's Side Panel
Most hot tubs have an access door on the side. In some cases, you will have to remove the entire side panel to access the hot tub equipment.
3. Attach A Garden Hose To The Drain Hose
Inside of the equipment access area, there will be a hose attachment that can be used to drain your hot tub. Connect a garden hose and turn the valve to drain the water. If you are left with some water in your spa that does not drain through the hose, use a wet-vac to remove it.
4. Loosen Unions On The Heater And Pumps
You will need to loosen the unions to drain any water in the lines. Keep in mind that your hot tub might have multiple pumps. Repeat this procedure on all pumps so that you can drain the water from the plumbing lines.
5. Remove The Drain Plug From The Pumps
You want to remove the lowest drain plug from the front of each pump. This will allow water to drain from inside the pump.
6. Use A Wet-Vac To Remove Water From The Lines
You will need to remove water from hot tub lines, or else they could freeze and damage your plumbing. Insert a wet-vac into each drain, jet face, union, suction, and filter cavity. The wet-vac should be placed in each for 10-15 seconds to ensure all water is sucked out.
7. Replace Drain Plug On Pumps
Once all of the water is sucked out of your hot tub lines, replace the drain plug on the pump. Tighten all unions and ensure that all gate valves are open.
8. Add Hot Tub Antifreeze
Pour one gallon of hot tub antifreeze into the top of each pump, and also one gallon into your filter cavity.
9. Replace The Hot Tub Equipment Access Panel
10. Close The Hot Tub Cover
Close cover to hot tub, and start counting down the days until you can re-open it! If you have any further questions, the experts at Leslie's are always on hand to answer them. Find your nearest Leslie's location today, or call our service department to schedule an appointment with a qualified technician.