10 Spa and Hot Tub Energy Conservation Tips
Some spas are built for a warm climate, while other spas are specifically designed for use in cold weather areas. A spa or hot tub that is energy efficient can use half of the energy of one that is not.
Spa insulation is the main factor, but there are many other variables that influence the amount of electricity used by your spa or hot tub. Here's a few ways to curb your spa's appetite for energy.
ADD WIND BLOCKS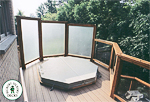 Wind sweeping across the surface sure feels nice, but it also pulls a lot of heat from the surface. If your spa is not protected from the winds, consider installing small walls or plants on the side(s) with the most wind. They are usually installed on two sides, to preserve a preferred view, and can also serve as a privacy screen. Custom build it to your specifications, or you can order retractable spa wind screens online.
CLOSE THE AIR JETS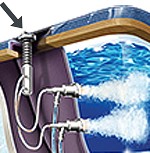 After using the spa, remember to close the knobs that allow air to be sucked into the jets. Cold air being introduced constantly will cool the water, requiring your heater and pump to work harder to replace the heat that is lost. Heat loss is minor when using the spa for 15 minutes or so, but if you leave them open for days and days, you may notice an increase in hot tub energy use. For me, it's the last thing we do, but I don't usually open all of the air jet knobs, so I just close the one off before putting the cover back on. Remember to close the air jets!
TURN OFF THE BLOWER
The air blower, if your spa is equipped with one, is a real energy hog, besides being noisy and also cooling down the water with cold air injection. If you can go without forced air in the hot tub, you will absolutely reduce a hot tub's energy usage. And when your spa blower finally bites the dust (and they all do someday), consider not replacing it.
FIND THE PUMP RUN TIME SWEET SPOT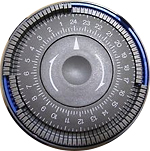 Modern spas are somewhat self regulating with certain programmable modes, but for older spas or hot tubs, your filter pump or spa pump should use a timer, or be programmed to run in 2 or 3 shifts of about 3 or 4 hours each. When the pump is running, the filter, heater and purifiers can also operate, so it's important to run it long enough each day (every day) to maintain water quality. Program your pump to run 2-4 times during the day, paying close attention to water quality. Some spas are fine with 4 hours per day, but others need 8 hours per day of pump run time, to both maintain water quality and water temperature.
TIP: Remember that spa pumps (and all motors) use a lot of power (amperes) just to start, so starting and stopping too often will increase spa energy consumption.
TURN DOWN THE SPA HEATER:
Turn down the heater to 90° if you won't be using the spa for a week. For 2 weeks or longer, set it lower, but keep the spa water well above freezing - we recommend no lower than 65 degrees, to maintain some heat in the event of a winter power outage.
Turning down the heat for just the weekend, or even a week, and it can cost more to re-heat the spa than it would've cost to just to maintain the heat. Even so, many weekly spa users (myself included), maintain a temperature of about 95°, and bump it up to 102° an hour before using the spa.
RUN YOUR SPA DURING OFF-PEAK HOURS:
Off peak pump/heater operation, according to Energy.gov, may save you money over time. Check with your local power provider for peak times in your area, and available Time of Use rates. Generally speaking, peak rates are during weekdays, from 9-5 pm, although it varies by region and season.
USE A BETTER OR BEST SPA COVER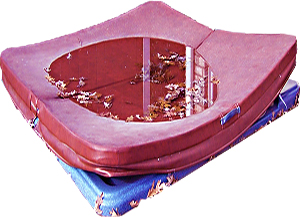 It goes without saying that a good spa cover can save money, while a bad spa cover can waste money. Spa covers that are waterlogged lose over half of their R-value, or insulation value. Hot tub covers that are warped, torn, or broken will not fit properly around the edges and leak precious heat from the sides or along the center hinge. Replacing an old spa cover before you really need to - is a surefire way to save money on heating a hot tub.
TIGHTEN UP YOUR SPA COVER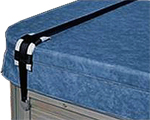 Adjust your spa cover straps if necessary so that there is a slight downward pull on the strap, as you click the clip into place. This helps to pull-down the spa cover to snug-up against the spa top edge. Loose spa cover straps allow heat to leak out and high winds to get under the spa cover. Spa strap clips can be replaced if broken, or if your spa straps are completely torn off, you can use our heavy-duty over-the-top spa cover wind straps. A less elegant, but also effective way is to use a sheet of 1/2" plywood, to gently hold it down and reduce heat loss from a loose or ill-fitting spa cover.
USE A FLOATING SPA COVER

A secondary floating spa cover can increase your overall R-value by up to a third. Floating spa blankets are 1/4" closed cell foam, to keep heat trapped in the water, and reduce moisture beneath the spa cover. It also prevents chemical damage to a hot tub cover, by containing the chemicals in the water. Foam spa blankets work much better than solar blanket type, which is a heavy duty bubble wrap type material - but any secondary spa cover will help, even plastic kitchen wrap!
INCREASE CABINET INSULATION
For spas that didn't come with a lot of insulation around the cabinet, energy efficiency can be increased by strategically adding insulation underneath and around the spa or hot tub. There are several ways to do this, but remember that your pumps still need adequate air ventilation and circulation to prevent overheating. Never cover air intake vents or reduce the size of the equipment bay.
Spray Foam: There are spray foam kits that you can use to cover pipes and the back of the spa shell. Be sure to use a spray foam that has a high R-value and that you apply it according to directions. For best results, remove all cabinet panels before applying foam. A full-foam treatment may be difficult, but an inch or two on the spa shell and covering exposed pipes (outside of the equipment area) is do-able.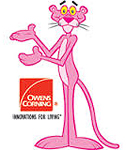 Inside Cabinet: You can also use wall or attic insulation, in soft rolls or rigid panels, to line the inside of your spa cabinet panels. Reflective bubble wrap insulation, placed on the inside of cabinet panels, can help by reflecting heat inward, back towards the spa.
Outside Cabinet: Another method is to construct an enlarged cabinet around the existing cabinet and fill the space with insulation. Or described another way, affix rigid insulation panels to the outside of your cabinet panels, and soft insulation on the corners, then build another cabinet from wood paneling, on the outside of the new insulation. Cap it with a heavy board on top of the enlarged cabinet.
Leslie's makes every effort to provide accurate recommendations based upon current ANSI/APSP/ICC-5 2011 (R2022) standards, but codes and regulations change, and Leslie's assumes no liability for any omissions or errors in this article or the outcome of any project. You must always exercise reasonable caution, carefully read the label on all products, follow all product directions, follow any current codes and regulations that may apply, and consult with a licensed professional if in doubt about any procedures. Leslie's assumes no legal responsibility for your reliance or interpretation of the data contained herein, and makes no representations or warranties of any kind concerning the quality, safety, or suitability of the information, whether express or implied, including, without limitation, any implied warranties of merchantability or fitness for a particular purpose.