Taylor - Deluxe DPD Pool Water Test Kit K-2005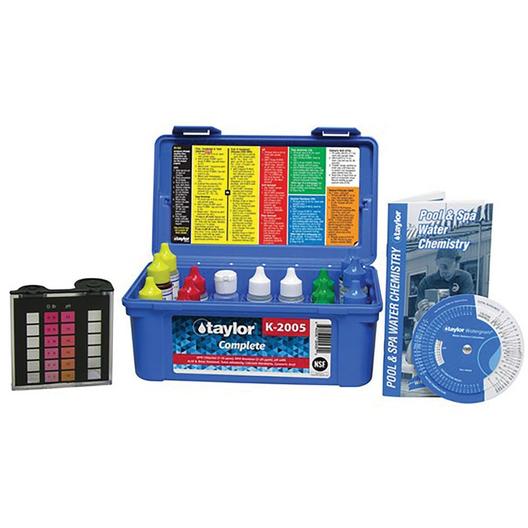 Keep Your Pool Crystal Clear with This Taylor K-2005 Deluxe Water Test Kit
More Details

Membership Available
Store Pickup
Pickup In Store
Earn at least $5 in pool perks for this item by joining Pool Perks.
Join/Sign In Now
Keep Your Pool Crystal Clear with This Taylor K-2005 Deluxe Water Test Kit
Test Kit Includes the Following Reagents:
.75 oz. DPD Reagent #1 - R-0001-A
.75 oz. DPD Reagent #2 - R-0002-A
.75 oz. DPD Reagent #3 - R-0003-A
.75 oz. pH Indicator #4 - R-0004-A
.75 oz. Acid Demand Reagent #5 - R-0005-A
.75 oz. Base Demand Reagent #6 - R-0006-A
.75 oz. A Thiosulphate N/10 #7 - R-0007-A
.75 oz. Total Alkalinity Indicator #8 - R-0008-A
.75 oz. Sulfuric Acid #9 - R-0009-A
.75 oz. Calcium Buffer #10 - R-0010-A
.75 oz. Calcium Indicator Liquid #11L - R-0011L-A
.75 oz. Hardness Reagent #12 - R-0012-A
.75 oz. Cyanuric Acid Reagent #13 - R-0013-A
Kit Components:
Taylor Waterproof Testing Guide - 2004B
2000 Series Comparator Large Cell Cap - 3312
2000 Series Comparator Small Cell Cap - 3313
Taylor Watergram Balance Calculator - 60287
.75 oz. CYA Dispensing Bottle - 9191
2-Cell Block Comparator (High) - 9056
Taylors Deluxe DPD Test Kit lets you test for all the major chemical levels needed to maintain a crystal clear and algae-free pool or spa. Whether youre working on a commercial or residential location, this DPD test kit provides the most accurate sanitizer levels and easy instructions for testing other chemical levels as well.
Complete with .75 oz. bottles of each of the testing reagents, Taylors deluxe test kit lets you test total bromine, total and free chlorine, total alkalinity, cyanuric acid, calcium hardness, and pH levels for both acid and base demand. The kit also includes a shatterproof 2-celled comparator with easy-to-distinguish color gradations, a CYA dispensing bottle, a Watergram Water Balance Calculator, Water Chemistry Guide, and a waterproof color-coded summary of testing instructions is affixed to the inside of the lid of the hard-shell case. All components of the kit are also individually replaceable. Ensure your pool or spa is always crystal clear by testing with Taylors deluxe kit, one of the most trusted names in pool and spa chemical testing. All Taylor Products are made in the U.S.A.
Test Kit Includes the Following Reagents:
.75 oz. DPD Reagent #1 - R-0001-A
.75 oz. DPD Reagent #2 - R-0002-A
.75 oz. DPD Reagent #3 - R-0003-A
.75 oz. pH Indicator #4 - R-0004-A
.75 oz. Acid Demand Reagent #5 - R-0005-A
.75 oz. Base Demand Reagent #6 - R-0006-A
.75 oz. A Thiosulphate N/10 #7 - R-0007-A
.75 oz. Total Alkalinity Indicator #8 - R-0008-A
.75 oz. Sulfuric Acid #9 - R-0009-A
.75 oz. Calcium Buffer #10 - R-0010-A
.75 oz. Calcium Indicator Liquid #11L - R-0011L-A
.75 oz. Hardness Reagent #12 - R-0012-A
.75 oz. Cyanuric Acid Reagent #13 - R-0013-A
Kit Components:
Taylor Waterproof Testing Guide - 2004B
2000 Series Comparator Large Cell Cap - 3312
2000 Series Comparator Small Cell Cap - 3313
Taylor Watergram Balance Calculator - 60287
.75 oz. CYA Dispensing Bottle - 9191
2-Cell Block Comparator (High) - 9056
| | |
| --- | --- |
| Product Type: | Water Testing |
| Manufacturer: | Taylor Water Technologies |
See Owner's Manual for details