Natural Chemistry - PHOSfree Phosphate Remover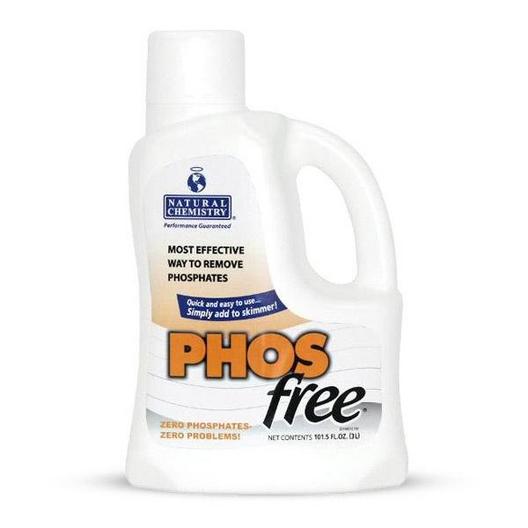 Natural Chemistry PHOSfree is used to remove phosphates from pool water. Phosphates are a nutrient source for algae.
More Details

Membership Available
Store Pickup
Pickup In Store
Earn at least $2 in pool perks for this item by joining Pool Perks.
Join/Sign In Now
Natural Chemistry PHOSfree is used to remove phosphates from pool water. Phosphates are a nutrient source for algae.
Most effective formulation available
Works in the filter (no clouding of the pool water)
Reduces phosphates down to near zero
Reduces pool maintenance
No Phosphates - No Problems
Natural Chemistry PHOSfree is formulated from lanthanum (rare earth) compounds. When added to your skimmer, a thin coating of PHOSfree forms on the filter media. As pool water flows through the filter, phosphates are reduced to very low levels due to the lathanum and phosphate molecules sticking together. Works inside the filter which means no clouding of the water.
For DE & Cartridge Filters: Do not add more than 1.5L (48oz) at a time. If more than 1.5L (48oz) is needed to treat, be sure to clean or backwash the filter between treatments.
Please Note:
Algae must be treated prior to testing and lowering phosphates. Chlorine must be under 5ppm before testing phosphates.
Dose per 10,000 gallons:
Phosphate level: 300ppb or Less PhosFree dosage: 16oz
Phosphate level: 600ppb PhosFree dosage: 32oz
Phosphate level: 900ppb PhosFree dosage: 48oz
Phosphate level: 1200ppb PhosFree dosage: 67.6oz
Q: What are some advantages to using PHOSfree?
- Use at pool closing in the fall to control algae during the winter
- Less filter maintenance
- Less waterline scum
- Less chlorine needed to control algae
Q: What is the dosage?
- 4 oz. per 8,000 gallons (higher dosage for excessive phosphate levels).
Q: What are the directions?
- If pool has algae, follow dealer instructions to treat.
- Follow dealer instructions to balance water chemistry.
- Clean or backwash filter, if necessary.
- Refer to Phos Free product back chart for dosage.
- With filter running, shake bottle well and add required dose directly to skimmer.
- Run filter 8 hours a day for one week or 48 hours continuously without backwashing or cleaning.

Taking advantage of naturally occurring enzymes, Natural Chemistry provides a simple, non-toxic solution to breaking down organic materials quickly and safely in your pool.

Get your pool sparkling fast with a wide selection of pool and spa products ranging from balancers to natural sanitizers and oxidizers for your spa to phosphate removal, salt water magic to metal and scale control for your swimming pool.
| | |
| --- | --- |
| Manufacturer: | Natural Chemistry |
| Product Type: | Pool Chemical |
| Chemical Type: | Phosphate Removal |
| Dosage: | 4 oz per 8,000 gallons |