Leslie's - Ultra Bright Advanced Pool Water Clarifier 1 Pint, 3-Pack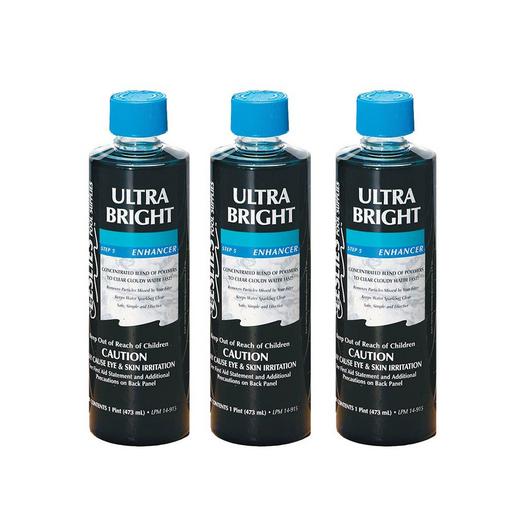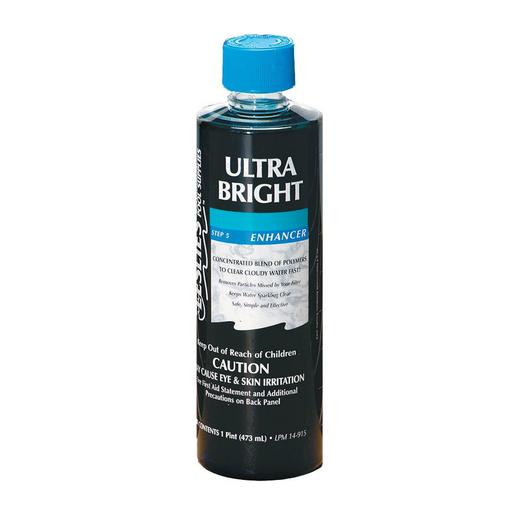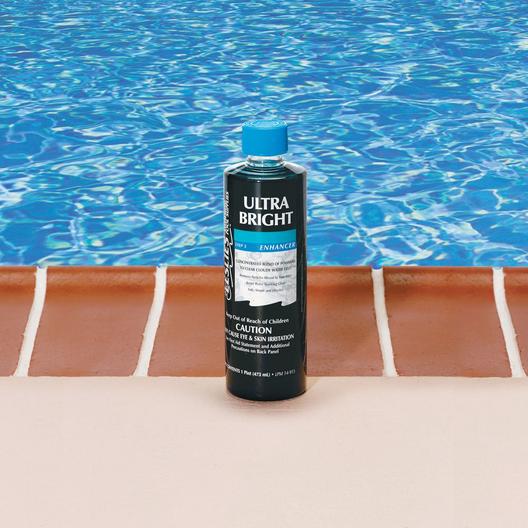 $12.49
Price reduced from

$24.99

to
Leslie's Ultra Bright Advanced Pool Clarifier clears up cloudy water fast, helping remove small particles so they are easily filtered out for polished pool water. More Details
Store Pickup
Pickup In Store
Earn at least 12 in points for this item by joining Pool Perks.
Join/Sign In Now
Bundle contains:

Leslie's - Ultra Bright Pool Water Clarifier - 1 pt.
Leslie's Ultra Bright Advanced Pool Clarifier clears up cloudy water fast, helping remove small particles so they are easily filtered out for polished pool water.
Cloudy to clear pool water fast
Removes particles missed by your pool filter
Salt system compatible
Improves pool filter performance
Keeps pool water crystal clear
Safe, simple and effective
Coagulates contaminants/particles under 1 micron
Leslie's Ultra Bright Pool Clarifier will help get your pool water sparkling clear quickly, being one of the most effective water clarifiers available. Leslie's Ultra Bright is a concentrated blend of polymers to clear cloudy water fast! This formulation makes for an extremely effective water clarifier that works to improve your filter's performance while at the same time, keeping your pool water polished and crystal clear. Leslie's Ultra Bright is easy to use as a part of your regular pool maintenance too. With adding as little as 4 ounces per 10,000 gallons of pool water weekly, you'll have consistently clear and polished water all season long.
Clears & Polishes Cloudy or Dull Water Fast
If you have cloudy or dull-looking pool water, just add Leslie's Ultra Bright Pool Clarifier for quick and easy water clarification. It works by coagulating particles such as fine dust oils, or other contaminants as small as under one micron, that are unable to be normally filtered. Ultra Bright brings those smaller particles together into a larger particle, which allows the filter to remove of those particles that would otherwise be too small to filter out.
Prevent & Treat Cloudy Water
Adding a weekly maintenance dose of Leslie's Ultra Bright Pool Clarifier will help keep your water sparkling clear throughout the swimming season. If the water is cloudy after a storm with wind gusts bringing in fine dust, dirt, and other small contaminants into the pool, use a larger dose to help remedy cloudy water easily.
Leslie's Ultra Bright Pool Clarifier
A cloudy pool isn't just an appearance issue, it's also a health and safety concern. At Leslie's, we're dedicated to help keep your pool water clear and safe for everyone to enjoy. Leslie's Ultra Bright Pool Clarifier is an effective way to prevent and clear cloudy water. Leslie's, We Know Pools, and we have the best products for keeping your water crystal clear and swim ready.
Read the entire label and use strictly in accordance with hazard statements and directions. Use as directed. Extremely slippery if spilled.
To keep water clear, treat with Leslie's Ultra Bright Pool Clarifier once a week at the maintenance dosage. For residential pools that get heavy use or commercial pools, treat the water twice a week at double or triple the dosage.
Make sure the filter is clean and pool equipment is working properly.
Add the calculated amount of Leslie's Ultra Bright Pool Clarifier across the pool water surface. Run the filter system continuously for at least six hours after application.
Please Note: DO NOT add the same day as Leslie's No Metal, Leslie's Stain & Scale Prevent or Leslie's Stain & Scale Remove.
| | |
| --- | --- |
| Product Type: | Pool Chemical |
| Chemical Type: | Clarifier |
| Container Size: | Bottle: 1 pt |
| Manufacturer: | Leslie's |