In The Swim - Premium 12 Mil Blue Solar Blanket 18x33 ft Oval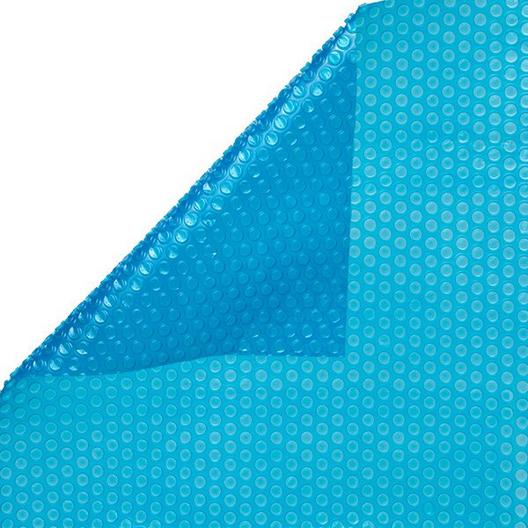 Membership Available
Store Pickup
Pickup In Store
Earn at least $12 in pool perks for this item by joining Pool Perks.
Join/Sign In Now
24-Hour Pool Pump Outdoor Timer
7 Year Limited Warranty
What is Not covered under this warranty?
Bubble Damage: Breaking and flaking of bubble material is not a defect, but is caused by acidic water conditions, and/or high levels of chlorine in the water.
Sun Damage: Discoloration and degradation from UV rays while removed from the pool. When rolled or folded, cover your solar cover or place indoors.
Tears or Rips: Damage caused by acts of God, humans or animals is not covered.
To enhance the durability of your solar cover:
Put away your solar blanket (covered or in a shady location) when shocking the pool
Place cover on the pool only when chlorine level is below 2.5 ppm
Place cover on the pool only when pH level is above 7.2
Remove sticks and leaves gently and clean the blanket if dirty
When storing a solar blanket on a reel, use the Poly Tarp or the Solar Blanket Cover
When storing a solar blanket folded, place in a shady area or inside
Capture sun's heat the natural way and prevent it from escaping with our 12 Mil Blue Solar Blanket!
In The Swim's 12 Mil Blue Solar Blanket is an excellent and environmentally friendly way to capture energy from the sun and use it to heat your swimming pool. With 12 MIL thickness, The Blue Solar Blanket has been especially designed for excellent heat retention so your pool heats faster and stays warm longer. With our 12 Mil Blue Solar Blanket, you can heat your pool water up to 15 degrees warmer so you never have to swim in chilly water again.
The 12 Mil Blue Solar Blanket features UV stabilized resin construction and thousands of tiny air pockets which capture heat from the sun and transfer it to your pool water. The 12 Mil Blue Solar Blanket also acts as an insulator and prevents the captured heat from escaping. The Blue Solar blanket also helps reduce chemical loss that could be caused by water evaporation, saving you money; and keeps leaves and bugs from falling into your pool, keeping it cleaner.
Raise the temperature of your pool up to 15 degrees and keep it warmer longer
Use alone or with pool heater to enhance heating capability
UV stabilized 12 Mil resin construction for enhanced durability and years of use
Reinforced, flat seams for enhanced resistance against wear and tear
Easy to cut with scissors to fit kidney, oval or irregular shaped pools
Save on chemical costs and cleaning time
Economical and environmentally friendly
| | |
| --- | --- |
| Product Type: | Pool Cover |
| Cover Type: | Solar Cover |
| Pool Type: | Above Ground |
| Shape: | Oval |
| Color: | Blue |
| Thickness: | 12 Mil |
| Warranty: | 7 Year |