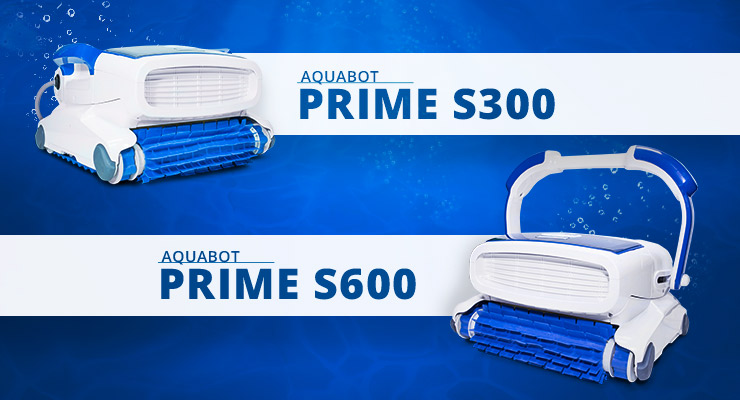 The Aquabot Prime Series S300 and S600 are Here to Modernize the Robotic Pool Cleaner Industry
Owning a pool is fantastic. What's not fantastic about owning a pool? Maintenance. And believe us, maintaining a clean pool can be a full time job in itself. If you were a kid growing up pre-1980, memories of hot summer days where manually cleaning your pool was exhausting, leaving you with very little desire to jump into your own pool after spending countless hours keeping it clean and sanitary, come flooding black. We should probably avoid this kind of walk down memory lane...
Fast forward to 2017. You can kiss archaic pool cleaning tactics goodbye, and welcome the latest in robotic pool cleaner technology. We're talking about the Aquabot Prime Series Robotic Cleaners!
Aquabot's brand has made it their sole mission to revolutionize the pool cleaning industry. After all, they produced the very first robotic pool cleaner back in 1982! That's 35 years researching, reimagining, and perfecting the very thing they created from scratch. This same innovative spirit lives on today with Aquabot's newest robotic cleaners—the Aquabot S300 and Aquabot S600.
If you're asking yourself, "What's so great about these new Aquabot Pool Cleaners?" Let us answer this question for you by covering a few important aspects on what makes this brand stand out from the rest.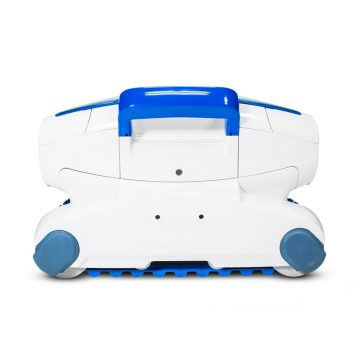 Smarter. Cleaner.
The Aquabot is safe for all pool surfaces. Yes, you heard right. ALL types of pool surfaces—including vinyl! While most other robotic cleaners use standard wheels to get around a pool, the Aquabot comes equipped with commercial grade rubber traction tread that is simply more intuitive and avoids any kind of obstacle it may encounter. Talk about a smart cleaner! With the finest filtration in the industry, Aquabot's access to replace cartridges couldn't be any simpler. The Aquabot is designed so that changing out filter cartridges can be replaced from the top of the robotic pool cleaner with a visible polycarbonate clear lid, making this a breeze when it comes to cleaning and replacing. We're telling you, the Aquabot is here to stay.

Patented AquaSmart Gyro System
The Aquabot boasts a powerful microprocessor called the AquaSmart Gyro System for Intelligent Systemized Cleaning. This means that the Aquabot will memorize the layout of your pool for easy, efficient cleaning time. No need to steer this baby around your pool manually. Just set the Aquabot inside your pool and watch it work on its own!

Powerful Clean, Purified Water
The Aquabot is such a high performing robotic pool cleaner because not only does it have the latest technology, it comes equipped with two powerful motors. One motor is used to drive and propel the cleaners and the other motor is used to pump the water. Having both of these motors mean that the Aquabot is crafted to increase functionality and maximize lifespan. In fact, the Aquabot pools about 30% less chemicals than other industry robotic cleaners out there.
Energy and Cost Efficient
Consider Aquabot your own personal pool caretaker. With the Aquabot, you maximize your time enjoying your pool rather than worrying about maintenance. Plus, the Aquabot is so energy efficient that it uses a fraction of the energy that is required compared to most other pool cleaners. The average cost to run an Aquabot is about a nickel an hour. Impressed yet? We hope so.
Consider the Aquabot that's right for you with this comparison chart.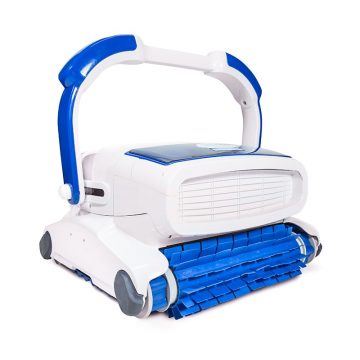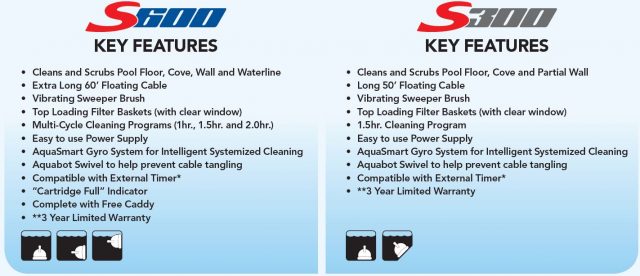 *External timer not included
*1st Year B2B, 2&3 Year Limited
If you're looking for the next best thing in robotic pool cleaner technology, wanting to maximize your recreational pool time while minimizing your maintenance pool time, or if you're just looking to save money on your energy bill, then we strongly suggest the Aquabot Prime Series as your next purchase. It's a great way to keep your pool water looking pristine, while having fewer chemicals and a healthier clean. It's the way to go when it comes to twenty-first century robotic pool cleaner technology.
Leslie's makes every effort to provide accurate recommendations based upon current ANSI/APSP/ICC-5 2011 (R2022) standards, but codes and regulations change, and Leslie's assumes no liability for any omissions or errors in this article or the outcome of any project. You must always exercise reasonable caution, carefully read the label on all products, follow all product directions, follow any current codes and regulations that may apply, and consult with a licensed professional if in doubt about any procedures. Leslie's assumes no legal responsibility for your reliance or interpretation of the data contained herein, and makes no representations or warranties of any kind concerning the quality, safety, or suitability of the information, whether express or implied, including, without limitation, any implied warranties of merchantability or fitness for a particular purpose.