Securing Your Spa or Hot Tub Cover for Safety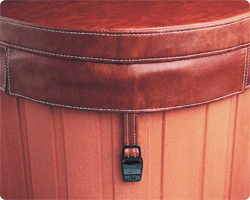 It was a dark and stormy night. Wind swept up the valley, and pounded our neighborhood the entire night. We had trees down across the street, and to our surprise, our spa cover had taken flight across the backyard. The spa cover was unfortunately damaged beyond repair, both foam panels were cracked.
Standard Spa Cover Straps
Spa cover straps, like those pictured above, are sewn onto the edge of most all of our spa covers. These standard straps are pretty sturdy during light winds, provide a small amount of security, and may prevent young children (or adults) from using the spa without supervision. But they really aren't super-strong, and the spa cover clips or even the straps can break in high winds.
Spa Cover Wind Straps
You may call these Hurricane Straps, but they are listed on our site as Spa Cover Wind Straps. Whatever you call them, these 1" nylon webbing straps, with thick foam edge pads to prevent rubbing, are the sure way to hold down your spa cover in a wind storm.
They are also considerably more difficult to remove than regular straps sewn onto the spa cover, to keep small children safe around the spa. And although I'm not sure, these straps will probably prevent bears or other large wildlife from removing the hot tub cover.
For added security, these straps have heavy-duty, quick-connect Sure-Loc Fasteners that clip together easily and securely. The trick to removal is to push down slightly on the spa cover, to give some slack to the strap. Then squeeze both sides of the clip to release the latch.
Inground Spa Cover Straps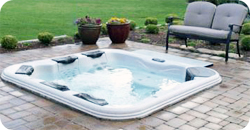 What if you have an inground spa, with a spa cover that just sits over the edge? On an inground spa there is no skirt around the spa for which to fasten the strap clips. How can you secure a spa cover onto an inground spa?
What you can do is install brass safety cover anchors, which are made for pool safety covers. Drill 4 or 6 anchors into the deck around the inground spa, and use the safety cover springs to connect the straps to the anchors.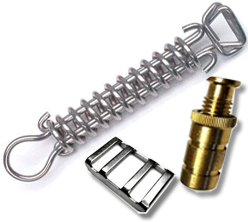 To create this arrangement, you'll need several yards of of nylon webbing from your local fabric store. These straps will cross over top of your cover, so you'll need the diameter of your spa cover, plus about 5 feet for each strap. If your inground spa is raised up off the deck surface, you'll need extra length to reach the pool deck.
Then, order pool safety cover hardware - stainless steel springs, SS buckles and brass anchors - 2 for each strap that you want to make. You can find them online at pool supply sites, search for mesh pool cover parts.
You'll need a hammer drill to install the anchors into the deck surrounding the inground spa. You also may want to purchase the spring removal tool, which makes it much easier to attach and remove the spring from the anchor.
Keeping your spa cover secured is important in high wind areas - and also important to prevent accidental drowning in spas or hot tubs. Remember to use your strap clips, and keep your spa covered tightly when not in use!