Hot Tub Enzymes: Frequently Asked Questions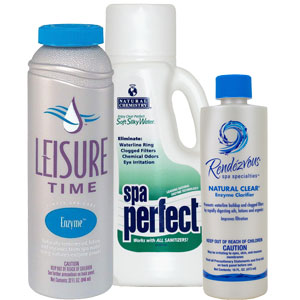 There are many chemicals that help to keep your spa water clean and clear. However, one of the most effective products for boosting sanitizer efficiency and removing organic materials from the hot tub technically isn't a chemical at all - it's a protein! We're talking about hot tub enzymes.
What are Hot Tub Enzymes?
Enzymes are biological catalysts that accelerate chemical reactions without undergoing changes themselves. In the case of spas and hot tubs, enzymes attach to non-living organic materials in the water, including body oils, lotions, cosmetics, dirt, sweat, dead skin cells and other unsavory substances. The enzymes work to break these down into smaller particles, helping reduce sanitizer demand and prolonging the life of your filter.
How do Hot Tub Enzymes Work?
Once an enzyme attaches to the organic materials in the water, it becomes much easier for sanitizers like chlorine and bromine to break them down.Think of enzymes as a natural digestion aid for your hot tub. Since they don't attack living organisms like algae and bacteria, enzymes are not considered a sanitizer. However, they do supplement your existing sanitizer in keeping the water clean and clear. Without an enzyme, organic contaminants start to accumulate at the water's surface and along the waterline as a greasy layer of scum. Not only does it look bad, but this scum can also clog up your spa filter over time.
How Long do Enzymes Last in a Hot Tub?
Once organic material has been broken down in your hot tub, the enzymes are free to move on to the next contaminant. Their molecular structure is not changed during this chemical reaction, so the enzymes remain in your water for continued use. They don't get used up in the same way that sanitizers do. Most hot tubs only require a small weekly dose to maintain an effective level of enzymes.
Will Enzymes Work for My Hot Tub?
Yes! Hot Tub enzyme products are compatible with most popular sanitizers, including chlorine, bromine, ozone, biguanide, saltwater chlorine generators and mineral systems. They are specially formulated to tolerate the warm water temperatures.
Why are Hot Tub Enzymes so Popular?
Enzymes are incredibly useful as a clarifier, foam preventer, odor eliminator and a remover of surface scum and waterline stains. They also help to prolong the life of your filter, slow the rate of biofilm buildup in plumbing and reduce sanitizer demand. To top it off, enzymes are non-toxic, non-corrosive, hypoallergenic, biodegradable and environmentally friendly. Why not give 'em a try?