AquaPill Spring Start-Up Pill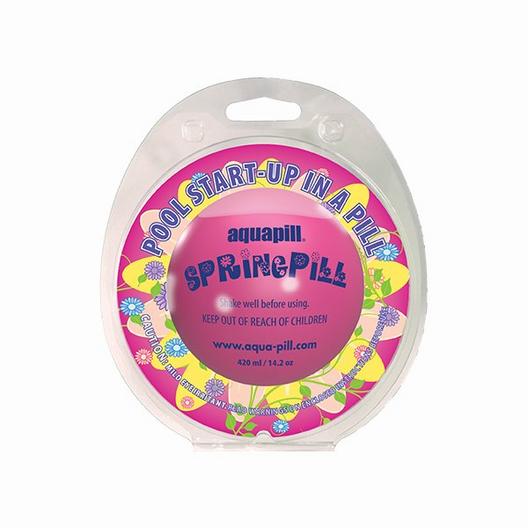 AquaPill SpringPillTM all-in-one formula is an exclusive specifically formulated 4-part blend that makes spring pool openings faster and easier than ever!
More Details

Membership Available
Earn at least $1 in pool perks for this item by joining Pool Perks.
Please note: This item is only available for in-store pickup and the selected store is out of stock. Please select a nearby store with available inventory to process your order.
Store Pickup
Out of stock
Available at store in 1-2 weeks
Store Pickup
Pickup In Store
Standard Shipping
- Ship To Home
Select a store to check stock
Description
AquaPill SpringPill
TM
all-in-one formula is an exclusive specifically formulated 4-part blend that makes spring pool openings faster and easier than ever!
Concentrated formula
One dose will make your water clear and sparkling
Easy to use; simply place in skimmer; automatically dispenses
Clean filters quicker and easier
Compatible with all sanitizers
Easily reduces oil, scum, and trace metals
Saves you time and money
Safe for all pool surfaces and filters
Treats up to 30,000 gallons
---
Details
The AquaPill SpringPill will help make spring pool openings easy and quick, so your swimming pool water is ready just in time for summer. The special 4-part blend formula provides many benefits in an all-in-one easy to use pill, reducing the amount of different chemicals you normally would have to purchase. Ultimately, using the SpringPill will help save you money on opening your pool! The SpringPill works with all forms of sanitizers from traditional chlorine to salt cell chlorine generator systems, making it perfect to use with all pool openings.
Pool Start-Up in a Pill
The AquaPill Spring Start-Up Pill is infused with enzymes to break down and naturally destroy all non-living organics, preventing water rings and extending filter life. SpringPill also has a stain inhibitor which reduces trace metals to help prevent staining from metals such as copper and iron. It also contains a scale inhibitor to prevent scale build-up on surfaces as well as a clarifier to maintain sparkling clean water. SpringPill's patented pre-measured release delivery system will effectively improve the appearance and quality of your water. Just one AquaPill SpringPill can treat up to 30,000 gallons of swimming pool water.
Make your pool opening this year faster and easier than ever with the AquaPill Spring Start-Up Pill for clear and sparkling water ready for summer swimming!
Usage Directions for Swimming Pools
Insert blue piercing tool into the large center hole.
Press firmly against a hard surface until the plastic is punched through.
Remove the blue piercing tool.
With the pump running, place the pill face up in the skimmer for 4-6 hours, Make sure to empty the content of the pill prior to removal from your pool.
Please Note: DO NOT place chlorine tablets into the skimmer at this time. Run the pump for a least 8 hours daily.
Common Questions
What different types of swimming pools can the AquaPill SpringPill work with?
The SpringPill is safe with all pool surfaces and compatible with any pool sanitizer used and will not affect pool water chemistry.
How many gallons does a single SpringPill Spring Pool Start-Up Pill treat?
One SpringPill can treat up to 30,000 gallons of pool water.
---
Specs
| | |
| --- | --- |
| Product Type: | Pool Chemical |
| Chemical Type: | Open/Close Season |
| Kit Type: | Opening Kit |
| Manufacturer: | AquaPill |