MyLife Hot Tubs & Spas
Expertly crafted, from the structural foundation to their exquisite final touches, MyLife hot tubs provide the perfect way to improve your health, relax your mind, rejuvenate your body, entertain friends, or spend quality time with the family. The ergonomically enhanced designs, strategically placed jets and controls along with color selectable LED lighting means MyLife hot tubs are engineered for your optimal hydrotherapy experience. You'll soon realize your life with a MyLife hot tub is the right kind of life.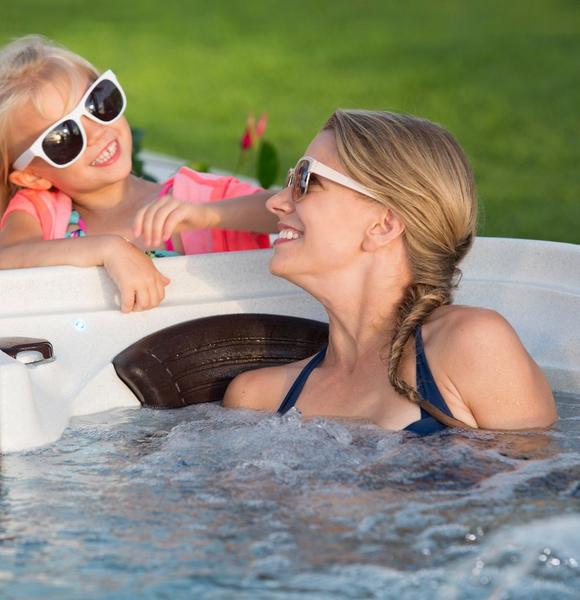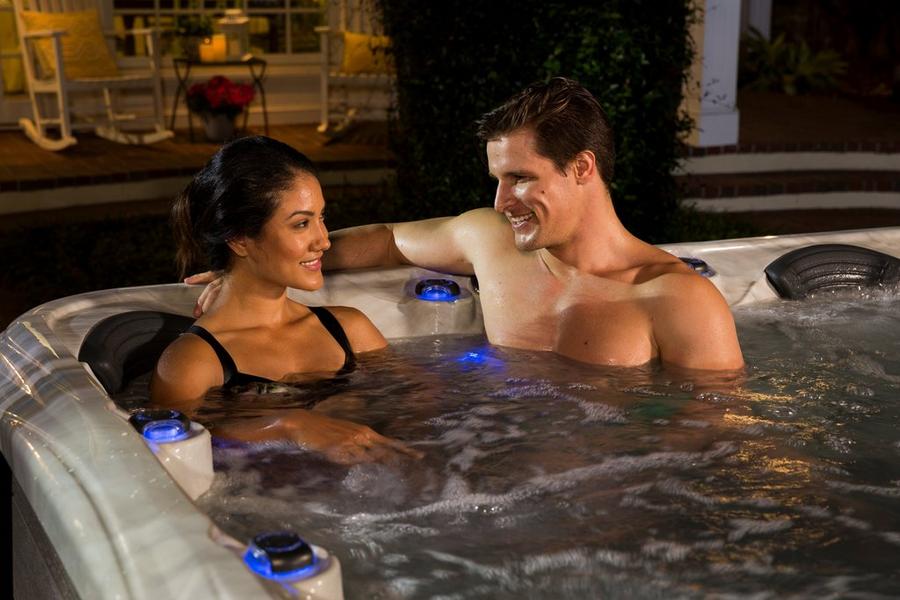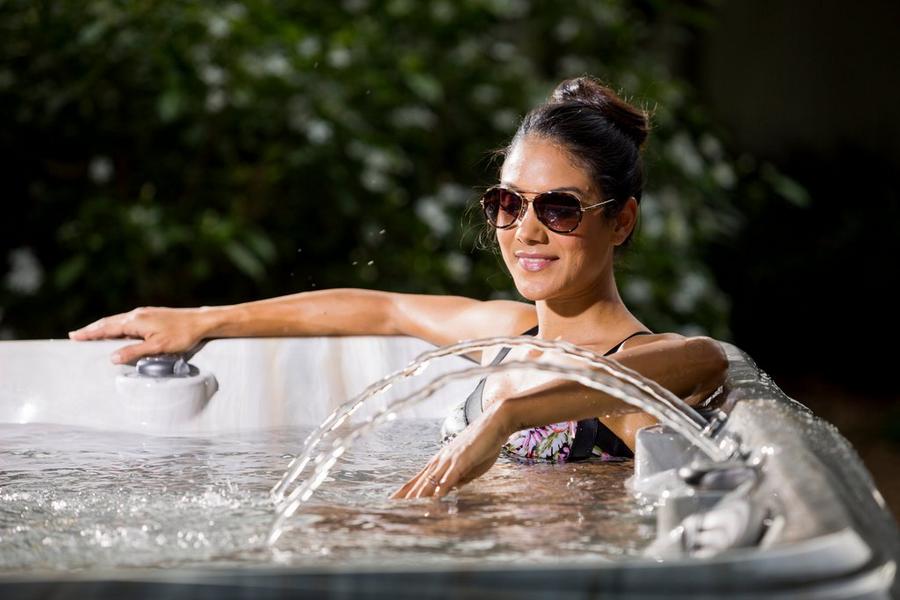 ALL HOT TUB MODELS ARE TEMPORARILY OUT OF STOCK, BUT WILL BE BACK SOON. WE APOLOGIZE FOR THE INCONVENIENCE.
SYNCRYLIC HOT TUBS
Start enjoying outstanding luxury for less with a MyLife Syncrylic Series Hot Tub. Every ultra durable Syncrylic MyLife Hot Tub is carefully designed with all of the best quality features built in to make taking care of your hot tub easy and carefree. MyLife hot tubs include high-performance, energy efficient equipment with solid durability.
ACRYLIC HOT TUBS
MyLife Acrylic Hot Tubs are loaded with all the best luxury features one acrylic hot tub can offer. Every MyLife Hot Tub is carefully designed with all of the best features to make caring for your hot tub easy as possible. MyLife hot tubs include high-performance, energy efficient equipment to provide years of affordable enjoyment.
MYLIFE HOT TUBS COME COMPLETE AS A FULL SUITE!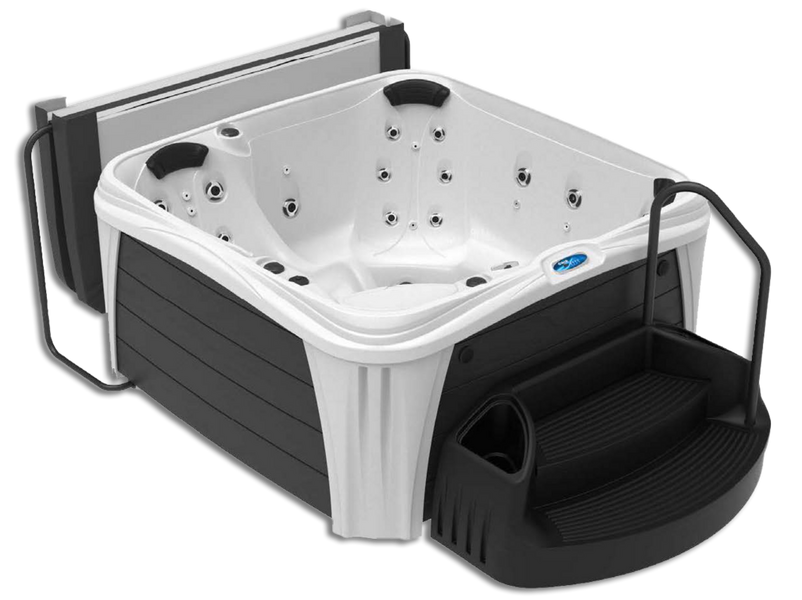 START ENJOYING LUXURY FOR LESS!
Cover lifters provided with every MyLife hot tub are designed to assist owners with removing, storing, and replacing covers between use, and help extend the life of the cover.
The structurally solid Suite Step that comes with your MyLife hot tub is complete with a sturdy handrail, storage step with two side wells for planters or coolers and slip resistance step treads.
Sturdy handrail helps make entering and exiting your hot tub easy and safe.
Energy saving Durafab covers fit securely in place, helping lock in heat, while creating a lightweight, durable, fade-resistant weather barrier to the inside of your hot tub.
Frequently Asked Questions
All MyLife Hot Tubs are shipped using curbside delivery. Our delivery company will place the hot tub in your driveway. After signing for the delivery, you will be responsible for transporting and installing the hot tub as needed.
The controls for your MyLife hot tub allow you to choose whether to keep your hot tub warm and ready for use at all times, or set it to heat when you're most likely to use it. Whatever you desire, your hot tub can be customized to be ready for you when needed.
Yes. MyLife Hot Tubs are manufactured using a variety of MassageMax jets, to deliver multiple therapeutic massage styles. These jets are strategically placed throughout the hot tub to target specific areas of the body with the majority of jets, having the ability to adjust the degree of water and air flow. Each volume-adjustable jet offers different, soothing flow patterns so you can customize your own individual massage experience.
Sophisticated digital controls ensure that the water in your hot tub will be kept within one degree of the temperature you select. This ensures your comfort, and more importantly, your safety, particularly if children will be using the hot tub.
With regular use and well-maintained water, we recommend you clean your hot tub about once every three months. Essentially, this involves draining the water from your hot tub, brushing the sides and refilling with fresh water from a hose. Consult your owner's manual for specific instructions.
Your local Leslie's location has everything you need to make hot tub maintenance easy. Leslie's can also test your hot tub water for accurate water chemistry analysis. It is important to have proper testing performed, as unbalanced water is the cause of many component, fittings and cover failure. In some cases, to allow for warranty coverage, water analysis history is required when claim is submitted.
When you purchase a Plug and Play model, you can simply plug your hot tub into your existing, regular 115-volt electrical outlet. When connecting to your regular outlet, do not share the circuit with any other appliance and be sure it has an appropriate amperage rating. For a 240-volt system, all equipment is required to be hardwired by a professional. Please note: warranty coverage does not cover equipment damage caused by wiring installed and connected by an unlicensed electrician or incorrect wiring completed by a licensed electrician.
MyLife Plug and Play hot tubs are operated by a 2 or 3 HPR dual speed pump and a 120-volt spa pack. These models are great for when a 240-volt spa pack isn't necessary. The majority of the MyLife Hot Tub acrylic models are equipped with either one or two 4.5 HPR or 5.0 HPR dual or single speed pumps and are operated by a 240-volt spa pack. Our motors are designed for increased performance while maintaining energy efficient operation.
None. Once your hot tub is in place, simply fill it with water from a garden hose. An easy access drain valve makes emptying your hot tub to clean or move it simple and quick.
Most MyLife Hot Tubs are installed outdoors, although they can be installed indoors. To install your hot tub indoors, you'll need to consider if it will fit through the door and if the structural strength of the floor is adequate to hold the tub.
You should consult a medical professional for specific advice. It has been said that hydrotherapy — the combination of heat, massage, and buoyancy — can help relieve stress, pain and other symptoms. Heat dilates blood vessels, increasing blood flow to carry oxygen and nutrients to sore and damaged tissues. MyLife hot tub jets give your body a massage, relaxing tension from muscles, while the natural buoyancy of water relieves pressure on strained joints and muscles.
When you purchase a MyLife Hot Tub, we guarantee the spa with a comprehensive warranty. Your hot tub will provide years of enjoyment, worry-free. If you have any questions about maintaining and servicing your hot tub please visit our online owner's manual section or contact your Leslie's store.