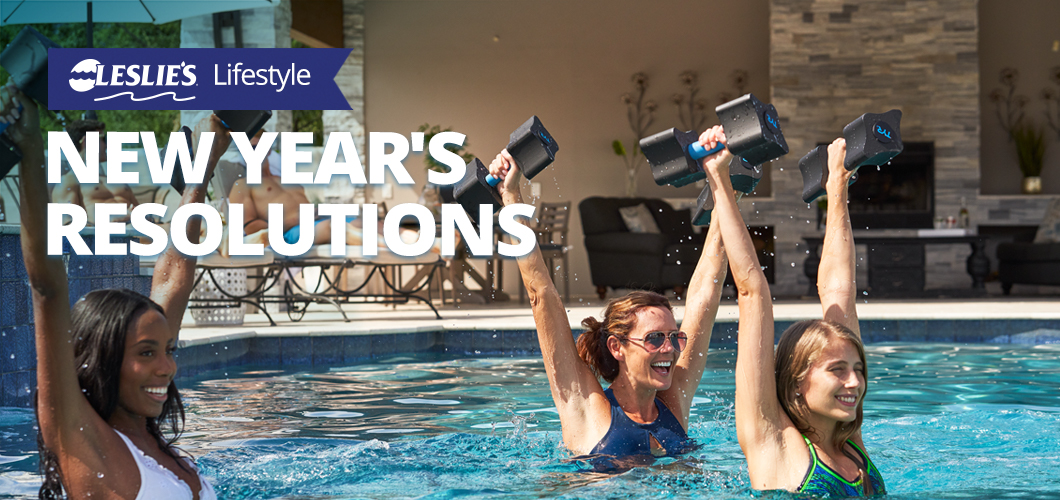 New Year's Resolutions for Pool Owners
We never thought we'd see the day coming, but last year has finally come to a close. This year still holds a lot of uncertainty, but the new year always brings optimism, opportunities, and the chance to start anew. What will you do in the next 12 months? What are your goals for bettering yourself or making life simpler in the long run? It's time to start making New Year's resolutions! If you own a pool (or have ready access to one), we have a few ideas to help you get started.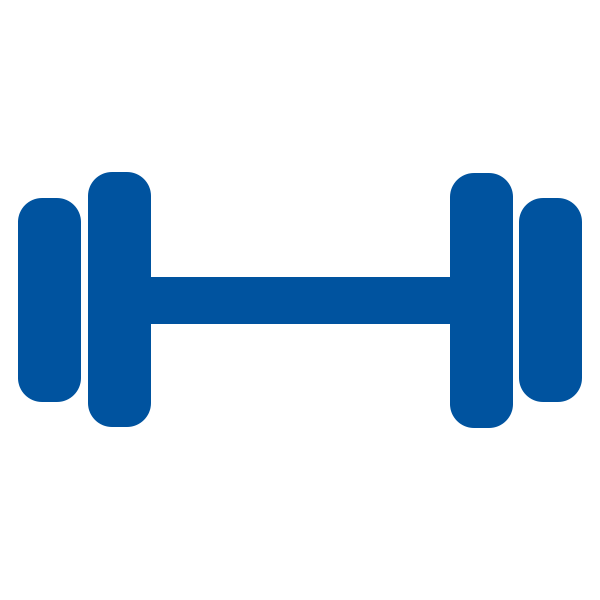 Get Fit
One of the most common New Year's resolutions is related to health and fitness. Did you know that the swimming pool is one of the most useful tools for attaining your fitness goals? It's true! Swimming can help you increase strength and endurance, and it's one of very few low-impact aerobic exercises. The buoyancy and resistance qualities of water fitness make it the perfect option for all ages, fitness levels, and body conditions. Swim laps. Play. Walk. Tread water. There are an infinite number of ways you can take care of your body by simply stepping into the pool. The more often you swim, the better you'll feel. And the better you feel, the more often you'll swim. It's a positive cycle! You can't go wrong with adding some extra pool time in your health and fitness journey. There are so many easy pool exercises you can do.
BONUS TIP: Looking to step up your game? Take a look at our Fitness and Competition category. We're proud to offer AquaJogger by Excel Sports Science. Buoyant fitness belts, resistance shoes, and an informative workout video will help you bring your aqua fitness program to the next level.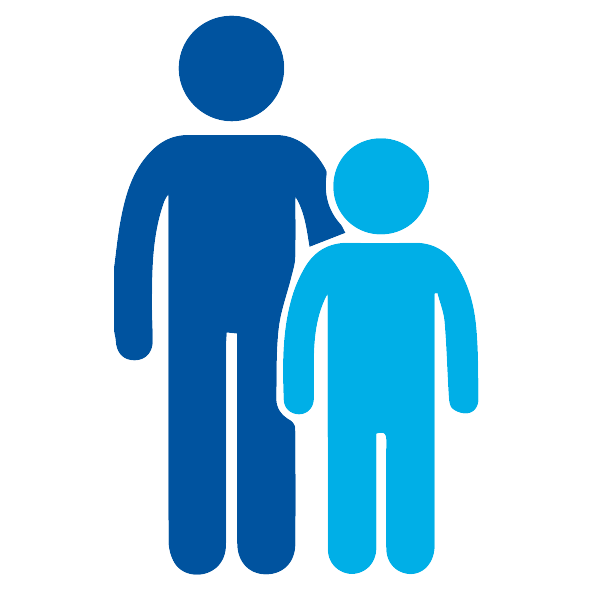 Make Memories With Family
Now more than ever, it's important to spend quality time with those closest to you. If you have a backyard and a pool, you have all you need to create lasting memories with your loved ones. Make one of your New Year's resolutions be to plan for more fun activities and games in the pool this year. Exercise your creativity to make your own fun, or take a look at our Lifestyle blog posts for inspiration and ideas. You can also focus on transforming your backyard and patio area into a family gathering zone. Arrange some patio furniture around a fire pit to encourage nightly conversations. Set up an outdoor dining table to enjoy each other's company outdoors, away from the technological distractions inside. The options are endless for your backyard and patio area.
Go Green, Save Green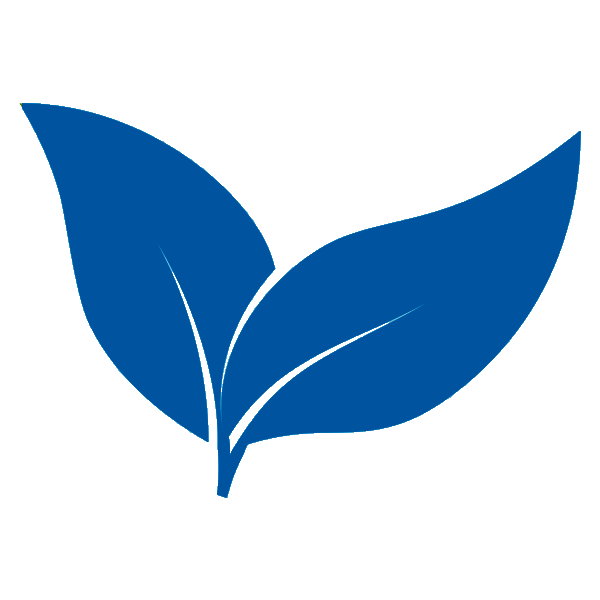 No, we're not talking about the color of your pool. We're talking about the environment and the savings you can get on your monthly energy bill with some eco-friendly New Year's resolutions. "Going green" is a long-term win-win for both your bank account and the world we live in. All you have to do for this one is invest in efficient equipment and accessories for your pool.
Did you know that a variable speed pool pump can reduce your pool's energy consumption by as much as 40-80% per year? With savings like that, a variable speed pool pump can essentially pay for itself over the course of a couple seasons. Now is the time to jump in on those savings, because big things are in store this year. If you haven't already heard, pool pump regulations will be changing nationwide on July 19, 2021, making variable speed pumps required for most pool applications. You can learn more in our recent blog post, Pool Pump Regulation Changes for 2021.
Aside from efficient pool pumps, there are many other ways you can also save money, energy, and water through your pool. For example, run the pool pump at night or during off-peak hours to save on your monthly utility bill. Solar covers can help conserve water, heat, and chemicals that would ordinarily be lost to evaporation. Use a cartridge filter to save on water needed for backwashing. Or, if you have a sand or DE filter already installed, you can water the lawn each time you backwash and clean the filter. You can also convert your pool lights to LED for added energy savings. Efficiency is an ever-changing and evolving goal for pool owners.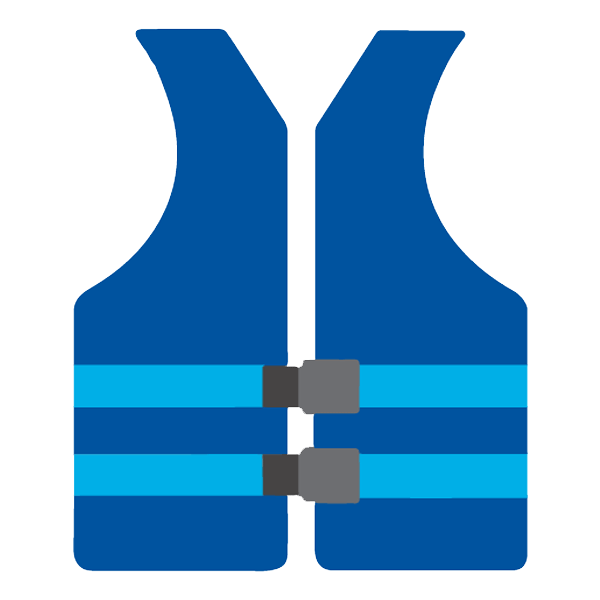 Safety First
Safety is one New Year's resolution that can have a positive impact on your entire family. Take a look at your pool and ask yourself, "Is it as safe as it could be?"
Do you have safety fences and a child-proof gate blocking access to the pool? Are there depth markers to show safe swimming, wading, or diving areas? Does your pool deck have a non-slip traction grip? What about hand rails to help you get in and out of the pool? Are there safety rules in place? What if there's an accident, and you need a first aid kit quickly? Is there a shepherd's hook or emergency flotation device readily available? Do you have gate or pool surface alarms installed? Do you have a vacuum release system installed? If you answered "NO" to any of these questions, don't worry. We've got you covered. Stop by your local Leslie's store or check out our online selection of safety products to make your pool a safer environment for the entire family.
BONUS TIP: It's never too early to start learning how to swim! Children who are proficient in swimming and floating are statistically less likely to suffer an accident in the water. Check online to find swim instructors in your area. Leslie's carries lots of products to help keep your child safe while learning to swim, including flotation devices and life vests.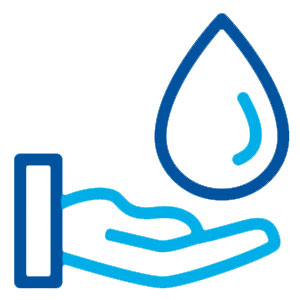 Change Up Old Habits
These New Year's resolutions can be whatever you want them to be. The main goal is to save time this year by changing up your routine. Reflect on your pool maintenance habits throughout the season, and look for an easier, more efficient way to care for your pool. Did you have to manually brush your pool a lot this past season? If so, you might want to invest in an automatic pool cleaner that can do most of the scrubbing for you.
How consistent were you with water testing, and did you keep an accurate log of test results? Recognizing trends in water chemistry can help you keep on top of future pool maintenance. We'd suggest downloading the free Leslie's app on your smartphone to help you keep track of the health of your pool. The app is available for both Apple and Android users, and is super easy to use. It's a great place to review water balance history from both at-home and in-store Leslie's AccuBlue® water tests.
---
A new year means 12 months to do what you want with them. It's an opportunity to start fresh and make positive changes for yourself and your family with a fresh set of New Year's resolutions. Your pool can be a valuable tool in helping you achieve your goals of fitness, quality family time, energy savings, and creating positive daily habits.
Leslie's makes every effort to provide accurate recommendations based upon current ANSI/APSP/ICC-5 2011 (R2022) standards, but codes and regulations change, and Leslie's assumes no liability for any omissions or errors in this article or the outcome of any project. You must always exercise reasonable caution, carefully read the label on all products, follow all product directions, follow any current codes and regulations that may apply, and consult with a licensed professional if in doubt about any procedures. Leslie's assumes no legal responsibility for your reliance or interpretation of the data contained herein, and makes no representations or warranties of any kind concerning the quality, safety, or suitability of the information, whether express or implied, including, without limitation, any implied warranties of merchantability or fitness for a particular purpose.