Hot Tub Buying Guide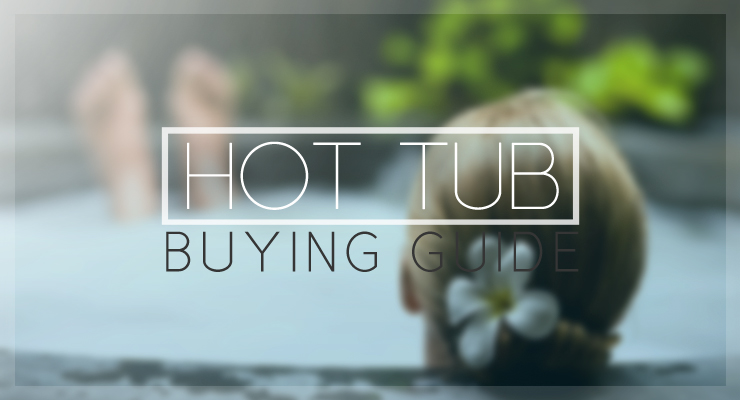 A
hot tub
is a great choice that gives home owners a relaxing place to unwind or socialize. When choosing the right hot tub, it's important to know the benefits and differences of each hot tub. We've put together an easy-to-follow hot tub buying guide that ensures you make the right decision for you and your family.
Here is a list of what we will cover:
Take a look at the space where you'd like to put your hot tub. For Acrylic Hot Tubs, make sure that your desired space is level and can withstand 150 lbs per sq. ft of pressure. Also, consider how the hot tub will look in the space. How's the view from the hot tub? How's the view of your hot tub? Can you see your neighbors? Can they see you? A good trick is to place a garden house around the perimeter of where your hot tub will sit. The space, use, and desired look, will all effect the size of the hot tub allowed. For example, if you will be using the hot tub for family or entertaining, you will want to have space around the hot tub for activities. If you will be using the hot tub for therapeutic purposes, you might want it in a place that provides a specific mood. Another consideration is the environment in which you live. If you live in a environment where it snows, consider placing your hot tub close to an entryway for easy access when cold.
Roto Molded or Acrylic
What exactly are Roto Molded and Acrylic Spas? How do they differ? Roto Molded items have been around for a long time, but just recently made their debut into the hot tub market. The difference between the two are how they're made. The Roto Molded hot tub uses polyethylene pellets which are heated and rotated while in a mold, pushing the melted polyethylene to the ends, giving the hot tub a consistent, but plastic look . Acrylic, or traditional, hot tubs are made using several layers of backing mold and fiberglass, then polished and vacuumed formed for a smooth glossy look. Below we have included some characteristics of both, Roto Molded and traditional Acrylic Hot Tubs.
Roto Molded Hot TubAcrylic Hot Tub

Less Costly
Plastic Look
Portable
Limited to 30 jets
Wont Fade or Discolor
More generic curves and lines
Requires Electrical Work
Retains Heat Better
More Costly
Glossy Look
More Jets
Heats up faster
Smooth sculpted
curves and lines

240V or 120V
There are 3 large factors when dealing with 120V VS. 240V. The time it takes to heat the hot tub, convenience, and jets. A 240V hot tub will heat up faster than a 120V hot tub, and will have power to support more jets. On the other hand, a 120V system allows home owners portability and convenience, because no additional wiring is needed (it can plug into any 120V outlet). The 120V hot tub will support about 30 jets which is still enough to give you a therapeutic experience. Both are great systems, it just comes down to preference. Roto-Molded Hot Tubs tend to utilize a 120V system because they are lightweight and can be moved easily. Acrylic Hot Tubs will be more likely to use 240V for better heating time and an increased number of jets.
What is it and why should you care?
A hot tub lounge is an area which allows users to sit back and put there legs up. Think of a La-Z-Boy that if fully reclined. When it comes down to the question of whether or not to get one, it really comes down to personal preference. Lounges take up a lot of space in the hot tub. Since more of your body is submersed, owners sometimes begin to float until they are able to get used to the lounge. On the other hand, owners who love loungers will tell you that it allows your to better relax and reap the benefits of the additional jets that message your upper and lower body.
How may people will your hot tub entertain?
Before you make the plunge, it's always a good idea to think about how many people will be using the hot tub. The last thing you want to do is leave someone in the cold while others enjoy the hot tub. A good idea is to think about how many people are usually in the house. Do you usually spend your time with a select few, or do you like to entertain? These questions will help you in your pursuit of the perfect hot tub.
Before making the move on a hot tub, make sure it's the best choice for you and your loved ones. After taking the steps above, we feel confident that you'll find the perfect hot tub for your relaxing space. If you have any additional questions, we'd love to help. Visit one of our 800 stores and talk to one of our knowledgeable staff members.

To learn more about the health benefits of hot tubs, make sure to read this in-depth article!
Leslie's makes every effort to provide accurate recommendations based upon current ANSI/APSP/ICC-5 2011 (R2022) standards, but codes and regulations change, and Leslie's assumes no liability for any omissions or errors in this article or the outcome of any project. You must always exercise reasonable caution, carefully read the label on all products, follow all product directions, follow any current codes and regulations that may apply, and consult with a licensed professional if in doubt about any procedures. Leslie's assumes no legal responsibility for your reliance or interpretation of the data contained herein, and makes no representations or warranties of any kind concerning the quality, safety, or suitability of the information, whether express or implied, including, without limitation, any implied warranties of merchantability or fitness for a particular purpose.