Deep Cleaning your Spa or Hot Tub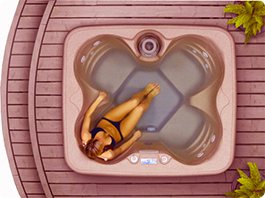 Your spa or hot tub is wonderful for restful relaxation or romantic evenings. But there is a dark side — maintenance and care.
Just like owning a car, there are specific and regular treatments needed to keep it running and looking good.
Here's the what I do to really deep clean my hot tub, which I do every 3 months - or sooner, if I'm planning a big hot tub party, or we've had a "high-use weekend".
Clean the Pipes
If your spa is like mine, it has dozens of jets and hundreds of feet of hidden pipes and hoses. Scientists discovered that BioFilm bacteria can find harbor inside the plumbing and equipment of hot water tubs. Just like carbon build-up in your car, it's best to remove these deposits regularly to keep the spa sanitary. I use a product called Jet Clean the night before I plan to drain the hot tub. As it circulates, it breaks down scale and biofilm, so that I can flush it out with my next day draining.
Clean the Filter
After I have circulated the Jet Clean, I remove the filter cartridges and spray in between the pleats with my garden hose. Then, I drop it in a bucket of Spa Filter Clean solution and let is soak overnight. In the morning, as I'm draining the spa, the spa filter gets another cleaning with the garden hose (until it stops foaming), and I set it in the sun to dry. Drying your spa cartridges, before re-installing, helps kill any remaining bacteria, and lets the fibers open up and "breathe" just slightly.
Drain the Spa
First, shut off the power to the spa, in preparation for draining. Most spas have a water valve underneath, where a garden hose is connected. If not, a small submersible pump can be used. As it's draining, I move the garden hose around my yard to recycle the water. When it's half empty, I use another garden hose with a spray nozzle to spray into the jets and skimmer. If you notice any algae or slimy discoloration, remove the jet eyeballs and drain covers, and soak them in a chlorine solution. Use a bottle brush to scrub inside the pipes, and hose out again with fresh water.
Clean the Shell
My spa is an acrylic shell, with a beautiful shiny silver finish. To clean the inside of the shell, I spray on CitraBright and wipe it down with a soft cloth. Even though the spa shell looks clean, I'm always amazed at the amount of dirt on the cloth. It's important to not use any household cleaners or other products that could contain harmful chemicals or phosphates. You don't want that stuff in your spa water. Citrabright cleans fast with no residue, and has a nice Orange County scent.
Protect the Shell
Fast Gloss seals and protects the shell of the spa from sunlight and spa chemicals. What I really like about it, and why I use it, is that it makes my spa shine like it's brand new! It also removes any streaking left over from the cleaning process. Just wipe it on, and buff a bit - real easy. It also lasts a long time, I think I've had my bottle for over 2 years now. After this treatment, I begin to fill the spa.
Clean the Spa Cover
I can't work for a Hot Tub cover company and have a ratty looking spa top! My spa cover is 4 years old, but it still looks great. I use our hot tub Cover Care and Conditioner every 3 months. This is a combination cleaner and conditioner, in one step - just wipe it on, and wipe it off. I also use it on the spa pillows.
Clean Underneath
My spa equipment sits underneath the spa. It's a nice warm place for small critters to hide, and maybe damage something, so keep this area of your spa clean too. I normally use my long extension on my vacuum cleaner, and suck up any cobwebs or debris. Occasionally, I spray it with a hose, but I'm careful about the electronics. If you find any evidence of rodents, you can use poison bait, or try Mouse-Away, which repels them with a cute mint sachet.
And that's it! That's how I do it anyway. Every 3 months, just like changing the oil in your car - give your spa a deep clean, and it can look like new - nearly forever!
Leslie's makes every effort to provide accurate recommendations based upon current ANSI/APSP/ICC-5 2011 (R2022) standards, but codes and regulations change, and Leslie's assumes no liability for any omissions or errors in this article or the outcome of any project. You must always exercise reasonable caution, carefully read the label on all products, follow all product directions, follow any current codes and regulations that may apply, and consult with a licensed professional if in doubt about any procedures. Leslie's assumes no legal responsibility for your reliance or interpretation of the data contained herein, and makes no representations or warranties of any kind concerning the quality, safety, or suitability of the information, whether express or implied, including, without limitation, any implied warranties of merchantability or fitness for a particular purpose.