Bad Fitting Hot Tub Covers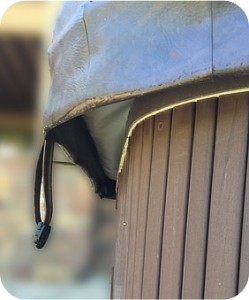 I was visiting a friend at a beautiful resort home in Breckenridge, Colorado last weekend. They had so much snow in these parts of the Rockies (over 5 ft in May), that there is still snow now covering the mountain peaks.
A rental home with a hot tub in Breckenridge is easy to find. This town and many like it across the west are teeming with hot tubs. Rental homes with hot tubs need some extra attention. The purpose of today's post is to rant about ill-fitting spa covers - oversized, undersized, wrong shape or size.
What's Wrong With it?
Who cares, so what - if the cover is a little big for the spa, or doesn't match the corner radius correctly? No big deal, right? OK, maybe no BIG deal, but from where I sit, there are some concerns about heat loss, cover durability and spa safety.
HOT TUB HEAT LOSS: When the skirt, or flap on the edge of the cover doesn't sit flush over the outer lip of the spa or spa cabinet, heat seeps out, and air flows in. Both will create more work for your spa heater. A spa blanket can help, but if you see steam escaping from your spa top, imagine it as dollar bills with wings.
SPA COVER DURABILITY: When a spa cover does not fit properly, either too small or too large, or the wrong shape, the foam panels are more susceptible to damage from tree branches, dogs or kids, and from high winds that can toss a spa cover across the yard or even over the fence.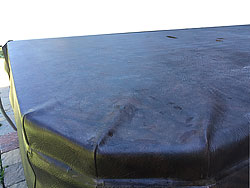 SPA SAFETY: If you can't hook all of the spa cover safety straps, the spa is less safe than it needs to be. If there is any chance that the cover could be moved or fall in, then an ill-fitting spa cover could be dangerous for children or animals.
This ugly hot tub cover atop the otherwise beautiful Jacuzzi hot tub was costing the property management hundreds of dollars per year in heat loss. You can see how poorly made the spa cover is - wrinkles in the exterior fabric point to poor workmanship. So maybe they saved a few dollars on an ill-fitting spa cover, but in the long run, they are paying a much higher price!
If your spa cover does not fit correctly, there are some things you can do to help it out, if you aren't ready to replace your spa cover just yet. First, turn the heat down as much as possible when not in use, and secondly, use a floating foam spa blanket to help reduce heat loss and water evaporation.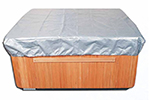 Spa Cover Caps can also be used to help reduce heat loss on old, broken and ill-fitting spa covers. To increase the R-value, first place a heavy wool blanket over the hot tub cover, and then cover with the Spa Cap.
And for bad fitting spa covers that can't be latched safely with cover clips to keep out young children, I recommend using spa cover "Hurricane Straps", so called because they hold covers tight in high winds; they are also an added layer of protection for securing any hot tub cover safely.
Moral of the Story: Don't buy a cut-rate, ill-fitting spa cover that seems like a great deal. In the long run, you may spend 2-3 times what you saved on wasted heat and premature cover failure.
To avoid this pitfall, order spa covers by specific spa make and model when possible, this ensures that your cover is made to manufacturer specs. For spa cover measuring or ordering questions, we have spa cover technicians standing by!
Leslie's makes every effort to provide accurate recommendations based upon current ANSI/APSP/ICC-5 2011 (R2022) standards, but codes and regulations change, and Leslie's assumes no liability for any omissions or errors in this article or the outcome of any project. You must always exercise reasonable caution, carefully read the label on all products, follow all product directions, follow any current codes and regulations that may apply, and consult with a licensed professional if in doubt about any procedures. Leslie's assumes no legal responsibility for your reliance or interpretation of the data contained herein, and makes no representations or warranties of any kind concerning the quality, safety, or suitability of the information, whether express or implied, including, without limitation, any implied warranties of merchantability or fitness for a particular purpose.