Cover Valet - 10 Ft Market Hot Tub Umbrella, Rust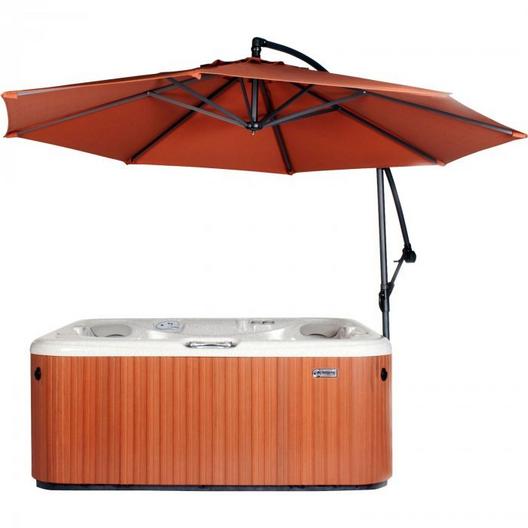 Membership Available
Store Pickup
Pickup In Store
Ship To Home
- Not Available for this item
Earn at least $16 in pool perks for this item by joining Pool Perks.
Join/Sign In Now
10 Ft. Spa side hot tub umbrella is an offset market umbrella, also known as a cantilever umbrella, with a flat edge, market style design. The offset cantilevered design means that you dont have to run the umbrella through the center of the table, and the undermount plate slides under the tub. Our hot tub umbrellas are also very maneuverable, you can adjust the height above your hot tub, and also can be tilted in nearly any direction, to block sun and winds. When winds and rains really begin, collapse the umbrella quickly with a one-touch button. 10-foot diameter hot tub umbrella covers most spas and then some, helping protect your spa cover and cabinet from the elements.
Our 10 hot tub umbrella has one unique feature that other cantilevered jumbo umbrellas dont share. Hot tub umbrellas are made to simply slide underneath your hot tub, and the weight of your hot tub holds the wide steel plate firmly against the spa cabinet. And if you decide to one day use it in some other location, just place a potted plant on the steel plate, and this large outdoor umbrella looks great in any spot you want to add shade.
The largest outdoor umbrella for hot tubs, with a full span of 120"", and a maximum height of 106"", this spa umbrella definitely casts a large shadow. Minor assembly required, but no drilling into your cabinet, it slides under your spa. Draining the tub may be required. Wedge two large flathead screwdrivers under the tub, and slide the 1/16"" thick steel plate under the spa.
Premium umbrella fabric is UV protected and resistant against mildew and stains that plague other outdoor umbrellas. Available in 3 colors, rust, beige and blue, to match your outdoor decor.
Protect you and your spa from damaging sunlight with our elegant and very large, 10 foot Spa Umbrella. Want to bask in the sun? No problem -- just collapse the umbrella with the quick closure mechanism.
Undermount spa umbrella fits with all spa shapes.
Requires only 14"" of clearance behind the spa.
Smooth simple operation to open, close or tilt.
Product Size: Span 120 inches, Height 106 inches