Leslie's - Power Powder Granular 70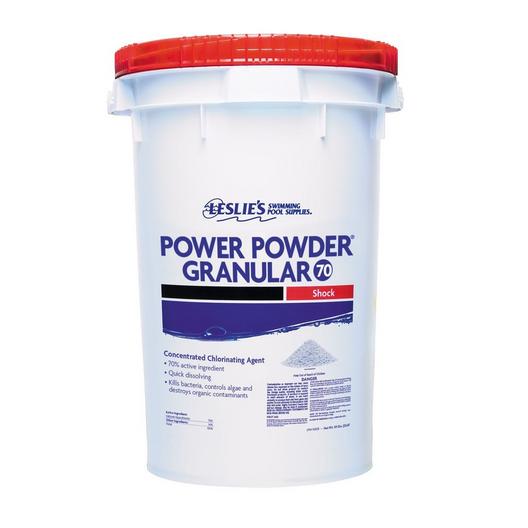 Leslie's Power Powder Granular Chlorine is a quick-dissolving pool shock and super chlorinator that kills any bacteria, algae, or contaminants for a clean pool
More Details

Subscription Available
---
Description
Leslie's Power Powder Granular Chlorine is a quick-dissolving pool shock and super chlorinator that kills any bacteria, algae, or contaminants for a clean pool
Pool Shock and Super Chlorinator
Fast dissolving formula
70% available chlorine
Kills 99.9% of bacteria or algae
Prevents future growth of algae
Unstabilized Pools: add 6-8 oz. per 10,000 gallons daily
Stabilized Pools: add 3-4 oz. per 10,000 gallons every other day
Shock Treatment / Superchlorination: add 10-20 oz per 10,000 gallons weekly
---
Details
Leslie's Power Powder Granular Chlorine is a powerful pool shock that quickly dissolved and combats any bacteria, algae, or contaminants in your swimming pool. Shocking your pool or spa regularly is necessary to keep your pool free of any unwanted contaminants. This helps your chlorine work better and more efficiently. Power Powder Granular is made of powerful calcium hypochlorite and has 70% available chlorine which leaves your pool clear, clean, and ready to use.
Shocking your pool and spa restores chlorine levels and frees up Combined Available Chlorine. Power Powder Granular Pool Shock is the quick choice for many pool owners and professionals due to its strong blend and ease of use.
Dosage for unstabilized pools: add 6-8 oz. per 10,000 gallons daily. Dosage for stabilized pools: add 3-4 oz. per 10,000 gallons every other day. For shock treatment/superchlorination: add 10-20 oz per 10,000 gallons weekly.
Note: FedEx requires Direct Signature Release on all haz-mat packages. They will attempt delivery THREE times. In the event that the recipient is not available to sign for the package, a FedEx Ground door tag will be left with instructions for subsequent delivery or package pick up options; if they elect to pick-up the package, they are instructed to contact FedEx Customer Service to determine when & where the package will be available.
---
Specs
| | |
| --- | --- |
| Manufacturer: | Leslie's |
| Product Type: | Pool Chemical |
| Chemical Type: | Shock |
| Chemical Size: | Granular |
| Sanitizer Type: | Granular Chlorine |
| Dosage: | 1.9 oz per 10,000 gallons |