Introducing our new
Jacuzzi® Collection for 2023. Even smarter.
Jacuzzi® Pro-Grade Pool Equipment is built strong, and built to make your life easier. When you put Jacuzzi® Pro-Grade Pool Equipment in your backyard, you can trust it's performance.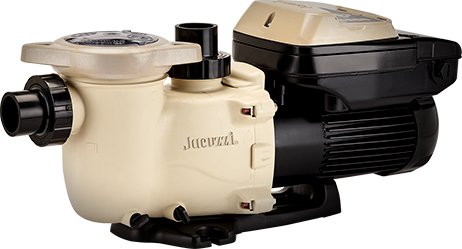 Click here to see how much you'd save with Jacuzzi Variable Speed Pumps!
Click here to find all the Jacuzzi® replacement parts you need!
Why Choose Jacuzzi®?
Commitment to quality products has earned Jacuzzi® a reputation as one of the industry's most trusted brands. Each product has been engineered and crafted with pool and spa owners in mind, and adheres to our strict standards for quality performance and design, with longevity and dependability in mind.
Frequently Asked Questions
All Jacuzzi® pool products are made to last for years of use. Jacuzzi® pool equipment is built to cutting-edge equipment standards, of the very best materials, so that pool owners can relax worry-free. To that end, all Jacuzzi pool equipment comes with full manufacturer warranties: 5 years for Variable Speed Pumps, Salt Cells, Heaters, and Heat Pumps, and 3 years for Single Speed Pumps, Filters, Salt Controllers and Cleaners. See individual product pages for more details!
A complete line of Jacuzzi® pool equipment is offered at Leslie's Pool Supplies retail stores across the country- as well as online at www.lesliespool.com. To find a store near you, you can use the
store locator.
While Jacuzzi® pool products are designed to work optimally together, most pool equipment can be safely mixed and matched. Depending on installation, Jacuzzi® pool products might not work with your existing pool automation technology. We recommend installation by a qualified technician.
All Jacuzzi® pool equipment sold today has a full line of parts available for your maintenance needs. Check out individual product pages to find links to the part lists, or contact your local Leslie's store for pricing and availability. For parts on Jacuzzi products other than pool equipment, please contact the original dealer from whom you purchased the product.
When you purchase Jacuzzi® pool products, the original box will contain a printed owner's manual. If you need an additional digital copy, they can be found on each individual product page as a downloadable PDF.
More information about the wide range of Jacuzzi® products can be discovered on the
jacuzzi.com website.
General specifications can be found on the products information page. Simply click on the Pool Products tab, select your product, and scroll down to the Specifications page. For more detailed schematics, contact us by clicking on the Support tab at the top of the page.
If you are a Leslie's Rewards Member and a Leslie's technician has installed your new Jacuzzi® products, then the warranty information is stored in under your account. If a third party has provided installation, then you will need to show proof of installation to keep the warranty valid, along with your receipt as proof of purchase.

JACUZZI® POOL EQUIPMENT
Energy Calculator
Discover just how much you can save by switching to a Jacuzzi® Variable Speed Pump. These Energy Star Certified pumps will decrease run time and up to 80% less energy use than single speed pumps! Try out our Energy Savings Calculator to see the difference.