Raypak - Digital Cast Iron Low NOx ASME Cupro-Nickel Natural Gas 266,000 BTU Pool Heater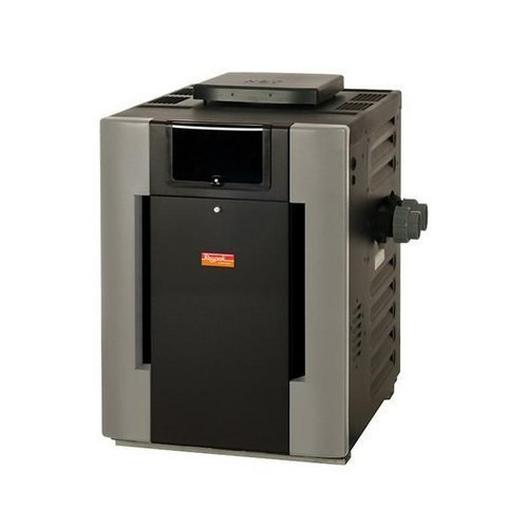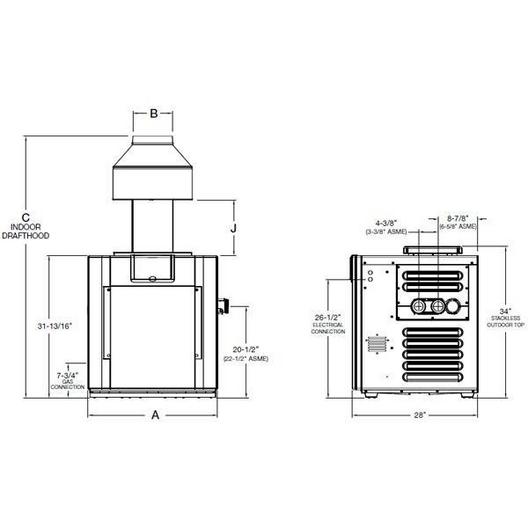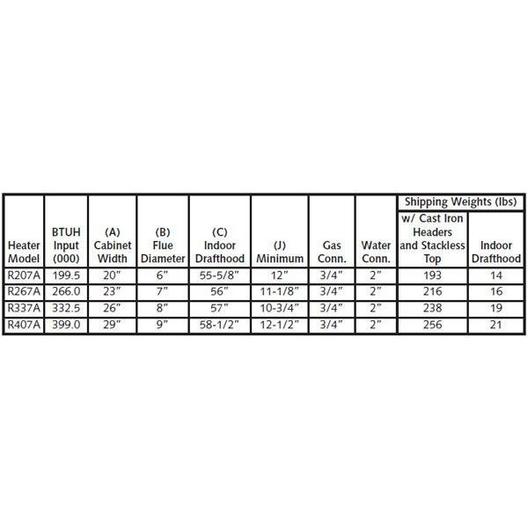 Raypak Digital ASME Low NOx Cupro-Nickel 266,000 BTU Natural Gas Commercial Pool Heater, 0-5,000' Elevation, C-R267A-EN-X #26, 010228
More Details

Subscription Available
Earn at least $152 in pool perks for this item by joining Pool Perks.
Store Pickup
Out of stock
Available at store in 1-2 weeks
Store Pickup
Pickup In Store
Standard Shipping
- Ship To Home
Select a store to check stock
---
Description
Raypak Digital ASME Low NOx Cupro-Nickel 266,000 BTU Natural Gas Commercial Pool Heater, 0-5,000' Elevation, C-R267A-EN-X #26, 010228
Part Number: 010228
Model Number: C-R267A-EN-X
Digital LCD for temperature control and heater settings
2" glass-lined Cast Iron headers
Microprocessor controls diagnostic readout and continuously monitors operational status
High-wind reliability
125# pressure relief valve
ANSI Z21.56 design certified
Model Number: C-R267A-EN-X #26
0-5,000' Elevation
---
Details
ASME rated heaters are intended for use when local codes mandate the use of ASME-certified equipment in commercial installations, such as apartment, condominium and public pools and spas. NOx jointly refers to nitric oxide (NO) and nitrogen dioxide (NO2), two oxides of nitrogen that most affect pollution. Low NOx heaters produce less harmful emissions than regular heaters and are ideal for any eco-friendly application. Cupro-Nickel refers to the fin tube heat exchanger. Cupro-Nickel heat exchangers are preferred for commercial applications because they resist the corrosion associated with bad and fluctuating water chemistry. The Raypak commercial digital heater is factory equipped with ASME waterways for commercial use and comes with a microprocessor based thermostat control. This allows the user to set the pool or spa temperature at a precise temperature using the up or down button. The digital display provides a constant reading of the pool's water temperature.

---
Highlights

TheRaypak Digital Low NOxgas heater comes with a microprocessor based thermostat control. This control allows you to set your pool or spa temperature precisely at your favorite setting just by pressing an up or down temperature control button. The digital display gives you a constant read out of your swimming pool water temperature.

Troubleshooting a gas heater has never been easier. TheRaypak Digital Low NOxhas on-board diagnostic controls that let the user and the service professional know what is going on with the heater at all times. In the event that you would ever have a problem with the heater, the digital display will show where the problem is in the control circuit. It's like having a service technician built into every heater.

TheRaypak Digital Low NOxis compatible with most major swimming pool control and remote systems on the market today. Any two-wire or three-wire remote can connect to the heater and be integrated into the swimming pool control system of your choice.

Raypak Digital heaters can be ordered with cupro-nickel fin tube heat exchangers for added protection against aggressive water chemistry. Although rare, there are certain applications, like health club spas, where copper are just not the best choice. Cupro-nickel offers superior tolerance to bad and fluctuating water chemistry, thanks to a harder surface and thicker walled fin tube.
---
Specs
| | |
| --- | --- |
| Product Type: | Pool Heater |
| Pool Type: | In Ground |
| Installation Type: | Commercial (ASME) |
| Heat Exchanger: | Cupro-Nickel |
| Emission: | Low NOx |
| Ignition: | Electronic |
| Fuel Type: | Natural Gas |
| Controls: | Digital |
| Heat Output: | 266,000 BTU |
| Manufacturer: | Raypak |
| Warranty: | 1-Year |
| Elevation: | 0 - 5,000 ft |
| Model Number: | C-R267A-EN-X |
---
---
Warranty
One (1) Year Limited Warranty on Product, see Owner's Manual for a full description of warranty claims and coverage details.