Why Leslie's?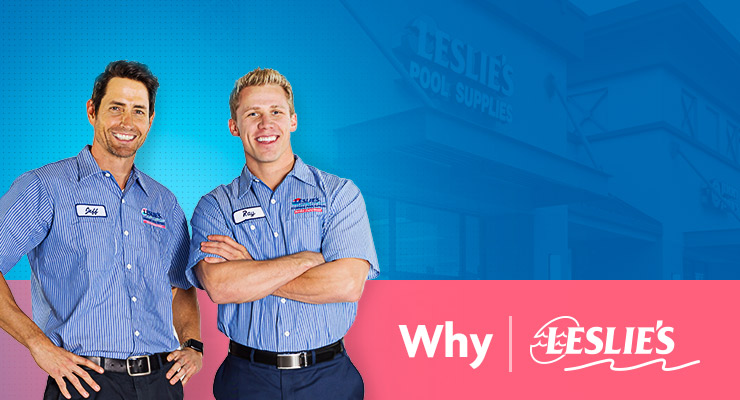 How did Leslie's become a household name?
Our mission is to be the pool solution experts. At Leslie's, everything begins with superior customer service. Our goal is to provide every customer with expert pool advice, trustworthy product recommendations and the guidance to maintain their swimming pool for years to come.
World-Class Customer Service
Whether shopping in one of our Local Stores or on LesliesPool.com, Leslie's strives for exceptional Customer Service. At Leslie's, we welcome every customer into our store with a huge smile and personalized greeting. Why do we do this? Because at Leslie's we care and want to ensure that every customer leaves the store with the advice, services, or products they came in for.
Have a question, but can't make it to a store? No problem! Our well-trained staff is available Monday through Friday by phone, email and chat to provide help for all your pool needs. If you have a question, we have the answer. 800-537-5437
Industry Leading Chemicals and Services
Not all chemicals are treated equal. At Leslie's, we put our name on products that we believe in - products that we use in our own pools. The same goes for every product we sell in stores and online. This is one of the many reasons why so many pool owners and service companies trust Leslie's Pool Supplies for their pool care needs.
Did you know that Leslie's offers over 20+ pool and equipment services? Our trained, professional service technicians install and service anything from pool filters to vinyl liners. We also offer on-site repair services, including opening and winterizing pools. To learn more about each service, visit our Pool Service page or one of our locations across the country.
Free In-Store Labor
Having trouble with your pool pump? Is the pump motor so loud that you can't think straight? Bring your pool equipment to any local Leslie's retailer for FREE In-Store Repairs. You just pay for parts. That's right - free repairs at every location! Our stores have all the tools and resources required to get your equipment working so you can get back to swimming ASAP!
Rest assured that you'll be swimming in no time. Our typical turnaround is between 24 - 48 hours. Leslie's is also a warranty center for most major brands. Bring your worn or broken equipment in - we'll have it running like new!
FREE 9-Point Water Test
We recommend that you bring a sample of your pool water each time you visit a Leslie's store. Our FREE 9-Point Water Test will answer all questions about your pool water. We will also guide you through the proper dosages and application of what products to put in your pool. Heat and pollutants increase during the warmer months, so we recommend that customers stop by every 2 weeks for a free water test. This will also qualify you for the Algae-Free Guarantee (explained below). You may even learn some new pool maintenance tips while you wait!
What 9 chemicals do we test? FAC, TAC, pH, TA, CYA, CH, TDS, Metals, and Phosphates. This service makes pool care easy and can help pool owners maintain a sparkling pool all season long!
Leslie's Rewards Program
Need even more incentive to shop with Leslie's? Our Loyalty Rewards Program is simple: customers receive a $5 reward for every 200 points they earn. Even better, customers will receive 50 extra points for signing up (for free) and then earn 1 point for every $1 spent.
The Leslie's Rewards Program is valid both in-stores and online. This program also qualifies members to enjoy the benefits of our Algae-Free Guarantee and Equipment Protection Program (mentioned below). Did we mention personalized special offers and coupons? It's a no-brainer!
Equipment Protection Plan
The exclusive Equipment Protection Plan provides up to a 5-year extended warranty on select pool equipment. We also guarantee parts availability for the next 10 years after your product purchase date. Join our Leslie's Rewards Program and begin enjoying the peace of mind of these unmatched warranties!