The Winterized Spa - How to Close a Hot Tub for Winter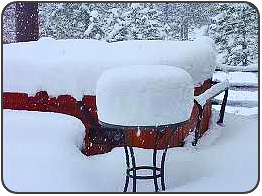 There comes a time for many hot tub lovers in the north, when they need to ask the question - close the spa for the winter, or keep it operating?
If you think you'll use the spa occasionally, even if it's only a few times per month, I would suggest that you keep it open. But, if no one is using it, or worse - maintaining it. You may want to winterize the spa.
For many spa owners, it's the fear of extended power outages that will warrant emptying the spa. Heated and covered, a hot spa should be able to resist freeze damage for 24 hours, but beyond that you could face expensive repairs to plumbing and equipment.
How to Winterize an Above Ground Spa or Hot Tub in 4 Steps
1. Clean the Spa Filter and Pipe
Remove the spa filter cartridge, and clean it thoroughly with spa filter cleaner like Filter Fresh, and allow it to dry for winter storage. Next, apply a spa purge product like Jet Clean, to clean biofilm and bacteria from the pipes, which will continue to grow in the moist interior of your pipes, unless cleaned before you drain the spa. Don't skip this step, or you may have gunk in your pipes when you start up the spa again.
2. Drain the Spa or Hot Tub Completely
Now it's time to drain the spa. Shut off power to the spa, and switch the heater off. Find your drain spigot and allow the spa to drain completely, through a hose, so the water drains away from the spa. When almost empty, turn on power again, so you can turn on the air blower (if you have one), and let it run until no more droplets spray out the jets. Use a sponge or shop vac to get every last drop from the bottom of the spa. If you have air jets in the seat or floor, lay a towel over them to absorb water mist as it sprays out.
3. Use a Wet/Dry Vac to Blow Pipes & Manifolds Dry
Use a powerful shop vac, to suck and blow air through the system. Place a sheet of plastic over a group of spa jets and use shop vac suction on one of the group's jets. The plastic will suck to the other jets, so you can pull water out of one jet. Repeat until all jets are vacuumed. Switch the vac to a blower, and blow air through all the jets. Now blow air through the skimmer and spa drain. Under the spa, open all unions (don't lose the o-rings), and use the shop vac to blow and suck air in both directions. Remove the drain plugs on the pump(s), and filter.
4. Secure & Protect your Spa Cover
Spa covers perform an important function during winter, keeping any rain and snow melt from getting inside the spa. Over winter, some areas can receive two feet of precipitation, and it's important that this doesn't get into the spa. If your spa cover is a leaker, and in bad shape, cover it with plywood cut to shape, and then wrap it tightly with a sturdy tarp that will repel water. If your spa cover is in good shape, use a conditioner, like our Spa Cover Cleaner, to protect it from winter weather. Use a Spa Cover Cap for the best spa cover protection.
Other Thoughts on Winterizing a Portable Spa
Consult your owner's manual, or find it online, to read specific tips for winterizing your particular spa.
Using non-toxic antifreeze is discouraged, but if you must, refill and drain the spa before use.
Draining a wooden hot tub is discouraged, but if you must, leave a foot of water, to resist shrinkage.
Be sure to shut off power at the breaker, so there's no chance that the pumps will run without water.
If you have doubts and worry, consider calling a spa service company to winterize your spa.
Inground spas require different procedures, not covered here.