Spa Foam: Eliminating Hot Tub Foaming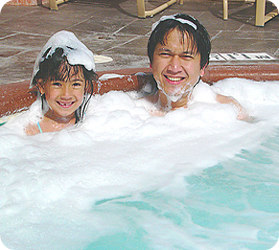 My family and I took a short holiday to a large theme park in Anaheim. Well, we stayed in one of their theme hotels, which had a nice pool and spa. The spa water looked a little cloudy, but we got in anyway. Turned on the bubbles, and whoa - did we get bubbles! Foam was nearly a foot high off the water. My kids thought it was hilarious fun, and my wife didn't seem to mind. I was disgusted, quite frankly.
Spa and hot tub foam is just plain nasty, when you know what has created the foaming water. A hot tub is not just a small pool - think of it as more of a large bath tub. When several people hop into a hot tub, the water becomes saturated with chemicals and soaps used on our skin, hair and bathing suits.
Causes of Hot Tub Foam
Every time you use your spa, the warm water absorbs dead skin cells, perspiration and dirt, and also lotions, oils, soaps, cosmetics and hair products. Over time, these invisible solids build up in the water, making the water 'thick'.
Spa water chemistry also plays a role. A high pH and alkalinity and/or low calcium hardness levels creates an ideal condition for foaming. Add spa calcium increaser if you have soft water in your area, and your calcium hardness level is below 150 ppm. And, maintaining your pH level at 7.4-7.6 and your alkalinity in the range of 80-120 ppm will not only help prevent foaming, but has many other advantages.
Solutions to Hot Tub Foam
Spa shock can break down many of these substances and reduce spa foaming in most cases, but spa shock has trouble removing oils and phosphates from the water.
Spa enzymes can be used to break down oily, soapy substances, naturally. Enzymes actively seek and consume oils and scum which contribute to hot tub foam.
Spa Defoamer can be used to instantly remove spa foam. It's a non-oily foam prevention solution that is safe to use for any type of spa or with any type of spa sanitizer. Works to prevent reactions that cause foam to appear in the hot tub.
Preventing Hot Tub Foam
The options above will do well to control a foamy hot tub, and keep the foaming to a minimum - but, it's not really solving the problem.
Draining the Spa is the ultimate and inevitable solution to hot tub foaming. To prevent foaming caused by BioFilm, use Jet Clean before draining, at least once per year. If you can't do a complete drain, you can drain half of the spa, and refill - and although it's not a full drain & clean, you can fix a foaming spa problem, at least temporarily, in this manner.
Taking a shower before using the spa is always recommended, especially if you need to shower - and I think you know what I mean. Don't use the spa as a bathtub.
Don't Submerge if you have long hair, put your hair up to keep hair products out of the tub. Even those with short hair can bring in shampoo, conditioner and hair gel into the tub when they go under water.
Rinse your swimsuit in hot water if you have laundered them. Avoid wearing T-shirts or clothing that has been washed with soap. Trace amounts in your clothing or bathing suits will cause spa foaming.
Maintain Water Balance, with particular care to your pH, calcium and sanitizer levels.