Spa Cover Lifters Buyer's Guide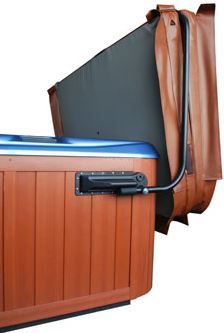 In owning a spa or hot tub, you should know some basics to increase the benefits and reduce costs. One of these important things is having a new spa cover. This will help you by conserving power, because the cover will hold the heat inside of your tub.
In addition, hot tub covers are a great help in keeping your water clean and clear, protecting your spa from unsafe bacteria and other dirt-sources. In general, a spa cover is an essential component of your hot tub health care.
Spa covers can become heavy
At first, it may only weigh something like 30 or 40 lbs, but ultimately, the longer you have it, the dense insulation inside the spa cover will become much heavier. In some cases, its weight can increase as much as fourfold.
This will make you think that besides the great advantages, a spa cover can also offer some trade-offs. At times, because of the really heavy cover, you may find yourself abandoning and merely uncovering half of the tub for use.
However, this problem has a wonderful solution – a spa cover lift. Hot Tub Lifters can assist you with the removing and secure storage of your spa cover.
Types of Spa Cover Lifters
Lots of options are available in spa cover lifts. Most of these choices use a mechanized lift to truly lift the cover for you. Other models are meant to hold the cover securely every time you push and pull it off of your hot tub.
Furthermore, many of these alternatives will offer you covers that are held in a position away from the ground. This helps to prevent scratches as well as damage to your spa cover from coming in contact with soft, muddy areas - and also holds it steady where it won't easily fall over, or be in the way of people moving around the spa. This feature makes the spa lift worthy of the costs due to the indisputable fact that spa covers are not cheap to replace.
Take Some Measurements
Before you buy a spa cover lifter, it is necessary to take into account the clearance regarding the tub in addition to the enclosure or boundaries around your spa. Gather information about the clearances you have, to match up to those needed in your cover lifter, to find the lift that is ideal for you. Some hot tub cover lifters need up several feet or clearance, although some only require 6 inches of space to operate.
Which Spa Cover Lifter is best?
Certainly, any tub cover lifter could be an extremely essential instrument in maintaining and also protecting the spa. The spa cover lifter can be priceless because of its help in keeping the cover out of the way every time you use the spa.
Generally speaking, the more you pay for your spa cover lifter, the better quality device and construction it has. We have a range of prices from $110–$185 on spa lifts currently. Something for every need and budget.
A spa cover lifter will help you with the maintenance, safety and protection of your spa cover. See our huge selection of hot tub cover lifts to save on top brand name spa cover lifters.