Seven Pool Safety Tips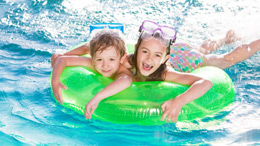 According to the Center for Disease Control and Prevention, from 2005-2009 there was, on average, almost 10 unintentional drownings per day. To help prevent these, staying safe around the pool isn't an option; it's essential.
Pool safety is mostly talked about in terms of young children, as they are sadly affected most by a lack of safety in a pool environment. Every swimmer, though, can benefit from following simple pool rules while around the pool area.
First off, the most important rule. Parents, ALWAYS watch your kids around water. Even if you need to go inside to use the restroom, answer the phone, or refill your water, have your child get out of the pool and come inside with you. Many adults sadly affected by child drownings mention that they "only turned away for a second". Unfortunately that is all the time it takes. Don't take any chances. The most useful step you can take towards keeping young swimmers safe is simply keeping an eye on them at all times.
Install a pool fence and keep the gate locked. Many drownings happen when a parent loses track of their child inside and he/she wanders outside. A high pool fence with a self-closing gate will go a long way toward preventing anyone from finding their way into the pool area and accidentally falling in.
Make sure children know how to swim. While it's important to note this does not guarantee anything, it drastically reduces the risk of an accidental drowning. Simply enrolling your child in swimming lessons at a local pool goes a long way to keeping them safe at home.
Keep people from running near the pool. With water on the pool deck, it is incredibly easy to slip on a wet patch. Any number of injuries could result from this.
Do not allow horse-play in or around the pool. A swimmer could end up hitting their head, for example, on the side of the pool if pushed into the water. Someone could also be injured when being "dunked" underneath the water.
Talk to kids about the importance of looking where they're jumping when entering the pool. Not only should they watch out for other swimmers, but children should be jumping into a section of the pool that has adequate depth.
As far as water chemistry is concerned, maintain proper water balance, using a test kit and chemicals. A pool that isn't properly maintained can end up causing issues for swimmers, for example, if they accidentally ingest bacteria-filled water. Ultimately, always watching kids around water is the best safety tip possible. A pool can be a great source of fun, but it also can be dangerous if owners aren't careful. Make sure to take every precaution possible when dealing with pool safety. It may seem like there are too many things to worry about, but when it comes to keeping swimmers safe, every step is worth it.