Minerals, Ozone and MPS for a Chlorine Free Hot Tub

This content was previously featured on the Hot Tub Works website. Leslie's is proud to partner with Hot Tub Works to bring you this helpful content on lesliespool.com.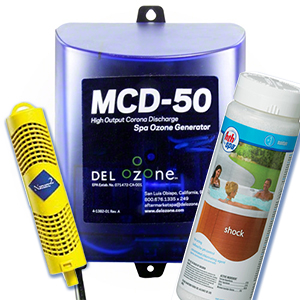 If you are interested in a method to operate a spa or hot tub without chlorine or bromine, you're in the right place.
I have been bromine free in my spa for about 7 years. It's a 400 gallon Marquis spa, that gets used 2-3x per week, by kids and adults. It's an easy method that I've kept hidden until now - a great way to keep a spa or hot tub halogen-free, while ensuring that the water stays sanitary and healthy.
But why? Why would I want to operate a tub without chlorine or bromine ~ some of you may ask. I've always found it irritating, to my skin, hair and nasal passages, and it can be hazardous to store, plus I feel like our planet could use a little less Bromine.
Minerals + Ozone + MPS for a Non Chlorine Hot Tub
The secret to going bromine-free isn't hard to follow; I use a mineral cartridge, an ozonator, and I shock the spa with MPS, non-chlorine shock, after we use it, or at least weekly if no one has used it, which is rare.
Minerals: I usually use the Nature2 spa stick, as I call them- or you can use the Filter Frog, or the Leisure Time spa mineral stick.We also have the SunPurity mineral purifier for Sundance spas and the Hot Springs Silver Ion Purifier
Just drop them in your filter, and the rushing water pulls out copper and silver ions that do a bang-up job of busting apart contaminants in the water. After 4 months, they need to be replaced, which I time to be at or around the time that I am changing the spa water.
Ozone: A spa ozonator puts ozone in the water, which zaps anything that comes near it. Some of the nicer model spas have a built-in ozonator, but if not, you can easily add an ozone unit to the spa - like the MCD-50, which is only around $100. After 12-18 months, the manufacturer recommends the Renewal Kit, they may last longer however.
Ozone complements the killing preferences of minerals, removing the really hard to kill stuff, like bacteria and viruses. But even ozone, as powerful as it is, has limitations with an imperfect delivery system. So, I supplement ozone + minerals with MPS.
MPS: After we get out of the spa, I just sprinkle in a dose of monopersulfate, aka MPS, as we call it around here. I let the jets circulate for a few minutes, and then shut it down to low speed and close the cover. No waiting for it to 'gas-off', like with chlorine shocks.
We have several brands and formulations of MPS non-chlorine shock, by brands like Leisure Time and Rendezvous, and we also carry the full line of Zodiac Cense - MPS & Aromatherapy in one!
Other Tips for a Chlorine Free Hot Tub
Drain the tub every 3-4 months. Before draining, use Jet Clean to fight biofilm.
Change the spa filter regularly, every 12-24 months, to reduce your sanitizer demand.
Don't be afraid to double the MPS dose if you've had a full spa, with many users.
Run the filter 20-24 hours per day, to keep the minerals and ozone circulating.
Keep your water balanced, especially your pH and alkalinity.