Leslie's Primo Days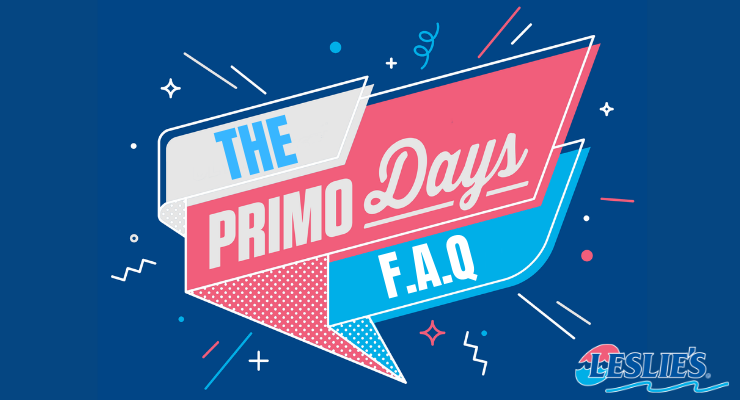 If you're like us, your childhood is full of Black Friday memories. It's that annual rite of passage where people wait outside a store in the freezing November cold, all in the hope of snagging every "DoorBuster" deal. Well, we have amazing news for you. Primo Days are almost here and you won't need a parka to attend!
It All Started With Cyber Monday
In 2005, Cyber Monday was created by online retailers, giving shoppers an alternative opportunity to cash in on those Black Friday deals without the hassle of waking up at the crack of dawn. At this point, Black Friday was already a massive shopping event every November. Combined with the Monday full of cyber deals, it generated $7.9 Billion in sales last year alone.
Then Came Amazon Prime Day
After Amazon watched the success of Cyber Monday for 10 years, they decided to create their own online sales event for the summer. It was a great way to give consumers a summertime counterpoint to Black Friday. Bloomberg estimates that last year's Prime Day event brought in roughly $4.2 Billion in sales over a 36-hour period.
And Primo Days Was Born!
Taking a cue from Prime Days success over the years, Leslie's decided to make a summertime splash of our own, and that's how Primo Days began. This is one of Leslie's biggest annual sales events, offering incredible deals online and in-store! The advantage Leslie's has over Amazon is big. First, you do not need to pay $119 for an annual membership to grab these incredible deals. Also, Leslie's has over 960 locations nationwide offering in-person expert pool assistance!
Let's Talk Primo Deals
Leslie's is doing something unprecedented this year by adding an entire day of amazing sales! We are talking up to 50% off on select pool chemicals, pool equipment, spa chemicals and pool floats! Leslie's is also offering huge product promotions in exciting 8 hour intervals all over the site, so you'll want to look out for limited time flash sales here! These are deals you do not want to miss.
---
Primo Days FAQ
If you're new to Primo Days, we've gathered a list answers to the most Frequently Asked Questions:
When does the Primo Days event start?
A: Monday, July 15th - 12:01am EST
When does the Primo Days event end?
A: Tuesday, July 16th - 11:59pm EST
Do I need a Promo Code/Coupon Code?
A: There are select products that will require a code. Be sure to check the lesliespool.com homepage to view the latest deals and offers.
Can my Leslie's Loyalty Rewards be applied to Primo Days orders?
A: Yes! As a valued customer, we encourage you to use your Leslie's Rewards. If you don't already have your Rewards account, create one here.
Do Leslie's email subscribers get any added Primo Days benefits?
A: Yes! Email subscribers will be the first to know what items are going on sale, and when. If you aren't on our list you can sign up here.