Leslie's In-Store Repairs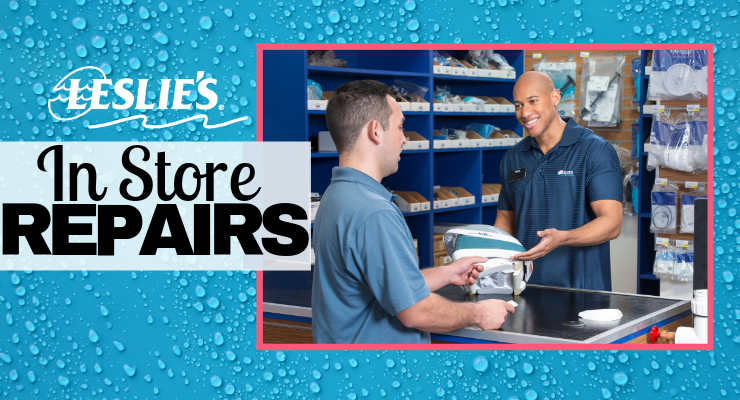 One of the biggest hurdles for pool owners wanting to take the DIY approach to their pool's care is getting expert level service when your pool part needs a repair that's beyond your level of knowledge.
Let Us Help You
With over 960 Leslie's locations across the US, we know a thing or two about pool part repair. They don't hand out the title "Pool Repair Expert" to just anyone, after all! Many people don't know that all Leslie's store locations perform FREE in-store services for pool owners. We truly are the top pool care resource you may have been missing!
What We Do
Not only do Leslie's in-store pool experts perform free water testing and pool care evaluations, we also provide FREE quotes, assessments and labor with our pool equipment repair. Your pool cleaner equipment, such as pumps or motors, doesn't have to have been purchased at Leslie's to get our expert level care. We know loyalty comes from getting great service and care, so we are happy to provide that to all pool owners knowing you'll trust us for all your future pool equipment needs. The average Leslie's location handles repairs on everything from automatic pool cleaners, pumps, rebuilding D.E. grid manifold assemblies, bench testing non-variable speed pump motors, testing Hayward™ salt cells, replacing motors as well as replacing pool pump mechanical seals and so much more -- all with free labor, you just cover the cost of the parts.
Our Expert Service Department
If you don't feel comfortable bringing your pool part into a Leslie's store location, we also have an experienced service department full of experts that makes house calls, for a nominal charge.
What
To Expect
The most common in-store repair we
see are pool cleaners and pump motors. Our goal
is to provide an on the spot, quick assessment and quote – meaning you'll know
exactly what the issue is, and exactly how the
Leslie's pool expert plans to fix it. Then, our
ultimate goal is to repair your equipment to as close to new as possible. In most cases,
we are able to handle basic repair issues within 48-72 hours. Also remember,
our pool experts are always able to help you choose a newer model item if the
cost of repairs is greater than the value of your equipment.
Extended Protection Program
Leslie's offers an Extended Protection Program for specific big ticket pool equipment, and our in-store pool experts can assist you with any Extended Protection Plan warranty issues you may have, for equipment too big to transport they can get you connected to the proper manufacturer service representative. We truly have all your pool care needs covered!
---
You have one pool, we have THOUSANDS – let the experts handle your repair quickly and correctly the first time, 50+ years of pool care expertise from a brand you can trust! Find your local Leslie's and come on in today!