Adding Music to Your Hot Tub

This content was previously featured on the Hot Tub Works website. Leslie's is proud to partner with Hot Tub Works to bring you this helpful content on lesliespool.com.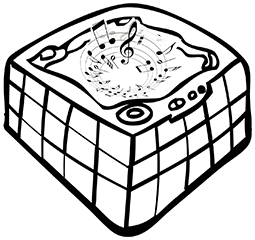 Music, it seems, is therapy. According to the British Journal of Psychiatry, music therapy, when combined with standard treatments, has benefits in treating depression, anxiety and addiction. Additionally, a review of 400 research papers in the neurochemistry of music which found that music can improve the function of the body's immune system and reduce levels of stress.
Listening to, and playing music can reduce the levels of stress hormones, such as cortisol, and increase production of dopamine. Music makes you happy, and reduces stress - just like hot water therapy.
Combining the benefits of a hot water soak for your body, and relaxing music for your ears will increase the health and relaxation benefits of using a spa or hot tub. Plus, for hot tub parties, you gotta have music!
How to Add Music to Your Hot Tub
Truth be told, you don't need anything more than a radio or boom box next to the spa to add the element of music to your spa. That's what I do, as I think I've mentioned before. I have an old portable boom box that sits next to my spa, so old that it doesn't even take CD's. I like to play classical music or jazz, either from cassette tape (lol, I know), or I dial in a local radio station.
Others here at Hot Tub Works laugh at me, with their wi-fi hi-fi systems, playing their bluetooth music from smartphones or tapping into their home stereo system, or even music stored on their computers in another part of the house. If you want to be fancy, here's some ways that the true audiophile adds music to their "Club Hot Tub".
OPTION ONE: Install a stereo. Most stereos that are built into spas are simply marine radios, or stereos made for boats. There are even pop-up speakers available that are made specifically for hot tub use. With a saw and some skills, you can cut a hole in your spa cabinet and mount a 12V marine stereo, and run wire to a few outdoor speakers that you affix to the spa shell, with small holes drilled for the wires, or set the speakers nearby.
OPTION TWO: Mount some outdoor speakers near the spa and connect them to your home stereo system, or a cheap receiver that you can place in a weather proof box, out of the elements.
OPTION THREE: Go wireless with a system like Sonos or iCast, which allows you to connect any MP3 player, or tap into your home wifi network to connect to internet radio services like Pandora or Spotify. These have portable, outdoor speakers that you can place almost anywhere around your spa. Indoor/outdoor or water-resistant Bluetooth speakers have also grown increasingly popular, and can broadcast music from any Bluetooth-enabled device.
OPTION FOUR: Go low tech, like me - and get a cheap radio that you can plug into a nearby (grounded) outlet, and turn on the radio, pop in a CD, or kick it old school and break out your dusty cassette tapes!
Of course, there are many of you who prefer peace and quiet in the hot tub. You know who you are - you don't even turn on the blower because it's too loud. You prefer to sit and soak, under the stars, and finally enjoy some silence.
Rock On, America...
Carolyn Mosby
Hot Tub Works